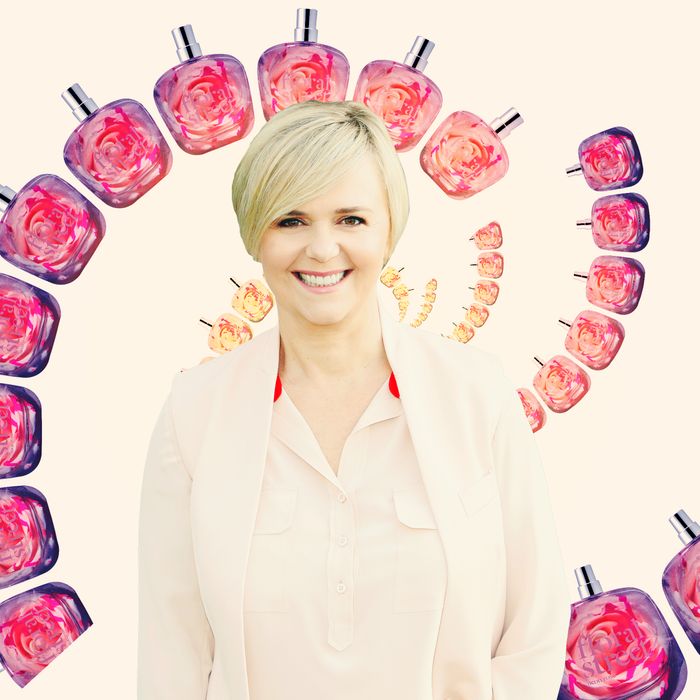 Michelle Feeney
Photo: Courtesy of Floral Street
Scientific studies confirm that, of all the senses, smell offers the best recall. In Scent Memories, the Cut asks people about the scents they associate with different times in their lives.
Next up is Michelle Feeney, founder of Floral Street, a sustainable British fragrance brand powered by florals and inspired by the stylish streets of London. Feeney is no stranger to the world of beauty. Before launching Floral Street, she worked on the launch of cult favorites like Crème de la Mer, served as vice-president of global communications for M.A.C Cosmetics and spearheaded the brand's Viva Glam initiative, and later became CEO of tanning brand St. Tropez. The Cut caught up with Feeney to talk guacamole, honeysuckle, and plug-in air fresheners.
My first scent memory is: Smelling gardenias in my great-grandmother's house in Ireland. If I just think about it now, I feel very peaceful. I was lucky to know my great-grandmother; we'd go and visit her every year.
Happiness smells like: Fresh coffee in the morning. I kind of find it uplifting and hopeful. It signifies my optimism. I lived in New York for 14 years and those are my best memories: grabbing a cup of coffee from the guy on the corner to start of the day.
Love smells like: Honeysuckle. It's this incredible scent that overwhelms, and it lingers. It's a powerful, heady scent and it kind of gives me a natural high. It doesn't work in fragrance, honeysuckle, believe it or not. It's almost too powerful. When I was making the fragrances, I was trying to sort out a way of weaving it in, but it's a very powerful scent.
Friendship smells like: Fresh limes and coriander. I love preparing foods with friends. We decided if we had a last meal, it'd be guacamole and margaritas. It's this wonderful smell of green, and fresh-cut coriander is so uplifting. Funnily enough, we just launched Electric Rhubarb and it's got this similar zing to it. Anytime I put that on I kind of feel the same way, actually.
Heartbreak or loss smells like: Air freshener. A really synthetic air freshener. The ones that are plugged in. Like loss and heartbreak, I just want it to go away.
Success smells like: Caramel-coated popcorn, because it's great for sharing. I think if you are successful, the biggest joy is being able to share that with people, like popcorn with a sweet coating. It's just great.
Regret smells like: I think you can only learn from regret, and my smell for learning is dry, powdery chalk on the board. I think regret is such wasted energy. You can't do anything about what's done, so it's got to be a How am I going to change the future? sort of thing.
A pleasant surprise smells like: Marmalade. It's orangey and zesty, but has the sugar in there as well, so it's a slight edge. A surprise has both of those sides.
The worst smell is: A windowless room, which is full of that dry, draining smell that's sort of negative. Not very human. It's when you go into a room with no windows, and everyone's on computers. It's a nonnatural smell that kind of scares me a bit.
Vacation smells like: Adventure. Like a new aroma. We love to explore all sorts of different parts of the world; I like to surprise myself with vacation.
Sunday morning smells like: When I'm in the U.K., it's sort of an earthy dampness, walking the dog through the woods in Worcestershire. We have a house there in the country. I discovered this ingredient called galbanum that smells exactly the same; it's very grounding.
Monday morning smells like: Essential oils warming and candles burning as I set up for yoga. I practice every morning in the house. I mix my own oils depending on how I want to feel, so that set my mood for the day and intentions for the week. 
My home smells like: A mixture of fresh flowers, generally cut from the garden. I'm very blessed to have a big garden in London and a big country place, so if I can grow the flowers, even better. I've got a favorite candle that we produce and that's called Santal. It's very woody mixed with fresh flowers, which I love.
If I could have one smell on my hands forever, it would be: That's easy. English heritage roses after a shower of rain. It's such a unique smell, and when I lived in New York, it was the thing I missed in Britain. It also reminds me that in nature, including the weather, it creates true beauty; you don't need much beyond that, really.
I smell like: A mother, daughter, and wife. I smell like a human: different at different times, and I use perfume to sort of portray the spirit of how I'm feeling each day.
Photo: Courtesy of Floral Street
If you buy something through our links, New York may earn an affiliate commission.