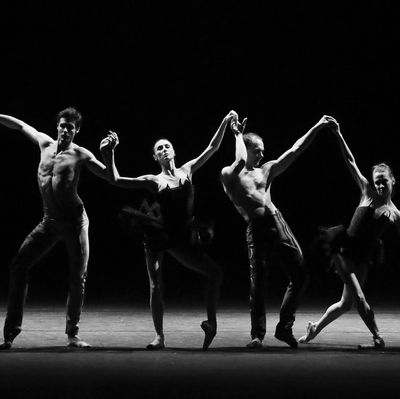 The Bolshoi Theatre performing
Modanse
in 2019.
Photo: Sergei Karpukhin/TASS
Last week, American ballerina Misty Copeland posted a photo to her Instagram of two ballerinas posing in blackface. "This is the reality of the ballet world," she captioned the post, kicking off an international debate about racism in ballet.
The photo was an image reposted from the Instagram of a dancer in Russia's Bolshoi Ballet theater company from its production of La Bayadère, a famous classical ballet set in India. First choreographed by Frenchman Marius Petipa in the late 19th century and revised in 1941, the ballet has faced scrutiny in recent years for its xenophobic and Orientalist depictions of India. Last year, in a review of the American Ballet Theatre's production of Bayadère the L.A. Times noted that the production famously "depicts ancient India as a realm of unprincipled fancy-dress barbarism." The Times went on to praise the technical aspects of the performance, but asked, "Why exactly are we still subjected to [Pepita's] corrupt vision of nonwhite societies? … Sleeping Beauty, anyone?" (American Ballet Theatre's production did not use blackface).
The Bolshoi Ballet has responded to the backlash spurred by Copeland's post by saying it has no plans to change the ballet, which has featured performers in blackface since its premiere in 1877. Moreover, Bolshoi theater director Vladimir Urin told Russia's RIA Novosti news agency: "The ballet La Bayadère has been performed thousands of times in this production in Russia and abroad, and the Bolshoi Theatre will not get involved in such a discussion."
"Finding some sort of deep insults in this is simply ridiculous," Urin added. "No one has ever complained to us or saw … an act of disrespect." (This doesn't quite check out: When Bolshoi brought its production of Bayadère to New York in 2007, its inclusion of "white children dressed as blacks (black-wrinkled tights, black-gloved sleeves and black curly wigs, but with faces lightly daubed in various pale coffee hues)" was described by the New York Times as "too ludicrous to be even grotesque.")
The Bolshoi Ballet further defended its Bayadère production by saying that blackface was necessary due to a lack of dark-skinned performers in the country.
Copeland, who is the American Ballet Theatre's first African-American female principal dancer, has been outspoken about racism in the industry for years. "I get that this is a VERY sensitive subject in the ballet world," she wrote on Twitter. "But until we can call people out and make people uncomfortable, change can't happen … It is painful to think about the fact that many prominent ballet companies refuse to hire dancers of color and instead opt to use blackface."