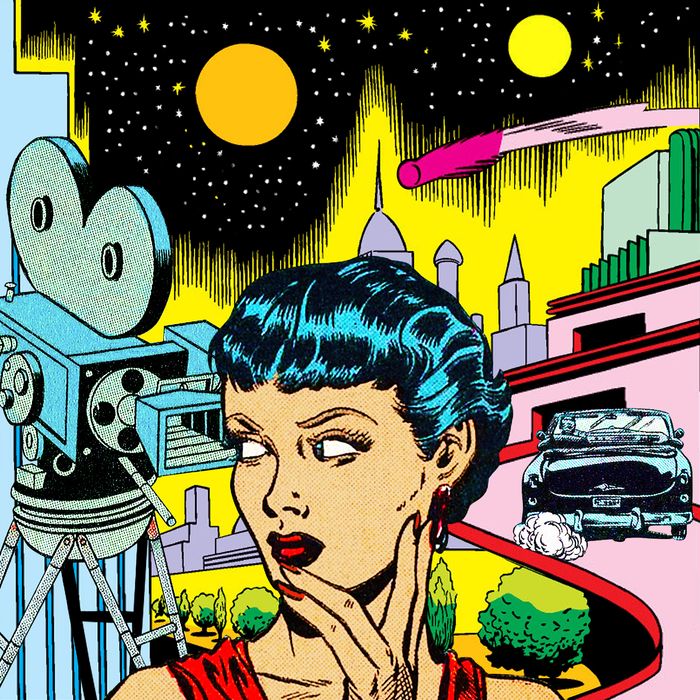 Illustration: J. V. Aranda
My husband and I were looking for a house to rent when he left me on the side of an unfamiliar road in New Jersey. I was not entirely surprised. The topic of going our separate ways was not an unfamiliar one in our Brooklyn household. Since the birth of our son two and a half years earlier, Ross and I had inadvertently created a relationship so full of venom that we could hardly look at each other. We were a far cry from the inseparable, lighthearted couple we'd been for the six years it had been just us. The monotony of changing diapers, the constant "shushing" the baby to sleep, and the endless nights of early parenthood had buried those two people, leaving what felt like two desperate hostages in their place. On top of that was our constant financial stress and Ross's frequent work trips to war-torn countries.
"I have good news and bad news," Ross said soon after his return from Syria.
I was parked on the floor next to my son's sleeper in our bedroom. "Give me the bad news first," I said, as I tried to determine the appropriate speed setting on a new baby swing. I was desperate to find a sway that would stop his screaming.
"I have to go to Libya in six hours."
"What?" I looked up from the instruction manual. He stared back at me, seemingly fearful of my reaction.
"Well, what's the good news?" I demanded.
"There is none."
When we were merely shacking up, before any vows had been exchanged, we'd made each other belly laugh in our tiny Manhattan loft. As two freelancers — him a filmmaker, me a journalist — our life together felt full of spontaneity. Together we roamed the word. I'd gone from a reporter who didn't expect to travel until I was old and gray to someone who'd seen, in the span of three years, Portugal, Spain, Italy, Japan, India, New Zealand, Australia, Mexico, St. Barts, Zambia, and Tanzania, all with Ross. I couldn't believe my luck. I was in love and doing what I most enjoyed: traveling. Then, after three years of dating, when I was 28 and he was 40, we made things official, barefoot in Mexico.
Any career drive I had quickly petered out the moment I met Ross. (Who had time for deadlines when there were exotic trips around the world to be had?) But the moment I gave birth, my ambition returned full force. By that time, we desperately needed two incomes — but I also realized that being a wife and a mother was not enough for me. Without deadlines and bylines, I felt rudderless and resentful.
Sitting on the floor that night sussing swing speeds, I remembered that once, I would have shed tears over Ross's impending absence. Now I didn't have time to worry about my husband being kidnapped by terrorists. Taking care of the baby was the only real concern I could cope with. I wanted my husband to be around to help, but I also knew he couldn't refuse the opportunity to put money in the bank.
Ross's documentary work often took him to tough, sometimes dangerous places. Before the baby, his lack of fear and ability to endure rough terrain impressed me. Now, two years later, his unpredictable schedule frustrated me. I never knew when he was coming or going. Our Brooklyn neighborhood was also becoming a place I no longer recognized. Neighbors had been replaced with Wall Streeters. When our landlord sold the dilapidated multifamily building we lived in for $2 million, we had to find a new home.
When we decided to relocate to the Garden State, Ross and I were both nervous about moving to the suburbs. "I don't know if I can do this," he lamented on our way through the Lincoln Tunnel. I wasn't sure either, but I just shrugged and said, "It's better than living in Brooklyn." We weren't just leaving because we'd been priced out; we also just didn't like living there anymore. We were tired of squeezing ourselves into an apartment the size of a walk-in closet. I longed for a driveway and free parking lots. My days fending off the crowds at Trader Joe's while Ross circled the block in our Toyota awaiting me and grocery bags were done. New Jersey seemed to have everything we were looking for: large and affordable rentals, good public schools, and plenty of places to park a car without worrying about fees or alternate side parking.
It was also a state I had never expected to be abandoned in. But here I was on the side of a snowy road in northern Jersey watching our blue Toyota disappear. Moments earlier, Ross and the realtor had settled into the front seats while I strapped our son into his car seat. I shut the door and walked around the back of the car with the intention of sliding in next to him but before I could, my husband drove away. Initially, I thought he was joking around. It wasn't something we did much anymore, but I figured he might be trying. I assumed I'd see the four-door sedan making a speedy return. When it didn't, I reasoned that he'd notice my absence in a minute or two. Surely the real estate agent realizes that I'm not in the car, I told myself. Our son must be screaming, Maaama! Yet ten minutes went by and there I still was. All alone on the side of an empty, suburban side street.
Ten minutes later, I was still standing on the side of the road, my calls to Ross's cell all going to voicemail, and I knew my fear had become a reality: At 33, I had become the invisible woman.
Ross had tried to tell me differently every time I complained to him about my feelings of dissatisfaction and insignificance. "But you have a child," he'd tell me, repeatedly. "You accomplish something every day."
"I know, but nobody notices that he likes vegetables and actually adheres to a sleep schedule," I'd respond.
I called Ross again, desperately wanting him to pick up just so I could say, "See? I told you so! Nobody, including you, sees me anymore!"
He didn't pick up, and in a moment of anger and frustration, I threw my phone onto someone's manicured lawn. I was not meant to be stranded in New Jersey. But seeing my phone glinting forlornly in the grass, I started to laugh. However offensive it was of Ross to not notice my absence, the situation was also absurd. Plus, I had no more tears left in me to shed about my marriage. The unfamiliar sound of my own laughing made me realize that Ross, in spite of parenthood, could still make me laugh.
After 15 minutes, when my phone finally rang, I ran to where I'd thrown it and saw Ross's name pop up.
"Addie? Are you there?" I could hear the trepidation in Ross's voice. "Addie?"
"Yes," I said before letting out a long, loud snort.
"Are you … laughing?" he asked, softly.
"Yes," I said again.
"Oh, thank God." And with that, he let himself laugh, too. I heard my son and the realtor joining him in the background. I couldn't remember the last time we'd belly laughed as a family.
All was not well in our marriage. But my laughter made me feel something I hadn't felt in a long time: lightness. The same sensation I had when I first met Ross. But this time around I knew the feeling wouldn't last long because now, with a baby, I was also feeling weighed down — both with responsibility and a new sense of clarity. I could no longer tag along behind my husband, trying to turn his career into my future. Adding a baby to our marriage made us a family, but it also made me keenly aware of how I had never taken myself seriously in the first place. Ross had left me behind for 15 minutes, but maybe I'd left myself behind when I met him.
When Ross and the realtor finally pulled up beside me, I knew what I had to do. "Get in," he said, reaching out the window toward me, gasping for air between laughs.
"No!" I too was having a hard time getting words out. "You get in back with the baby. I'll drive."
As we pulled away, I called out, "Everyone here?" and we started laughing again — all of us, together, at least for the moment.