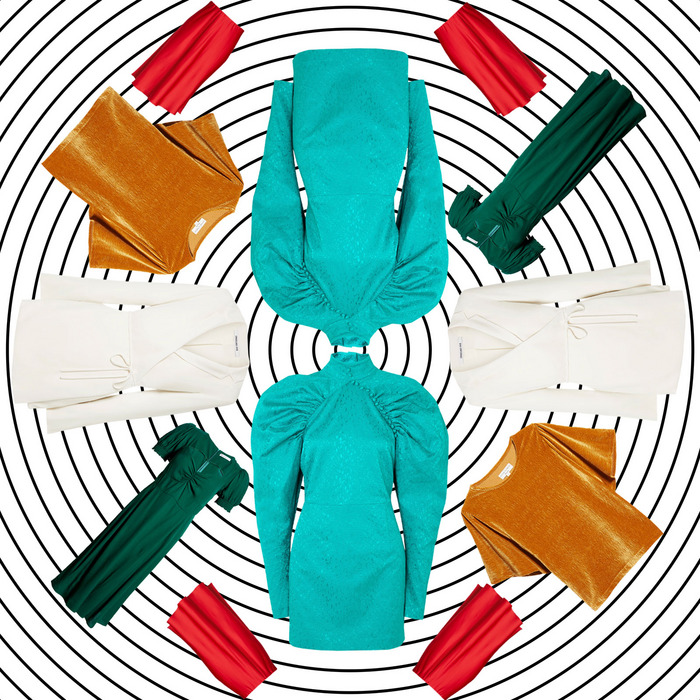 Photo: Courtesy of the Retailers
New Year's Eve outfits are generally synonymous with one thing: sparkle. Whether it's in the form of sequins, glitter, or anything else that recalls a disco ball, it's the centerpiece of the outfit. But that's not everyone's jam. For one, unless you are going clubbing on a semi-regular basis or are a celebrity and/or influencer, you probably don't have much occasion to wear sequins the other 11 months out of the year. Why not wear something that's clearly festive but won't stick out like a sore thumb when you recycle it in February? Shop 17 options below.
If You Want Something Classic
Rachel Parcell Ruffle Neck Satin Blouse
The jewel-tone color is really what makes this top festive (that and the ruffle collar). Not only do you have an outfit for a New Year's party, but you also have a new top to wear to brunch.
Available in sizes XXS-XXL.
If You Like to Play It Cool
If You Like to Be the Center of Attention
If You Want to Keep It Office-Appropriate
If You Wore That Skirt All Summer
Stelen Mira Printed Dress
A tiger-print slip dress is a close cousin of the leopard-print midi skirt. Wear with a fun jacket or a turtleneck this season.
Available in sizes S-L.
If You're Watching All the Hallmark Movies
Eloquii Bias Cut Satin Skirt
This red skirt feels like something the heroine of a Hallmark movie would wear to the tree-decorating ceremony where she meets the baker who will convince her to move from the city to work on a Christmas-tree farm.
Available in sizes 14-24.
If You Plan on Dancing
If You Want Something Sexy But Not Too Sexy
If You're on the Prowl This New Year's
If You Love a Romantic Dress
Rodarte x Universal Standard Dress
New Year's Eve isn't really known for being the romantic holiday (unless you're living in the High School Musical universe), but if you're committed to dressing in a super-feminine way, this is the dress for you.
Available in sizes 00-40.
If You Want Something Very 2020
If You Still Love the '80s
If You Want Your Outfit to Move With You
If You Want Something Sweet
If You Want to Go High-Concept
If You're Unafraid of Spills
If you buy something through our links, New York may earn an affiliate commission.