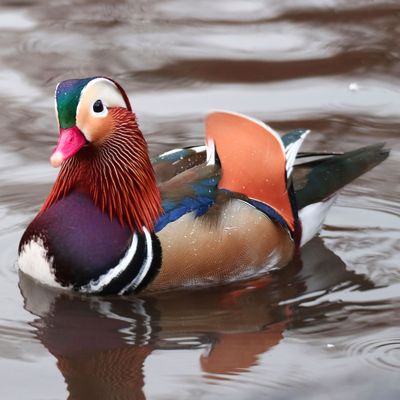 Photo: Gary Hershorn/Getty Images
Last fall, New Yorkers were united by common purpose: the love of a Hot Duck. And now we must come together, once again, to address a crisis that concerns us all: The Hot Duck is missing, and things don't look good.
Starting in October of 2018, crowds flocked en masse to see the Mandarin Duck, a rare multicolored fowl that had taken up residence in the Central Park pond. A cottage industry sprung up dedicated to replicating his likeness on T-shirts and in watercolor portraits, with journalists like myself chronicling his exploits in a series of feverish blog posts.
The Mandarin hasn't been seen in Central Park since March 2019, which wasn't particularly concerning at first; he had often been spotted vacationing in New Jersey or taking sabbaticals in the Hudson river, and people thought that he would return around September, after molting season. But then September rolled into November, and November slid into December, and still … no duck.
Yesterday, Gothamist's Jen Carlson spoke to David Barrett, a.k.a. Manhattan Bird Alert (as we noted when we profiled him, the Scooter Braun to the Mandarin's feathery Justin Bieber), about the duck's continued absence. They had an interaction that chilled us to our core.
"I am starting to consider the possibility that he suffered some sort of tragic fate back in March," Barrett told Gothamist. "It is troubling that he disappeared so suddenly, with no observations outside Central Park."
In a frenzy of panic, I messaged Barrett, who was … somewhat reassuring, I guess?
"I don't know what happened to him," he told me. "So I have to be open to all possibilities. What troubles me is that he so quickly went from being seen by everyone to being seen by no one. Before, even when he ventured to the rivers, our spies found him and posted footage. My best guess was that he flew far enough north to a small pond remote from people."
Barrett explained that the duck left Central Park right before the species' usual mating season, and the facts are consistent with him having traveled north in late March. "Upstate ponds still have not iced over. It has been a warm season, mostly, so far. So he still could be on a pond somewhere, delaying flight until pressed. Lots of ducks won't move until ice forces them." The colder it gets, he adds, the more concerned we should be. "Winter is when ducks get stressed, and when death from various factors is more likely. If we get bitter cold, and see that waters across NY State are freezing, he will need to move fast. That is when to start getting worried."
Although he did have this somber caveat to offer:
"I don't think death is the most likely [scenario], but birds do die, much more frequently than people realize."
Everyone, please include the Hot Duck in your thoughts and prayers — and maybe start screen-printing your commemorative "In Memoriam" T-shirts just in case.