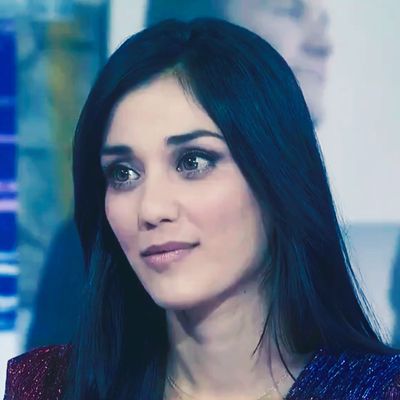 By now, nearly everyone involved in the doomed viral Peloton ad campaign has shared their perspective. The company itself has said it was "disappointed" in the vociferous negative reaction to its bizarre TV spot, which featured a very worried-looking woman whose husband gifts her a Peloton exercise machine for Christmas. The Peloton Husband, too, has come forward, fretting over possible repercussions for his acting career in a lengthy interview. And now, Peloton Wife has broken her silence.
On Thursday morning, Peloton Wife, who will henceforth be referred to by her actual name, Monica Ruiz, appeared on the Today show and talked about how weird her life has been these past few days. The ad attracted condemnation and ridicule from critics who remarked upon the frightened look in Ruiz's eyes, the husband's blank affect, and the sexist or at least unsympathetic premise that a wife would be made happy by working on her body at her husband's behest. "A year ago, I didn't realize how much this would change me," she announces to her husband at the commercial's conclusion. "Thank you." She also seems rather trapped inside her own home.
Ruiz seems to have taken it all in stride, telling Hoda Kotb, "I kinda stopped reading [the negative comments] thinking, It's gonna blow over, but it didn't really blow over as quickly as I thought it would." (The company has lost an estimated $1.5 billion in market value since the ad aired.) When asked why she thought the commercial had gotten such an enormous reaction, Ruiz blamed herself in part, saying,  "Honestly, I think it was just my face. It was my fault! My eyebrows looked worried, I guess."
Ruiz then explained why she's decided to do this interview now, "When it didn't blow over and people started answering for me and I saw some articles where they grabbed some stuff from very old interviews I was like, Okay, I'll just let everyone know I'm fine. I'm okay, I'm not in a rehab for mental health anywhere."
Also, she plugged her acting career just a bit, because who wouldn't: "I hope people can just see me as an actress, 'cause that's what I am. I like to do movies and TV, commercials, so I hope people can remember that I'm not actually the Peloton Lady and let me work other jobs!"
This leaves the Peloton Child and the Peloton itself as the only two beings associated with the commercial who have yet to speak out.