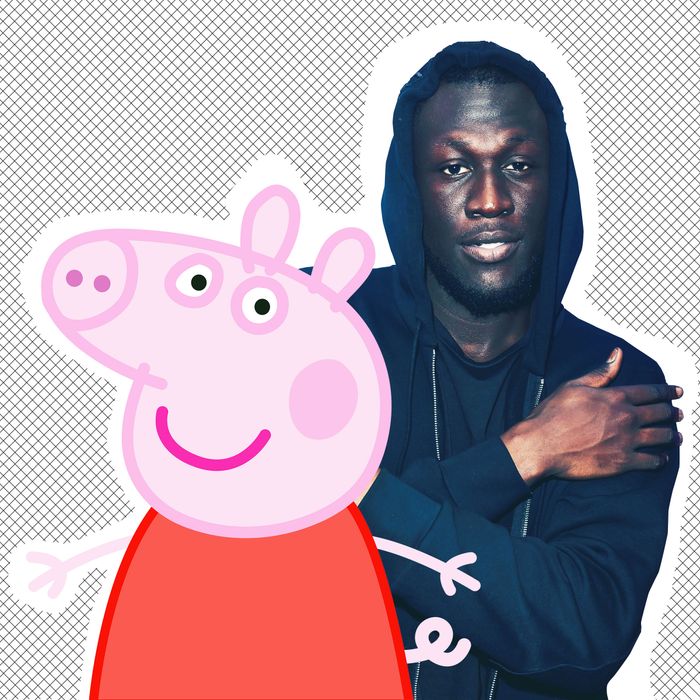 Peppa Pig and Stormzy.
Photo: Nickelodeon/Getty Images
For more than a decade, Peppa Pig has warmed the hearts of wee children across the pond, with her magical adventures, educational messages about friendship, and cheeky attitude. But it wasn't until this past summer that the anthropomorphic sweetie shot to worldwide stardom as a musician with the release of her first album, My First Album, on which she "snapped so hard," as her leagues of fans put it. And now, Peppa's musical abilities may have garnered the interest of one of the U.K.'s biggest stars: grime artist Stormzy.
It all started on Wednesday afternoon, when a Twitter account with few followers noticed that Peppa had followed the fellow musician, tagging them both. Eager to show Stormzy that she's been following his career, Peppa responded with a tweet about his music: "Heavy is the head 👑 @stormzy," she said, in reference to his forthcoming album by the same name. At first, Stormzy seemed to be a little confused to discover that the children's-series character was a fan of his bars. "Wtf is going on lmao," he wrote, compelling Peppa to inform him that she's a songstress, too: "Bing Bong Christmas is happening," she replied, in reference to her new Christmas bop. This is all Stormzy needed to hear: "Let's collab," he tweeted. "How we gonna do this?"
At this, Peppa appears to have gotten just a tad nervous, responding, "Better ask Daddy Pig.." But her agitation is understandable: A grime star, of whom she's clearly a fan, proposed what would be a major boost to her career. Also, she's only five years old. And also, it seems like she may have a bit of an innocent crush on him? Who among us.
Following Peppa's daddy tweet, the conversation seemingly ended; Peppa went back to promoting her Christmas song, and Stormzy to tweeting about the U.K. general election, urging his followers to vote for Labour Party leader Jeremy Corbyn. But who's to say what's happening between the two behind the scenes. Neither Peppa nor Stormzy has responded to the Cut's request for comment, which probably means that they're busy remixing "Vossi Bop."
After getting rudely snubbed by the Grammys, Peppa, this is the least you deserve.