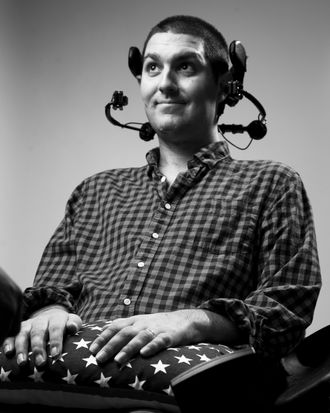 Peter Frates.
Photo: Boston Globe/Boston Globe via Getty Images
Peter Frates, the former Boston College baseball player who was one of the greatest champions of the ALS Ice-Bucket Challenge, died on Monday at the age of 34.
Frates was diagnosed with amyotrophic lateral sclerosis, the neurodegenerative disease commonly referred to as Lou Gehrig's disease, in March 2012. The year before, a fastball had struck the 27-year-old's wrist while he was playing in a baseball game, and the lingering injury eventually led to an ALS diagnosis.
"Remarkably, Pete never complained about his illness," his family wrote in a statement. "Instead, he saw it as an opportunity to give hope to other patients and their families. In his lifetime, he was determined to change the trajectory of a disease that had no treatment or cure."
Shortly after he was diagnosed, Frates learned about the Ice-Bucket Challenge and became one of its earliest and most vocal pioneers.
The challenge called for people either to donate money to research ALS or to post a video of themselves getting a bucket of ice water dumped on their heads. Participants would then nominate others to take part in the challenge and donate money. The challenge went viral and drew numerous celebrity participants, including Tom Brady, Oprah Winfrey, George W. Bush, and Lady Gaga. It is estimated to have raised between $160 million and $220 million for ALS research, according to the Boston Globe.
"Our hearts go out to Frates family and Boston community," the ALS Association wrote in a statement on Twitter. "Pete Frates changed the trajectory of ALS forever and showed the world how to live with a fatal disease. His efforts to lead the Ice Bucket Challenge had a significant impact on the search for treatments and a cure for ALS."
In an essay he wrote for Bleacher Report in 2014, Frates said he drew great inspiration from Lou Gehrig, the New York Yankees first baseman who was diagnosed with the disease in 1939 and who said in a speech announcing his retirement two days later that he was the "luckiest man on the face of the earth."
"I have a poster of his speech on the wall of my garage," Frates wrote. "It is the last thing I see when I leave the house. I use his words to help me attack the day and keep up the fight against the beast that is ALS."
Frates is survived by his wife Julia, and his daughter Lucy. His family has asked that people consider making a donation to the Peter Frates Family Foundation, which works to help progressed ALS patient stay in their homes.