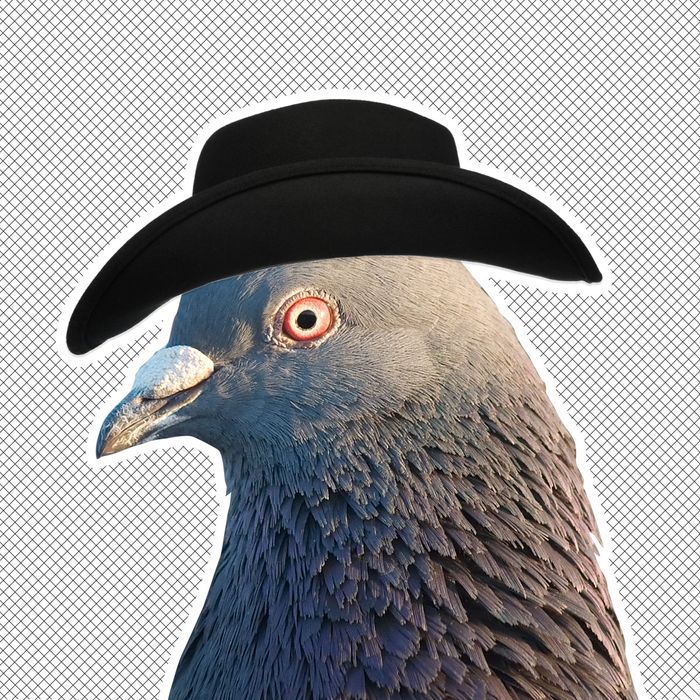 Who the hell is doing this?
Photo: Dori/WikiCommons/TarpMagnus/Getty Images
A mystery has consumed Las Vegas: A calculating individual is putting miniature cowboy hats on non-consenting pigeons, and no one knows who the hell it is, or what it is that motivates them.
According to the New York Times, one of the first people to notice that pigeons were strutting around in diminutive hats was a man named Bobby Lee, who captured his discovery via video last week. "Birds have hats on, bro!" he can be heard exclaiming in the video of two pigeons, which he consequently shared to Facebook — and which, unsurprisingly, went viral.
The video, which is admittedly a delight as long as you don't think about the long-term consequences of affixing a festive accessory to a bird's head, prompts an immediate question: Who did this? At first, Lee theorized that perhaps the pigeons were involved with the Wrangler National Finals Rodeo, which happened to be in town at the time of his sighting. However, an organizer of the event soon shot down the rumor, telling press that they "had nothing to do with the pigeons wearing cowboy hats."
Meanwhile, the Las Vegas Metropolitan Police Department told the Times, disappointingly, that the matter does not yet "appear to be a police matter at this time." I'm sorry, what? How is this not worthy of an intensive investigation undertaken by multiple agencies? Has the FBI been alerted?
In the absence of law enforcement's concern, pigeon-welfare organization Lofty Hopes has taken it upon themselves to identify the perpetrator, as well as to capture the affected pigeons to remove their little hats. While co-founder Mariah Hillman says the hats — which she believes are attached with glue — will eventually molt off in time, she told Vice that the accessories could attract predators or make flying difficult. She's also worried that whoever did this to the innocent pigeons may have separated them from their romantic partners or chicks.
But thankfully, there is a little bit of good news: Charles Walcott, a Cornell University ornithologist and verified pigeon expert, emphasized to the Times that he doesn't imagine the hats are "causing any great harm to the pigeons," as they're "certainly light enough." (Upon seeing Lee's video of the birds, his first thought was that they looked "cute.")
"They look like happy pigeons to me," he said, then added, "It is hard to know, of course, because they will not talk to us."