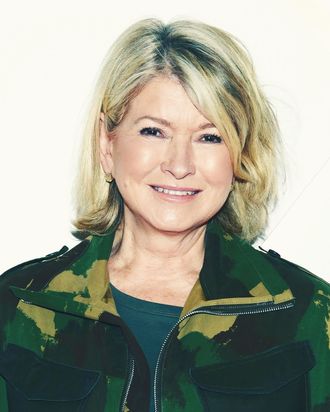 Photo: Dimitrios Kambouris/Getty Images for Related
Martha Stewart seems a little peeved that Queer Eye's Antoni Porowski didn't tag her in Instagram pictures he posted of her horse stable and dogs. She has good reason: The holidays are for spreading cheer and social media followers. We know Queer Eye's resident foodie can brag about the doneness of his pasta, so why pass on an opportunity to brag about hanging out with Martha Stewart?
Now, for anyone who needs a refresher, Stewart has two Instagram accounts, one (@MarthaStewart) she uses to promote pristine dessert centerpieces, the other (@MarthaStewart48) for posting blurry photos of her friends and nature. On Tuesday, Stewart left Porowski a comment from the latter account, writing below an image of him petting her horses:
"You did not tag me on this photo of my stable nor the photo of my beautiful dogs Han, Quin, bete noir and creme brulee … We are bummed about that because you have so many followers and you are my Christmas cookies!!!! You were nice not to post the forbidden scenes and we thank you!!!"
Okay, first, when Stewart says "forbidden scenes," I believe her. Second, these are the pups, with Porowski:
On Wednesday Porowski seemed to address Martha's comment with a separate Instagram post captioned "patiently keeping my hands warm by her fire pit until @marthastewart48 follows me back." To which Martha replied, "I think we started a social media "feud" which was not the point I just wanted you to acknowledge my fire, my animals and my food which you seemed to love???"
As a colleague of mine pointed out, the exchange is vaguely reminiscent of something out of The Godfather, and I have to agree. "You come into my house, Antoni, on this the day I baked Christmas cookies, and then — and then! — you post about it on Instagram without the decency to tag me."
What gives?
This post has been updated.