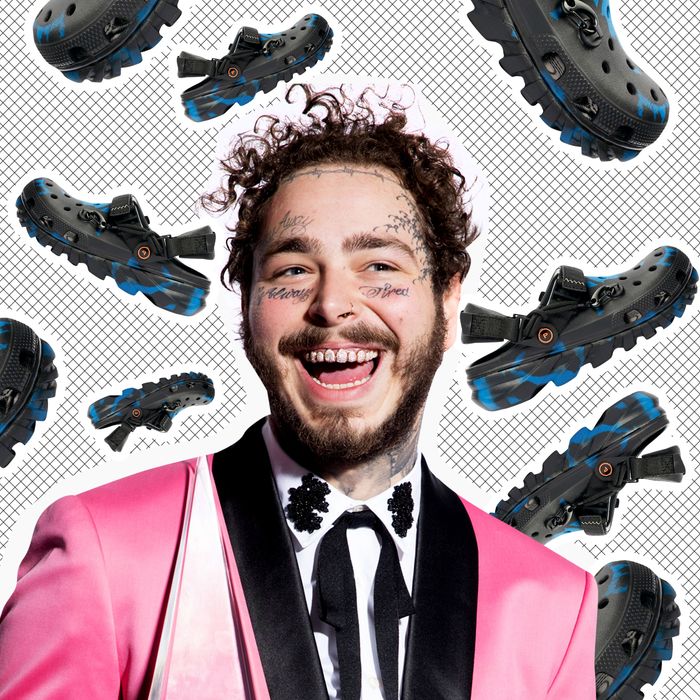 If you are shocked to learn that anyone, let alone members of the Cut staff, find Austin Richard Post, a.k.a Post Malone, a.k.a "Posty," to be totally kind of hot, then you will perhaps be even more surprised to learn that people also find his new collaboration with Crocs to be attractive as well. So attractive, in fact, the plastic shoes, which dropped today, are already sold out on the Crocs website.
This is Posty's fourth collaboration with Crocs. It all began back in 2018, when the 24-year-old musical artist tweeted: "U can tell a lot about a man by the Jibbitz in his Crocs," and the brand took notice. (Jibbitz are those little things you stick into the holes of the shoe.) It's a partnership that makes perfect sense. Posty is a polarizing figure, both as a rapper and as a heartthrob. And Crocs are a polarizing shoe — perhaps the most polarizing shoe ever created. You either love them, or you hate them. And so far, people love Post Malone Crocs. The last drop reportedly sold out in minutes.
Posty's latest design, the "Max Clog," is his most controversial yet, with adjustable straps and a tread sole. "I wanted to make a more tactical and chunky shoe, and they gave me all the tools to do just that," Malone said in a press release, failing to mention why, exactly, he needed a "tactical" Croc. "I think they came out really neat, and I hope everyone loves them as much as I do," he added.
When images of the shoes were first released, they tore my group chat apart. One person argued "They're sick," to which another person responded: "???" High drama! Meanwhile, hundreds of employees and customers at Chicken Express in Southlake, Texas, where Post Malone worked at his first job, were pleased to receive a free pair last week when Crocs paid a visit.
You might still be able to snag a pair — they're already listed on resale sights — but do you really like them? Really???