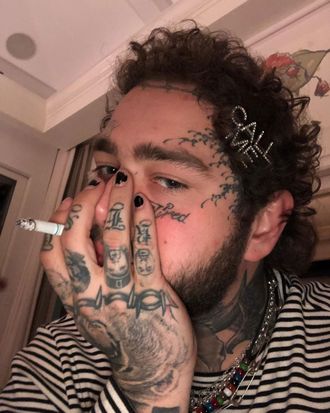 Photo: @postmalone/Instagram
The only thing more totally kind of hot than sold-out Post Malone Crocs or Post Malone in general is finding out that twinkly, bedazzled barrettes also live in Post Malone's signature curly curls.
The rapper recently gave us all an early Christmas present: a coy selfie in which he's modeling the No. 1 hair accessory of the year, single-handedly reigniting the waning flame of the twee hair accessories movement that overcame us in 2019.
There's no caption, and there's no need for one, because "Posty" (he's Posty when wearing hair clips) is a trailblazing beauty influencer in his own right. Never forget that he donned both pigtails and TERF bangs at the same time and showcased chipped manis long before they were purposely created backstage and sent down the Marc Jacobs spring 2020 runway. The man regularly forgoes the removable makeup we cowards rely on in lieu of the permanent facial tattoos through which he expresses himself.
Also, the barrettes do all the talking. Selena Gomez employed a similar tactic of communication last year, and though we could suss out whom she was talking to, things are less clear with Posty's post. Hopefully, he's making the eyes at one of these three Cut writers, but there's a good chance the message was meant for Niall Horan, who claims he has been calling in the comments, but Posty's playing hard to get. Not surprised.
If you buy something through our links, New York may earn an affiliate commission.