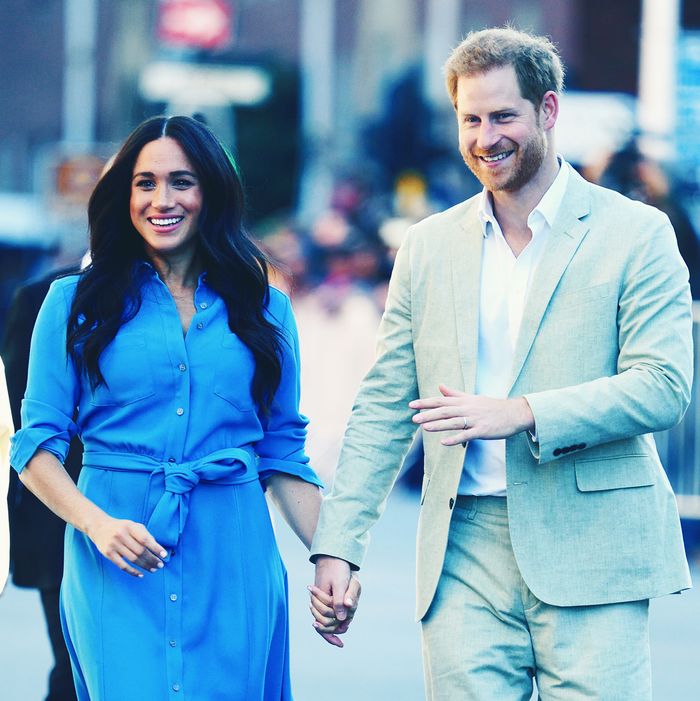 "Your grandparents aren't getting any younger, you know."
Photo: Karwai Tang/WireImage/Getty Images
Prince Harry and Meghan Markle — the most aggressively relatable of royal couples, as you know — have made yet another modern decision, to the displeasure of their rule-abiding family members. After two consecutive Christmases with the Queen & Co. at the Sandringham Estate, Harry and Meghan have opted to spend the holiday with Meghan's mom, Doria Ragland, in Canada. What's more, they will be taking Baby Archie (an old ghost?) to see his grandmother again, having only recently returned from a holiday trip to the U.S.
Some royals, according to Entertainment Tonight's sources, are "disappointed" with the decision to do Christmas abroad, anonymously opining that the Duke and Duchess of Sussex could "have considered the queen and Prince Philip's advancing age" in making their Yuletide plans.
"After all, at 93 and it being Archie's first Christmas, neither Her Majesty the Queen nor Prince Philip will be around forever," a source explained, sounding exactly like your own parent that one time you demurred from Thanksgiving at Grandma's because of logistical chaos. While Harry and Meghan are "entitled to a break," this source added, maybe they didn't need to take it during a large family holiday? Just a thought!
The queen, for what it's worth, reportedly gave the pair her blessing. And according to an official statement, "the decision to base themselves in Canada reflects the importance of this Commonwealth country" to Meghan and Harry, who are also seeking privacy during their visit. This seems fair, given all the trouble they've had with the press this year.
ET notes that a number of royals support the couple's choice to travel with their sweet ginger boy, leaving speculation open as to who's putting on the guilt trip this year. Members of this more sympathetic camp reportedly felt "frustrated" and "concerned" after watching the interview in which Meghan admitted to struggling, a source telling ET, "Everyone wants what's best for them." Almost everyone, that is.