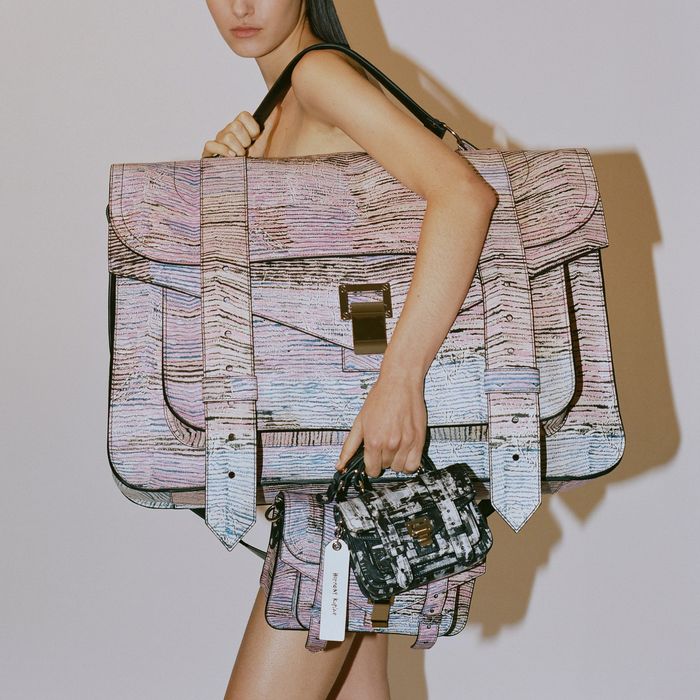 Photo: Courtesy of Proenza Schouler
Few bags defined the 2000s quite like Proenza Schouler's PS1 bag. Anyone who was anyone had one of the distinctive satchels. Despite designer Jack McCollough telling Vogue it was an "anti-it bag" it became one anyways. Please enjoy this tweet of Leighton Meester, Kirsten Dunst, and Jessica Alba with their bags. But anyway, we've grown up over this decade and so has the PS1. For the bag's tenth birthday, it's getting a makeover.
Fashion historians among us may remember that the bag debuted in 2008, but wasn't available for sale until 2009, making 2019 the tenth anniversary. But regardless of exact timeline, the new bags are special. Each of the limited-edition PS1s feature paintings by artist Harmony Korine. Three archival paintings, Blue Check Success, Nudity Clause Line, and Photo Spirit Looper, have been reproduced onto the bags. They were originally displayed at the Gagosian in 2014. If you want one of these bags — so much artistic and sartorial clout — move quickly. There's a limited run of 400 to celebrate the birthday, which are available in stores now. See the three styles below.