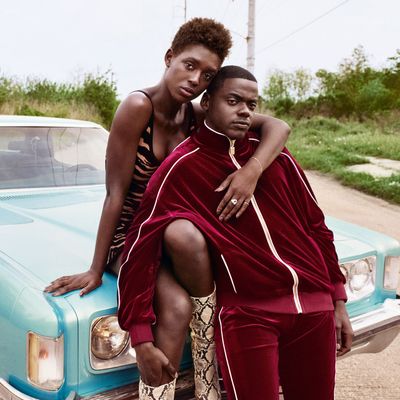 Queen and Slim played by Jodie Turner-Smith and Daniel Kaluuya.
Photo: Campbell Addy/Universal Pictures
The poster for Queen & Slim, a new film written by Lena Waithe and directed by Melina Matsoukas, was an instantly memorable image. In a photo shot by Andre D. Wagner, actress Jodie Turner-Smith sits atop a car wearing a zebra-print dress and snakeskin boots, while actor Daniel Kaluuya leans against the hood in a velvet Sean John track suit. You could tell Queen and Slim would take their place next to Bonnie and Clyde in the history of stylish couple-on-the-run movies.
Queen & Slim is unsparing in its look at American racism, but it's also visually compelling — not a surprise for a movie by Matsoukas, the woman behind the "Formation" video. (Speaking of Beyoncé, she loved Queen's boots so much that she later wore them to the film's premiere party.) Still, the plot doesn't leave much room for changing clothes, which meant costume designer Shiona Turini (a stylist and Cut contributor) had to devise only two outfits for each main character. Below, she describes the thought process behind each look.
Let's start from the beginning. When did you get involved with Queen & Slim?
I met Melina years ago on a camping trip to Joshua Tree. We just really hit it off. We started working together on quite a few projects, and then she brought me on to do season three of Insecure. It was the first time I ever costume-designed. But it worked out! Then she told me about this movie she'd started working on with Lena. Melina makes me audition for every project, FYI. She does not just hand somebody a job, and she tries to keep work and friendship pretty separate. So I really had to sell myself [Laughs].
Queen starts off in a white turtleneck. How did that look come about?
For Queen, I actually looked at a lot of iconic black activists. I always knew that I wanted her in all white. That was something Melina and I debated. She pushed back on it. But it was something that I fought for, because when I looked at images of black activists, the clothes were secondary to the work. I wanted something that was impactful and showed the stark difference between her and Slim, but I wanted it to feel authentic. She's a lawyer and she's fighting the good fight for all of the black people around her. Her clothing is a backdrop. I wanted it to be understated and elevated. We landed on this very clean, white Max Mara turtleneck and brown suede pants. I also thought that in the snow and with the blood, it would be super impactful, visually.
What were some of the other references that you pulled when you sat down with the script?
For the character Uncle Earl and for Slim, I pulled a lot of images from this book called Back in the Days by the photographer Jamel Shabazz. He has truly authentic hip-hop influences in the book and I felt like it would help, particularly for Uncle Earl.
Uncle Earl was the most stylish. 
I mean, he is my absolute favorite. Melina wanted the film to start off visually cold, and then warm up as they're driving through the south. The second they step into Uncle Earl's house, it's an explosion of color and heat. One of Lena's references was Blaxploitation films, so the animal print and the sex appeal was all encompassed in this one house. It also felt like a different era, because Uncle Earl's character was supposed to feel like a dude from back in the day. He has a closet full of tracksuits. When he was at the height of the game, he probably had original Dapper Dan tracksuits, which is why we wanted to do that collaboration. We worked with his atelier team to put together something unique that looked like something Uncle Earl would have had in the '90s. That was an incredible element for me to work on, to have the opportunity and access to a legend like Dapper Dan.
When Queen and Slim get to Uncle Earl's house, you think, Okay, they're safe now. But because of the vibrancy of the setting, you also understand the film is actually just getting started. 
Yeah, exactly. That was one of my favorite scenes to conceptualize with Melina because we collaborated with so many black designers for the costumes. We worked with Aurora James from Brother Vellies on Queen's shoes. Obviously, Sean John helped out a lot with the tracksuits for Uncle Earl. We worked with this model named Anais Mali on bodysuits. It was really important to us to pull in other creatives, especially other black creatives and women of color to make that feel authentic.
Queen's second look comes about very suddenly, in a moment when she and Slim have to grab clothes from Uncle Earl's house and run out the door. How did you work with that plot point to decide what they would be wearing for the rest of the film? 
The difference between styling and costume designing is that costume designing means that it has to feel so much more real. I knew that Queen had to do stunts, so this dress had to go to war with her. We wanted it to feel very different from her first costume. She was literally putting on someone else's skin — someone else's armor — and transforming as a person. We went with an existing Adam Selman dress, which we made tweaks to. It was one of the first dresses that Melina looked at. It just looked perfect when Jodie put it on. It clung to her in a way that felt safe, but was durable in a way that she could actually exist for this adventure in it.
What about Slim's tracksuit?
We camera-tested so many different shades of red. So many. But so much of the film happens at night, and we wanted it to still have that vibrancy and texture, no matter what time of day we were shooting in. That's how we ended up on that velvet burgundy color because it looked so beautiful against his skin. And no matter which way he turns, you see the white piping. We made sure it was spaced out a little further than the average tracksuit, so that it always had a little dimension.
Did the actors want to keep their looks after you wrapped?
[Laughs.] Yeah. We also made an all-white leather version of the tracksuit for Slim, and he was obsessed with it. Queen obviously wanted the boots. Two other looks that people mention to me all the time are Uncle Earl at the funeral in the black fur. Everyone has that uncle who's going to show up and show out and celebrate this person's life, but in the most fabulous way possible.
Where did that look come from?
Adrienne Landau. And he wore it with a Sean John black velour tracksuit. And then Indya Moore's costume, people love. The pink sparkly bike short thong set. And then the blue latex dress she wears when they're setting the car on fire.
Yes, where does one get those?
We made the blue latex dress to match the color of the car. Initially, it was an option for Queen, but she can't really be on the run in a latex dress. The rain boots were a happy accident.
This interview has been edited and condensed.