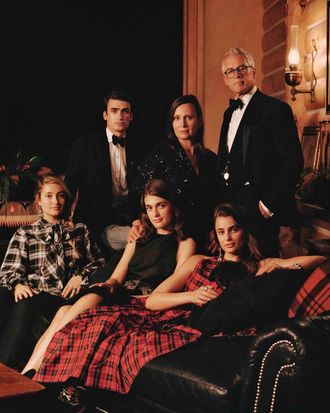 Photo: icon/Courtesy of Ralph Lauren
For the third day of Christmas, Ralph Lauren gave to thee: vintage Polo sweaters, a custom painted tote, and a portrait of your family. Just in time for gift-giving season, the brand is launching a week of special products exclusively on the Polo App, titled "7 Days, 7 Drops."
Each day you'll find a new goodie, ranging from collectors products like the coveted Five Horsemen Rugby shirt, to customized items like an illustration of yourself as the brand's adorable plush mascot. Each gift has limited availability so while the prices lean a bit steep, you'll sleep sound knowing each one is unique. And if you're quick enough, you may even snag a styling session with a member of RL's design team. Scroll below to check out all the week's offerings.
Day 1: Have Yourself Illustrated As a Polo Bear
$795
Ever wondered what you'd look like as a cute teddy bear? For day one, you can purchase a one-of-a-kind, framed illustration of RL's signature Polo Bear dressed in your own personalized Polo look.
Day 2: Ishi Glinsky x Polo Canoe Moccasin
$995
Keep it cozy this winter with a pair of these limited edition Polo Canoe moccasins that are hand-painted by famed Native American artist Ishi Glinksy.
Day 3: Style Session Followed by Bourbon & Burgers at the Polo Bar
$1500
For day three, RL has shaped the perfect night out. With this purchase, you'll receive $1,500 in store credit at the Madison Avenue RL men's store, complete with one-on-one style advice from a member of the Polo men's design team. If that's not enticing enough, you'll polish off the evening with a dinner for you plus one at the Polo Bar.
Day 4: Custom Painted Bellport Bag
$895
It's hard to find an unique purse that also carries everything you need (laptop included). Stand out with day four's Bellport Bag, which is custom-painted with your choice of the Polo Bear or Polo Script by Ralph Lauren's in-house artist.
Day 5: The Ultimate Vintage Holiday-Sweater Collection
Prices Vary
Polo is offering a collection of its holiday sweaters for day five. Depending on your mood, pick your favorite or buy them all!
Day 6: The Ultimate RL Family Photo
$895
Want to get a gift the whole family can enjoy? Day six offers a group photo shoot, complete with hair, makeup, styling, and images shot by RL photographer, Carter Berg. Even better? Everyone can take home an outfit of their choosing.
Day 7: Five Horsemen Rugby
$125
This classic silhouette in "Newport Navy" was first introduced in 2005, quickly becoming a fan favorite. For the final day of the drop, RL is bringing it back for a limited holiday run.