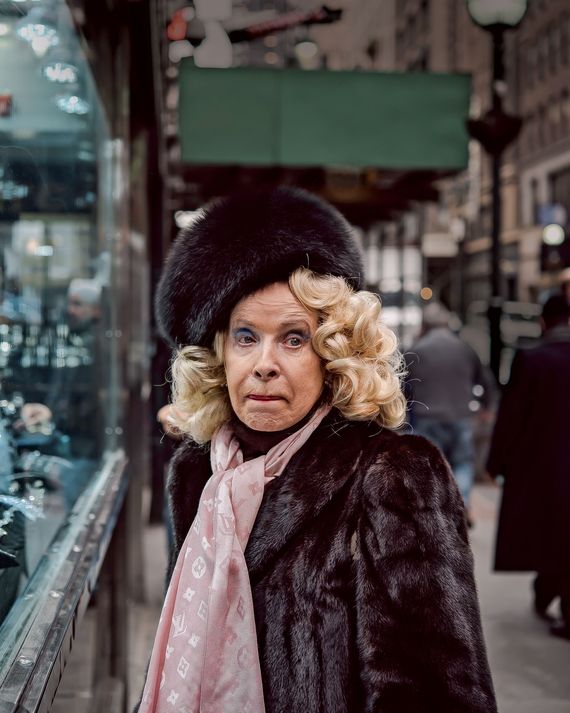 Spotted at Sixth Avenue and 47th Street.
Photo: Daniel Featherstone
This article was featured in One Great Story, New York's reading recommendation newsletter. Sign up here to get it nightly.
Being a New Yorker, probably more than being a resident of any other place on Earth, is a choice. Even if you are born here, you choose to stay — certainly, there are easier places to live. The rest of us have sought this place out, have moved across the Hudson or the world, for the opportunity to lose ourselves and become ourselves and, in the process, to take pleasure in the jostle of other people's dreams. This is a portfolio of people-watching: a collection of 24 New Yorkers who stand out from the sidewalk menagerie like apparitions, courageous members of the resistance fighting the forces of placelessness that gave us Hudson Yards. Daniel Featherstone has been documenting New York's characters for years, shooting on some of the same street corners as fellow photographer Bill Cunningham. After Cunningham's death, he has continued the tradition, searching for people who are "always dressed for the day, and you can see them dressing like that every day." Few of them are young anymore. "I've always been attracted to the older generation because they seem to be more individuals than the younger generation," Featherstone says. And then we asked six novelists, also New Yorkers, to go further and find out who a few of these remarkable individuals are. Of course, we could have assigned enough novelists to write 8 million more biographies — this is another reason to love New York. We are all, always, both urban anthropologist and subject of another stranger's fascination; the people-watcher and someone worth watching. This city wouldn't be the same without us.
Laura Sands and Eleanor Kennedy, By Brit Bennett
On West 126th street, a reverend stops us on the corner and asks if I'm aware that I'm in the presence of legends. Eleanor Kennedy, 78, demurs. "You're only calling me a legend because I'm old," she teases him. But moments before, an Australian man waiting at a nearby stoplight announced that he just had to introduce himself to Kennedy and Laura Sands, also 78, gravitating toward the charming pair; he left after kissing the ladies' hands. Later, in the restaurant Lenox Saphire, the owner saw me taking a picture of Kennedy and asked if he could snap one of her as well.
Kennedy and Sands call themselves sister-friends, and their overlapping conversations reflect the intimacy of their 30-year-long friendship. The pair met at Canaan Baptist Church on West 116th Street in 1989 and have since traveled the world, venturing to France, Australia, and even New Zealand. On the docket this year are trips to Vienna and Budapest. But Harlem is always home.
Kennedy was born in Harlem Hospital. She was raised by her grandmother Eleanora, who arrived in Harlem in the 1930s. Kennedy traveled frequently during her 30-year-long career at American Express and later created a travel company that has helped support her wanderlust. When she was in her early 20s, Kennedy sang in a gospel quartet called the Harlem Beggars that toured Europe, sharing a bill with Miles Davis and Sarah Vaughan. In 1964, she performed in Langston Hughes's play Jerico-Jim Crow and has kept the playbill in a memory book alongside a Christmas card signed by the poet himself.
Sands arrived in Harlem when she was 17 to attend Adelphi University. She was eager to escape South Carolina. One time when she was a girl, out picking cotton, she'd seen a plane fly overhead and wondered why her relatives only visited by train. She vowed that she would fly on a plane someday, a promise she has fulfilled many times over — currently, Sands has traveled to every continent except Antarctica. She collects a bracelet for each new country she visits, and her wrist glitters with gold reminders of Italy, Ghana, and Egypt. In New York, she worked as a special-needs teacher for 30 years, and whenever the Department of Education tried to reassign her to a school downtown, she would refuse to abandon the children in Harlem. She would later win Teacher of the Year twice.
Harlem has never received the respect it deserves, says Kennedy. She points to the neighborhood's innumerable artistic contributions; in spite of increasing gentrification, Harlem remains a bastion of black culture. Sands mentions the bustling nightlife, the friendliness, the sense of community. A stranger on the street recently pointed out that her shoe was untied and bent herself to tie it. Sands and Kennedy served together on the board of the Harlem Hospital and would hear other black people say they assumed the hospital provided a low level of care because it was in a black neighborhood. These skeptics do not consider that Harlem Hospital would treat gangsters wheeled into the trauma ward with dignity. Or that Harlem Hospital would hire black nurses for internships they could not obtain at hospitals downtown. All four of Sands's children were born there, and when Kennedy's water broke suddenly in a movie theater, she begged the ambulance driver to bring her to Harlem Hospital. She wanted to birth her daughter in the same place where she'd been born, the same hospital where the grandmother who raised her died.
"Harlem is the mecca of the world," Kennedy says. "You haven't been anywhere until you've visited Harlem."
Domenico "Mimmo" Spano, By Lynn Steger Strong
Sometimes he thinks about retiring. He's 75, and he could swing it. He gets up at five each weekday morning, feeds the cat, takes his pills, and makes his coffee. He takes a train to Hoboken and then the path to 33rd Street; he walks from there to 57th, unless the temperature dips too low, and then he takes the train. What would he do, though, if he didn't come to this place every day? He walks, and people call out to him, "Man, you're one elegant man." "You're sharp as a needle," they say.
Sometimes, when he goes back to Italy, people make fun of Americans and he laughs at them. "I'm American," he says. He's lived here almost 50 years. His family never wanted him to come, but it was the oldest story in the world. When he was 24, Mimmo met a girl. They were in Florence, and she came to learn Italian and he spoke no English. By their third date, communicating only through gestures, he gave her the ring that meant they'd be married and that now, since her death in 2003, he wears on a necklace he keeps tucked in his shirt.
For a while, Mimmo was a manager at a string of Roy Rogers in New Jersey. They said he couldn't keep his mustache because only the villains at Roy Rogers had a mustache; but the mustache was a decree from the girl he'd married, so they finally relented.
In 1979, he read in the New York Times that there was a stylist job at Dunhill for which one needed to be bilingual, so he called about it. The man took him to the Yale Club and they ordered drinks and the man told him that the job was his. Mimmo went on to Bergdorf Goodman in 1993, Saks in 2002. Clients flew him to Damascus, the Virgin Islands, all over Europe. He took a private jet with the president of Saks to shoot ducks in Arkansas.
Since his wife died, he goes to visit and talk with her. She was buried in Holy Cross Cemetery in North Arlington, ten miles from his house. He always brings her flowers. One day, he set two angels on her gravestone, and every time he went to see her — no set schedule; when he felt like talking — the angels were still there. This seemed like magic to him, just like she had. Finally, after five years of not knowing, he went to the groundskeeper and asked if he knew how these small angels, not sturdy and not fastened to the gravestone, had stayed put all those years. A man told him it was clear they'd been left by someone who loved her, so he kept them upright, fixed them when needed. Mimmo kissed this man and hugged him; it felt more magic, not less, now that he knew.
Lori Lewin, By Rumaan Alam
The express bus was a miracle. People thought there was romance to the ferry because they'd heard that Carly Simon song. That movie, that song, the boat, were for those who believed in office life — obsolete fax machines, cups of Lipton, perfumed bodies in airless rooms. She didn't need romance, just an almost hour of quiet.
She always took a window seat. Passengers filed on, and she willed no one to sit beside her. Seven dollars was so little to pay for silence; she'd get off downtown, and that would be lost. The tangle of tunnels at Fulton Street always made her think of ants hurrying off on their ant business.
She's lived in this city her whole life (people forgot Staten Island was part of the city) and knew how to plan accordingly. Her gig was seasonal — helping a designer she loved sell scarves and hats at a pop-up market — and it was early enough in the season that she didn't have to think about what would come next. Something always would. She'd worked as a shopgirl, sales associate, customer service, whatever. She's learned that dealing with people made work feel not like something you did for money but like life itself. She knew all the specialists (vintage clothes; rare coins, manuscripts, and documents; jewelry; magazines and printed ephemera), and their clients remembered her, loved her, asked for her. They talked, and she listened.
A man paused in the aisle, eyebrows asking, Is this seat taken? She smiled enough to be polite. Oh, well. She turned toward the window. Anyway, she liked the view: the harbor hugging the Atlantic.
He kept his silence until the bridge. "Beautiful day." He said it like he was somehow responsible for it.
"It is." She looked at the blur where the sea touched the sky, catching — some trick of light — her own reflection. People took the rhinestones, the turban, the veil, as an invitation. Young girls asked if she was bound for a costume party. She reminded old women of their mothers. Strangers sometimes stroked her arm as if she were something for sale. Was it better than the taunts from when she'd been a teen and had whitened her face with powder and worn only black? Was it better than the time an old man on the train asked if she did internet porn? When she looked at her reflection, she saw only herself.
"Headed to work?"
She offered a vague "Yes."
"Me too. I work downtown. Brookfield Place. You've got to be an actress, am I right?"
She thought of something she'd read in Balzac: But, boy as I was, could I have acquired the magnanimity which leads us to scorn the scorn of others? "I'm just going to rest my eyes." She leaned against the window and, after a while, stopped hearing his steady breathing. She made him disappear.
Hattie Wiener, By Jenny Zhang
When Hattie Wiener was 6 years old, her mother took her to a bathhouse in Brighton Beach. Looking up at all that naked flesh, she vowed to never age. Of course, she says, "that vow cannot take effect because one ages." So she made another vow, that if the universe revealed the secrets of youth, beauty, and sexuality, she would spread the gospel to others. Now, at 83, she isn't looking for the elixir of youth. "You have to realize that you have been given an embodiment on this planet, and it's your responsibility to take care of it like a work of art."
Ever since her divorce three decades ago, she has been sleeping with much younger men, in their 20s and 30s. "The opposite of old is not young; the opposite of old is new." That's one of her many "Hattietudes"; another is to be "uninsultable. If you know you cannot be insulted, then why do you have to protect yourself?" To be open and vulnerable means dropping the masks we've hidden behind for so long. "With elderly people, I look into their eyes and I see the child they once were. That child hasn't gone anywhere."
The child who grew up in "poor Williamsburg" became a therapist in 1985. "And then I realized it was sexuality and aging that they were interested in — that's what the patients needed." Dating culture these days is all about the "fuck and flee," she acknowledges, so we might as well accept the reality and work with it. Once, on a whim, she entered an over-50 swimsuit contest at the Roseland Ballroom and won. She was in the Daily News the next day being compared to Cher. A few years ago, a client encouraged her to try out for a Dolce & Gabbana ad campaign that was looking for a "sexy older woman in a bathing suit." She landed the gig and ended up in Vogue, wearing her own gold one-shoulder suit.
For those who find her lifestyle vulgar, she challenges, "What could be more respectful than allowing someone else to appreciate you?" She's been in love several times. "I'm a romantic, like from the old movies. I really cherish it." For a moment, she goes to a dreamy, far-off place. "We slept naked, entwined, the entire time." So she's still looking, and, no, she's not afraid to love again, not to mention she's got "a great tongue and mouth."
Gerry Boswell, By Regina Porter
Gerry Boswell burrows his hands in his jacket and smiles, radiating warmth and a restrained sadness. He had just left the South Tower when the North Tower fell. He recalls being evacuated by security and stepping outside to see people falling from the sky in his peripheral vision. One of his close friends, Eamon McEneaney, died that day. Eamon was the second friend Gerry has lost in a fire: Mike Keeley, his roommate in Syracuse, died in a house fire. They had worked together at RJ O'Toole's Restaurant, these friends. Gerry's the last one standing, and he often wonders, Why me?
Gerry was born in upper Manhattan. "I've been to San Francisco, Chicago, Boston, the Caribbean, Europe. All over. But there's just something about the people here, the diversity in New York that's different from other places." He worked as a broker for a firm on John Street selling the euro, but soon after 9/11, the economy tanked and he was laid off. A colleague's sister worked at MTV. She met with Gerry and suggested he try acting. He landed his first gig — a commercial for a personal-injury law firm — a month later. He has been acting ever since: movies, TV, commercials, voice-overs, whatever he can get. The work's not consistent, but he makes do. "People walking around so bitter," he says. "I want to tell them, 'You're alive. You're here. You can always do something to make your life or somebody else's better.' " Like checking in once a week on his friend, a homeless man in his 80s who is too proud to go to a shelter. "When I go to bed at night, I ask myself, 'Did I do anything to upset someone today?' I try to keep my side of the street clean."
Senta Driver, By Emily Gould
Senta Driver is crossing Washington Square Park with her bag of groceries when she sees this appealing bench and decides to take a short rest. The building where she has lived, always alone, for the past 52 years is only five blocks away, but she stops to rest more often now at 77. But she moves quickly; she can't help it. She still has her dancer's momentum. Her spine is unbent, thanks to these past 52 years of walking in Manhattan rather than hunching in the driver's seat of a car, bending to haul bags out of a trunk or back seat.
Instead, she keeps what she needs with her in her black bag: the day's newspapers, and, if she's going to the library, the books and letters she's using for her genealogy research. She is working on a book about her family, tracing the line from Salem, Massachusetts, in the 1600s to the middle of the 20th century, finding the stories of her ancestors: naturally reclusive, quietly influential people like herself. To think that her scholar's life is the one she sought to avoid when, at 25, she chose to join a dance company rather than pursue a master's degree in medieval studies. So much sitting, she'd thought then.
The dance company she founded ended in 1991, and she's had several careers since then. But it's still the company that she thinks of as her child. When she became a nurse in the neonatal ICU, it wasn't because she loved babies, though she isn't opposed to them. It had been the work itself — close to the seat of potential, exploring the edges of what can be done. The same thing she'd done with dance.
She looks for that energy everywhere, every day. She sees friends occasionally, and family even more rarely. When she seeks connection, she finds it, as she always has, in performance. Later this month, she'll see the singers from Roomful of Teeth reshape the air in a room and feel it again: the thrill of seeing people test the limits of what can be done by the human body and the human soul. For today, though, she looks forward to carrying her heavy bag home, removing the gray fedora, taking a book down from the shelves that surround her, and getting on with her work.
*This article appears in the December 9, 2019, issue of New York Magazine. Subscribe Now!