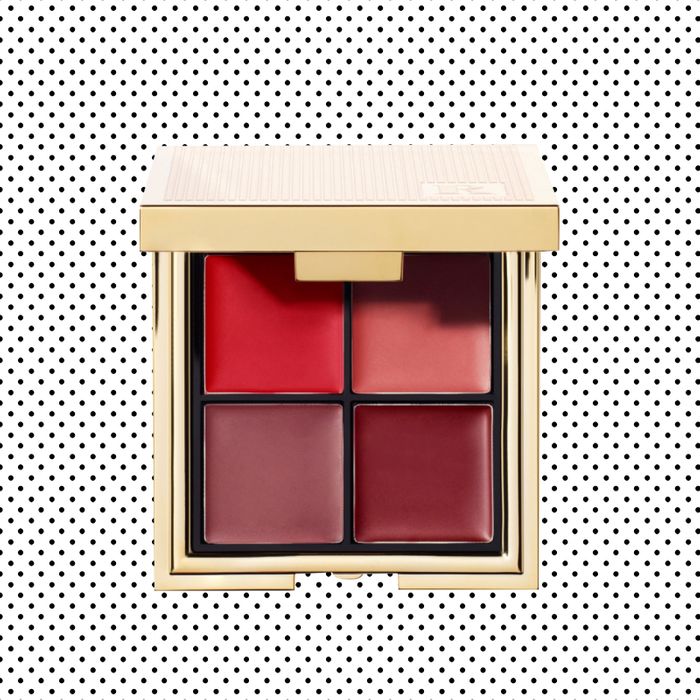 Photo: Courtesy of the Retailer
The most important beauty lesson I've learned about lipstick comes from makeup legend Pat McGrath. Her tip was this: There are lots of fancy brushes, made out of the fur of mink and other exotic animals. But the best lipstick brush is something you can't buy — it's God-given and you were born with ten of them. To apply lipstick, all you really need are your fingers.
This cute palette from Rouje Paris seems to agree with McGrath. There are four wells of sheer but pigmented lipstick that encourage you to get tactile. Use your index finger (it's always that one, McGrath told me, because it has the "right" amount of pressure), and dip it into the color that speaks to you. Then do the press and lift — mold the pigment, which is creamy rather than oily, into the curves of your lips.
Applying lipstick straight out of the tube often gives more of a formal and forced "look at my face" kind of effect. Done with your fingers, the effect is more like a very soft wash of color that infuses your lips with color, rather than sitting on top of it. It gives you the "just blotted" look of lipstick, without forcing you to blot. Since you're pushing the color deeper into your lips, it also lasts longer.
I like that the colors, ranging from the softer nudes to richer wine, allow you to mix and match like adult finger paints, until you get a shade that you're happy with. Give this to a person who considers makeup to be a true art.
If you buy something through our links, New York may earn an affiliate commission.