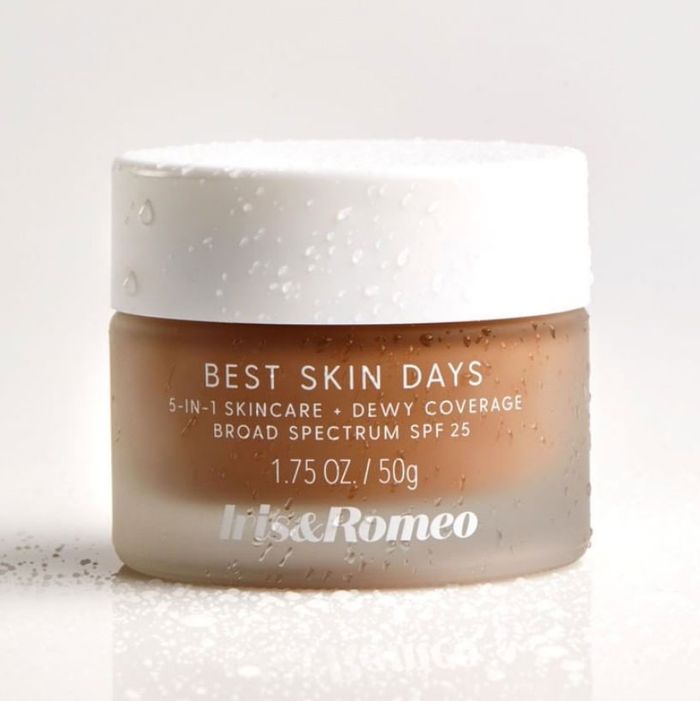 Photo: Courtesy of Iris & Romeo
I expect a lot from my skin care. I want my serum to soften and nourish my skin, helping it better accept the moisturizer that comes next. Once that's in place, I expect the sunscreen that goes over it to protect my complexion without causing any irritation. Oh, and I'd like this medley of products to, in unison, make my skin look less red, more awake, and stay that way when I apply my foundation or tinted moisturizer over it. It would also be great if all of these products were clean.
New brand Iris & Romeo seems to be up to the challenge — with just one jar. Their Best Skin Days product will "serum," moisturize, and protect skin, not only against the sun's UV rays but also from pollution and blue light, which continues to gain notoriety for being even more nefarious to skin than UV.
The "seruming" comes from Bulgarian rose extract (an alleged natural alternative to retinol), green tea, and Moringa oil. Sodium hyaluronate helps plump skin, and coconut water, rose water, and jojoba oil do the moisturizing. Its pigments are mineral based and its sunscreen comes from non-nano zinc oxide (meaning larger-sized molecules,) which is also coral-reef friendly. It's also packaged in glass, which comes in boxes made of post-consumer recycled paper and is made in America.
The dewy glow it gives my skin is pretty remarkable — a kind of a shiny, bouncy texture and a healthy firmness that defies the fact that it's 30 degrees and windy outside. It comes in only five shades, but those shades span a wide range, with more hopefully to come. The only downside for me, if I really had to find one, is that I sometimes felt I needed a little more coverage than what this sheer tint provided. But despite that, I'm not ready to give it and its multitasking abilities up.
If you buy something through our links, New York may earn an affiliate commission.