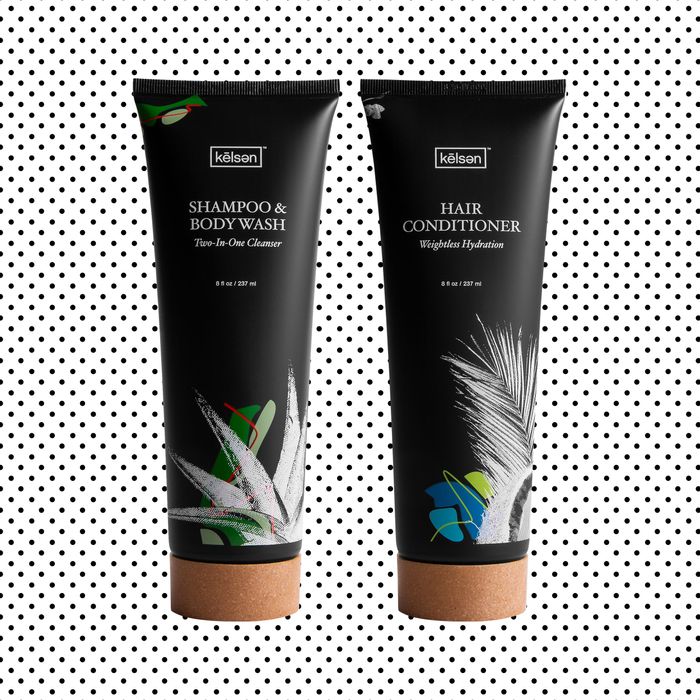 Photo: Courtesy of the Retailer
I try to live a parsimonious lifestyle. I take the subway everywhere, and I bring leftover soup to work for lunch. One luxury I allow myself is the occasional blow-out at DryBar. Last week, however, I didn't have enough time to get there, so I stepped into the shower, locked eyes with the tubes of Kelsen Shampoo and Hair Conditioner, and said, "Pressure's on, you two."
Turned out, no pressure was needed. The Shampoo & Body Wash (yes, a two-fer) cleaned my hair (and body) efficiently, and the conditioner made it feel as if it had received a professional deep-conditioning treatment even though I left it in for no longer than a minute.
Kelsen is a clean hair line, part of a growing category of hair products that leave out the usual nasties, like sulfates and silicones, along with artificial fragrances and micro-plastic, which harms marine life. The ingredients in the formulas sound like ones I'd like to include in my next bouillabaisse: organic kelp, sea holly, and sea fennel. The black matte-finish tubes are made of 85 percent plant-based, biodegradable sugarcane, and their cap sare made with compostable wood composite. Oh, and the brand donates one percent of sales to 1% For the Planet.
With a name like Kelsen, I figured it was made by a subdued blonde couple who lived somewhere in Scandinavia. "Kelsen" just sounds Swedish to me, especially with the added touch of a flat horizontal line over the first "e." Maybe it's pronounced Keel-sun?
Turns out, the line was founded by four guys in California — two pro skaters and two pro surfers. The name is inspired by the word "keelson," which means a longitudinal beam, set of timbers, or metal plates fastened inside the hull of a ship along the keel to add structural strength. Now you know.
Kelsen is unisex, and all hair types can use it,. I asked the Cut's beauty editor Erica Smith to try it on her abundant curls and her feelings were the same as mine: "My hair feels so soft!" It looked fantastic, too.
If you use multiple hair products, it can be hard to know which was responsible for a really good hair day. Was it the cleanser? The styler? Maybe even the finisher? In this case, I'm going with Kelsen's shampoo and conditioner. Together, they made my (and Erica's) hair feel as soft as a hand-knit Fair Isle sweater made with yarn from the alpacas living on the seaside farm of that aforementioned non-existent Skandi couple.
If you buy something through our links, New York may earn an affiliate commission.