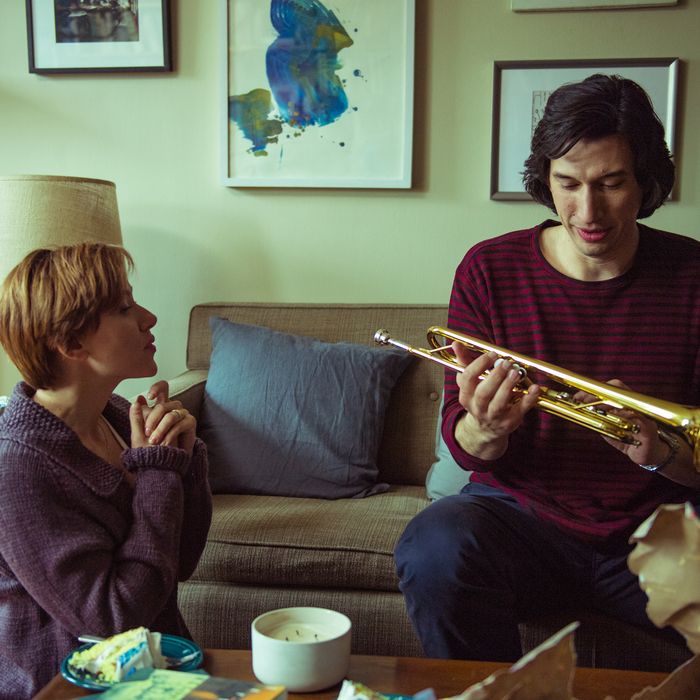 Photo: Wilson Webb/Courteys of Netflix
For weeks I eagerly awaited the arrival of Noah Baumbach's latest film, Marriage Story, to Netflix. All I knew was that the film is about divorce, and Adam Driver is in it, but still I ached to discuss my excitement with anyone who would listen. I replayed the twee yet thoughtful trailer in my head. A friend who saw it in theaters told me she'd had an ecstatic experience while watching it, clutching at her boyfriend as she wept. The New Yorker's Richard Brody gave it an uncharacteristic rave, describing it as "a finely wrought network of family relationships." It's been buzzed about as an Oscar contender for months and on Monday, as expected, it was showered with Golden Globe nominations, including Best Picture.
By last Friday, when the film was finally made available for viewing on America's screening platform of choice, I was practically rabid for Marriage Story. I splayed my body across my entire couch, rested my feet on my boyfriend's shoulder and, as if kneeling at the altar of monogamy in preparation to worship, turned the movie on.
Halfway through the 136-minute film it dawned on me that I felt nothing. I turned to my boyfriend and said, "I feel nothing." We sat in silence, then ostentatious complaining, then silence again. Scarlett Johansson's reddened eyes brimmed with tears. I sipped my wine. Adam Driver was almost too large to stand in the doorway of a large house. I remembered an invoice that needed filing. Still, nothing.
The movie opens promisingly enough: Nicole, an actress, and Charlie, a playwright, are parents to an 8-year-old son and are just beginning the process of getting divorced. In the first scene, Charlie and Nicole take turns listing the other's best qualities, as requested by their divorce mediator to help ease the process of separation. We learn, for instance, that Charlie is really good at telling people they have food on their face in a way that won't offend them and Nicole is good at not pretending she knows more than she does about art. These snapshots offer the audience a glimpse of love forged in the persnickety details of intimacy, but after the initial punch of the opening sequence the audience is not treated to the same standards of intricacy and attention advertised in the opener. Because of this I, too, have a list of fastidious observations where my heart used to be.
Though they're each attractive on their own , Johansson and Driver somehow have zero chemistry. Perhaps this is why several of the scenes feel as if they are about to turn into Mastercard commercials. When Charlie tells his wife that he's won a MacArthur genius grant he seems giddy but not particularly excited to tell her, and she in turn receives the news with subdued warmth, as if he were a relative stranger to her. In a later scene Nicole orders Charlie a salad during divorce proceedings because he can't decide what he wants, another bit of rushed emotional signalling so shallow it stands better alone as a 30-second spot than as a part of a more expansive story.
Perhaps this is why I never really understood in my gut why this couple was splitting up, most likely because the film fails to convey why these two people got married in the first place. Nicole, who initiates the divorce, recounts her reasons — he never acknowledged her desire to live in L.A., he prioritized his art over hers, he cheated with a co-worker of theirs — which are supremely understandable, but without strong dramatic structure and convincing performances they're just words. Driver is brilliant at creating wacky portraits of male bravado, as demonstrated by his performance on the HBO series Girls, his turn as Greta Gerwig's cocksure roommate in Frances Ha, and his depiction of a country vocalist in Inside Llewyn Davis. What he is not good at is playing a resentful genius with strict taste in women's haircuts and a wandering eye. You know who is good at that? Literally any other straight guy in Hollywood. I don't buy that this guy is an artist just because we see him giving his wife notes on her acting and getting accosted by assistants clamoring for stagecraft advice. He's played too squeaky-clean, not emotionally unavailable so much as drawing an inner blank. But the problem is in the writing, too. How did this standard-issue marshmallow of a man seduce his wife out of a promising Hollywood career to act in his Off Broadway plays? He doesn't say smart, enticing things ("You pulled the rug out from under me and now I'm in hell" is standard fare) and thanks to his rendition of "Being Alive" from Sondheim's Company, I finally don't feel like an asshole for using the word bathetic.
It doesn't help either that in a film ostensibly about a messy divorce there is only one fight scene and it's rather disappointing. Glib chitchat about Monopoly and credenzas lights the way for a noisy spitballing of grievances. They make a lot of assertions hardly explored before or after this scene, again making it difficult to tell what they are really saying about the relationship. They literally compare each other to each one of their parents, but only Nicole's mother makes an onscreen appearance in the film; we are otherwise told a minimum about the parents who raised these two successful, well-adjusted, and yelling individuals. She admits to being repulsed by his touch, and he calls her a slob, and it goes on like that. It picks up a little when Nicole says, "People used to tell me that you were too selfish to be a great artist … they were absolutely right!" — I laughed! — but then Charlie starts in on their sex life, about which we've previously heard nothing, and I have no idea what's going on again. A later scene where Charlie fights himself, accidentally slicing his arm with an X-Acto blade during an interview with the social worker assigned to their custody case, is much better.
My list goes on. Their son, Henry, is rude, needs to be carried short distances, and can't read, but isn't otherwise afforded a personality despite embodying the plot's primary stake. Rolling blackouts in Los Angeles make it difficult for Nicole to open the electronic gate to her home so Charlie can pick up their son, but when he gets onto her property there are lights on everywhere. Nicole interrupts a teary speech about the dissolution of her marriage in order to compliment the cookies her tigerish divorce lawyer (Laura Dern) has set out for her. Charlie worries about frittering away his son's college savings on a fancy divorce attorney and then stops worrying. In short, I was not for one instant not thinking about the characters as actors, the words and camera angles as directorial choices. Who has time to cry? Laura Dern is really great in it though.