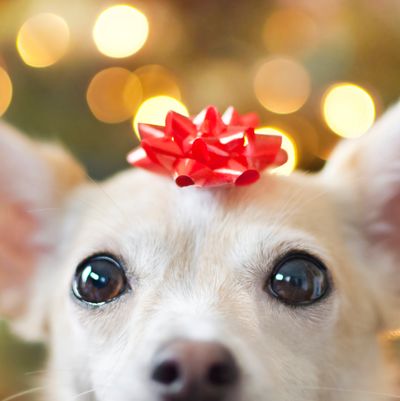 Photo: Hillary Kladke/Getty Images
The holidays are full of obligations. Parties, travel, cookie swaps, buying gifts for people you don't know much about, buying those people a saucepan because you assume they probably cook. But there is always one bright spot: choosing a somewhat egregious gift for your sweet pet whom you love so much.
According to New York Dog Shop owner Lisa Borregine, the most popular holiday gifts tend toward the more regular. Over the phone, she told me that although they do sell a few high-end bags, carriers, and harnesses, mostly from the brand Susan Lanci, the average person "doesn't spend $100 on a harness." (Or, I imagine, $3,199 for a carrier.) "That's something most people think is over the top."
Instead, the popular gifts are personalized carriers (the "Fundle" is popular) and collars. Borregine also notes that the shop sells figurines that can be painted, for an additional fee, the exact coloring of your dog. I have to say: That does sound quite tempting.
But what are the most outrageous things we, personally, have purchased or constructed for our pets during the holiday season or otherwise? I'll go first: I once paid $60 for a dog-sweater re-creation of the sweater Danny wears in The Shining. My dog hates it very much, and, to be honest, it doesn't even look good on him (even though he is extremely handsome). Do I regret buying it? Of course.
"So … yeah," offered Nora, the owner of a corgi named Daisey. "I got an antique pram off Craigslist for our corgi. She's not old or disabled. She's just fancy." Indeed, she is; it is quite clear from the accompanying photographs. She also notes Daisey "likes being up a little higher off the ground," and who doesn't?
"One year, we made a maze out of cardboard and put a pile of home-cooked brisket at the end," Cut senior editor Jen Gann told me. "I'd imagined our dog joyfully racing through the paths, but he just stood at the edge, wagging his tail and staring up at us with hope in his eyes. Like maybe if he was patient enough, we'd tell him what was happening."
A reader named Paolo submitted another lovely homemade gift. "My mother, who is both Italian and a graduate of Pratt, painted miniature versions of classical paintings for our dogs, Jazzy and Fionn, and hung them on eye level above their food bowls, so they could take in some culture while eating."
Catherine, a dog owner near Philadelphia, told me this enchanting "tail" of a gift gone awry: "Our neighbor gifted our dog, Winston, a toy bunny, which we later discovered was a Christmas gift to their 18-month-old daughter." Dog toys and baby toys tend to look quite similar — it's true. "Winston destroyed it."
New York City dog owner Brittany once got her beloved the gift of Brooklyn relaxation. "One Valentine's Day, I treated my doggo to a full spa treatment at this posh groomer in Williamsburg, and he was so happy and clean and snazzy!"
Dhaaruni, a former stuffed-dog owner, wrote in with a story of a gift passed down through time. "When I was 7, I had a stuffed dog named Wishbone who had the exact same coloring as the Wishbone on the PBS show," she said. "Fast-forward 18 years, and my family now has a golden retriever named Jude who is extremely spoiled and has more toys than my whole family had combined. I didn't even know Wishbone made it from Dallas (where we lived when I was 7) to San Diego to Seattle and multiple houses in those cities, but my mom found Wishbone, gave him to Jude, and now Jude carries Wishbone everywhere he goes."
Writer Libby Watson has a cat named Digby, for whom she bought a gift that, she says, "was really a gift for myself and my ego." I'll allow her to take it away:
"You know those videos on YouTube of two cats in stupid hats that ring a little receptionist's bell and receive a treat? Of course you do. I think I had seen one of these videos like three or four times before I decided to pull the trigger and order a bell, with the intention of teaching Digby to ring the bell when she wanted a treat. (It was like $12 on Amazon.) Imagine how cute, I thought, if Digby put her little paw on the bell to get a treat, just like those little guys with orange hats over their ears, with their big worried eyes looming out. Imagine how proud I would be of my clever little girl!
Unexpectedly, the plan didn't work out. I attribute this to two things: (1) Even though I was pretty careful about only giving her treats after ringing the bell (and only ringing the bell if I was going to give her a treat), my husband thought it was much funnier to ring the bell over and over, making it impossible to teach her the association between bell and treat. (2) Digby is not very clever, in fact.
We still have the bell. It is quite fun to ring."
Writer Emma Specter's gift went unused, save for one photo, which is sometimes the best we can hope for. "I bought my best friends' Labradoodle a tiny dog backpack with a cartoon of a bear on it, because I wanted him to look like a fancy little schoolboy," she said. "But he hated it, and they refused to force him into it, rudely."
Michele, owner of a Shih Tzu named Radar, bought her dog several plastic baseball bats: "He actually had two or three. I believe two were the fat bats for little children, and then a skinny, regular-width bat. The bats were bigger than him." She said her dog's love of bats began after he found one of her daughter's on the porch. "He grabbed it by the handle and just started growling (playfully) and swinging it around. His small but mighty jaws even managed to crush parts of it." Of course, we are proud of Radar.
And finally, Zoe gave her cat the gift of dominance. "I bought (adopted) ("adopted") a wolf from a wolf sanctuary for my cat, Eliza, so that she could feel more powerful and dominant in the household. They sent us a little packet, with her name on the adoption certificate, and she fell in love with his photograph instantly:
(Eliza is deceased as of four months ago, but the sanctuary doesn't know that, so as far as her wolf is concerned, she still owns him.)"
Dominance, even in death. Is there a better gift?
Please enjoy the holidays with your sweet animal, and remember: The gift of your love is the greatest gift of all. Unless they don't like you. And you'll never really know if they do, will you?