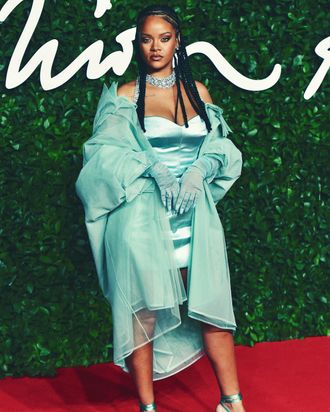 Photo: Stephane Cardinale - Corbis/Corbis via Getty Images
Last night, Rihanna showed up at the British Fashion Awards in London and proved that she was in fact the best dressed person in the entire United Kingdom. Sorry, Meghan, Kate, and Olivia Coleman as Queen Elizabeth! There's a new queen in town.
The singer-turned-designer wore a custom design from her own label, Fenty. The mint satin dress was accessorized with a sheer opera coat and matching pumps and gloves. Diamonds dripped from the straps on the dress and a choker, and there was a massive blue-ish ring (maybe a giant sapphire?) on her finger, over the gloves.
Where was Rih going in this fabulous outfit — maybe a ball with a prince where she would inevitably lose one of her shoes when the clock struck midnight? No. She wore it to receive the BFA's Urban Luxe award, presented by Janet Jackson. The same award went to Off-White and Louis Vuitton's Virgil Abloh last year. And what better way to accept an award that celebrates your brand than to wear one of its best designs to date? Seriously, this is my favorite look I've seen from Fenty (except for these pearls) yet. Rih, if you're reading this blog, please mass-produce the gloves.