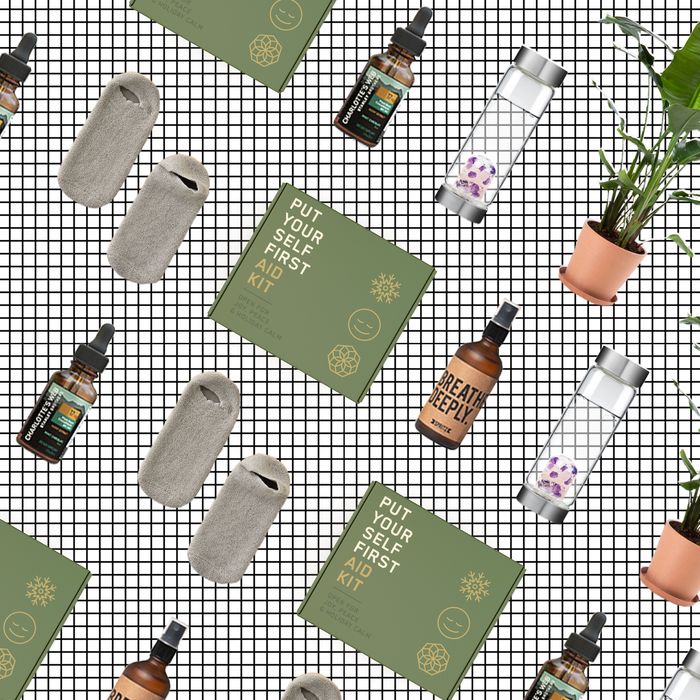 Photo: Courtesy of the Retailers
One for you, one for me — that's our approach to holiday shopping. In fact, make that one for me and one for you, because this year we're putting ourselves first by crossing the seasonal scaries off our lists for good. First up: treating our over-scheduled selves to self-bought gifts that help us relax, maybe even turn the chatter in our end-of-year brains down. Here are nine things we're eyeing for our own personal stockings that do just that.
Lightweight, textured, and feather-soft, this Turkish cotton robe feels like it's straight out of a high-end spa. Fortunately, you can throw this wearable blanket on at home.
Take a deep breath and spritz away seasonal stress with this essential oil mixture made with purified water, peppermint, eucalyptus, and lemon. It's like an aromatherapy face mist — just test it on your body first if you have sensitive skin.
Ditch the candy canes for the CBD treats in this gift box. It's filled with lemon-lime gummies and Mint Chocolate CBD oil — both made with Charlotte's Web full-spectrum (or whole-plant) hemp extract — as well as a deck of relaxation-tip cards for each day of the season that reads like an Advent calendar for calm.
Chunky, cozy, and the color of sugar plums, this woven wool throw is on-trend enough to claim a spot in your winter wardrobe.
You can light the darkest nights of the year multiple ways with these double-sided candlestick holders, which hold tea lights on one side and pillar candles on the other. Try stacking them at varying heights for a dramatic effect.
Level up tub time with this ritual bath kit for the body, mind, and spirit. Designed to be used over the course of a month, it includes ethically sourced crystals, bath salts, rose petals, sage, and a candle, as well as a meditation you can download.
Outsource skin care with these moisturizing socks made with hydrating oils — lavender, olive, and jojoba as well as vitamin E — that help ward off the dry, cracked feet of winter.
This tropical statement plant is ready to breathe fresh air into any space, and with its ability to adapt to low light, it's perfect for short winter days. Adopt it for a mood boost until spring.
If you're on the crystal trend, you'll love this water bottle filled with rose quartz, amethyst, and clear quartz. Just fill the bottle with water, let it steep for seven minutes, and drink up the beauty.
This is paid content produced for an advertiser by New York Stories. The editorial staff of The Cut did not play a role in its creation.