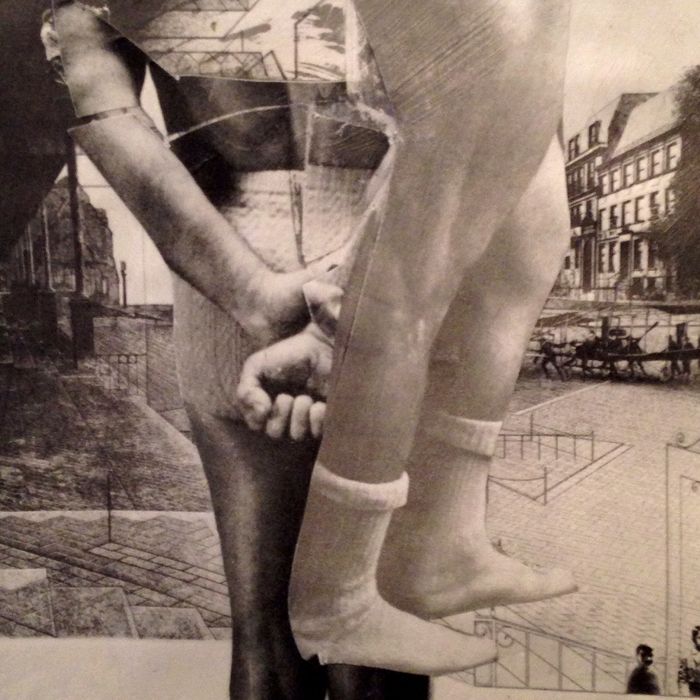 Photo-Illustration: James Gallagher
This week, a recent college grad who's as obsessed with her boyfriend as she is with running marathons: 24, in a relationship, Soho.
DAY ONE
6 a.m. It's Wednesday. This my favorite day of the work week, not because it's hump day, but because it's a chance for me to assess the start of my week, take inventory of my emotions and what I've accomplished, and ask myself how I want the rest of my week to go. I'm type A, and have always been very hard on myself, so having a strict schedule of exercising, working hard at my job, and hanging out with friends satisfies me.
J is next to me in bed. He's beautiful. We've been dating for a little over three years. We met in college — he was in love with me from the very start (so he says) and I couldn't give a shit. We were best friends until we started dating about two years later. I fall more in love with him every day. And the sex gets better, hotter, kinkier, the longer we've been together.
6:30 a.m. Gym. I work out a lot. I'm training for a marathon, so my schedule is intense, but I love it. It clears my restless mind. So does sex…
9:30 a.m. Work. I'm an event coordinator and I love my job. I'm a perfectionist with a knack for planning. I've been on medication for anxiety since I was 16. I'm constantly worried about the future, if I'm following the right path, if I'm in the right job, if I'm doing my best, and so on. I want to marry J and spend the rest of my life with him. Our relationship is so great, but I constantly worry about the future. Why can't I live in the now and accept what I already know?
5:30 p.m. I get home to my apartment. J is out at a work event, so I'm relieved to have some me-time and go to bed at the earliest hour possible. I always have anxiety about getting enough sleep. Although I would love it if J was here to tie me up. We're really into BDSM. It gives me the ability to lose control, which isn't usually easy for me!
DAY TWO
6 a.m. I had crazy sex dreams about J last night. Before him, I'd only had one other sexual partner/kinda boyfriend in my life. Sex was never "fun" for me and I never had an orgasm until about five months into dating J. Man was I missing out!!
10:40 a.m. Work is busier today, which I'm happy about because it clouds my thoughts. I'm great at my job and appreciate the challenges it gives me, but I have far-reaching dreams. I want to open a wine bar in a beach town on the West Coast, where I'm from. I'm currently taking sommelier classes to learn about wine and eventually get my license. I've learned that I'm my best self when I have future goals, short-term and long-term. Gives me purpose.
5 p.m. One more day until Friday! Thank God. J and I usually grab drinks after work but he's not feeling well and I don't care to hit up any of our friends, so I go straight home. Does my schedule rely too heavily on my boyfriend? Do I even want to see anyone else on a Thursday after a long day of work? I think I'm being antisocial but whatever, I'm too exhausted with my thoughts to dissect this one.
7:15 p.m. I'm pouring myself a much-needed glass of wine and J invites me over to his place to watch TV together. I get butterflies in my stomach and feel so happy to see him. I'm such a loser. But it's a good thing I still feel this way after three years right?!! J and I live one block away from each other (yes I know, convenient). He lives with college buddies. I put on a sexy G-string (you never know) and head over.
8 p.m. He looks so cute in his sweats and sweatshirt. Damn my boyfriend is hot! He wants to cuddle cause he's not feeling well. We talk about our days and I confide in him about my anxious thoughts from this week. He's such a great listener and knows exactly how to make me feel better. I find myself crying. Sometimes a girl just needs to cry! He understands and hugs me harder. I love him so fucking much.
10 p.m Head home and fall asleep hard. I miss J next to me spooning with his big, naked dick against my body.
DAY THREE
6 a.m. FRIDAY! Small recovery workout because I have to run 16 miles tomorrow. Ugh.
12 p.m. Work drags … J and I have plans to meet at our favorite bar we go to all the time. I'm excited because it's been a couple weeks since we've done this together. I was traveling, he was traveling. Our first weekend together in NYC in about three weeks. I miss him and our friends!!
5 p.m.  I walk into the bar and see J sitting there. He smiles and my stomach drops. I love him so much. This never gets old and I hope it stays like this forever! I really want him to bend me over that bar right now … will have to wait. We drink and talk for a couple of hours. It's like no one else is in the room.
7:30 p.m. The sexual tension is reaching its peak. He whispers in my ear, "I want to tie you up and make you come."
7:50 p.m. We get to my apartment very quickly. He heads to our drawer of goodies and takes out his favorite tools: rope, ball gag, butt plug, handcuffs, and slides off the belt he's wearing. He dominates very well, and I let him take the lead. My thoughts clear and I'm instantly wet as he ties me up and handcuffs me to the bed. Where does he learn this shit?! He smacks my ass and puts his dick in my mouth as I suck hard. He makes me come as he slides in and out of me, butt plug vibrating in my behind. He loves watching me come. He ejaculates on my face soon after. It's really, really hot.
9 p.m. I hydrate, eat, and go to bed early because of my 16-mile run tomorrow. J gets beers with his buddies and maybe goes out. I trust him so much (we did long distance for a year after graduation), so I don't need to know details. Plus, I have his location on my phone …
DAY FOUR
11:30 a.m. Sixteen-mile run done! I feel amazing and like I'm in the best shape of my life. I have insane stamina (which definitely translates into my sex) and it feels so good to accomplish something like this on a Saturday. A year ago, I would've been out the night before until 4 or 5 a.m., drunk and high on coke. Even though I've become a bit of a social hermit, this is good for me. When I first moved to NYC, my friends and I would go out HARD every Friday and Saturday night. Cocaine and binge drinking always. It took a toll on my body and I needed to reassess some choices I was making, which is why I chose to run the marathon.
12:30 p.m. I love Saturdays! Hanging out with my friends, drinking, eating and being out. J is golfing today, but the rest of our crew is going somewhere to day drink.
3 p.m. I'm a little buzzed and I miss J!! There are so many hot people here and I'm always nervous I will be into someone else, but this is just my anxiety talking. I'm not interested in anyone here. Only J. Is that crazy? People always ask how I know he is the one, but I just know … men hit on me all the time, but I don't care. It's really just him.
7 p.m. J is back! We continue to drink and plan to go out. I got a new slutty top and I look good! J can't keep his hands off of me. He wants to fuck in the bathroom at our friend's place but there's too few people here, so he settles for biting my ear while holding my hands tight behind my ass. I throw my head back. What a tease.
2 a.m. We're still out drinking and J wants me. We say good-bye to our friends.
2:30 a.m He smacks my ass and uses his belt to whip me. Then he puts an eye mask on me and strips off my lingerie. We both come after about 30 minutes of foreplay, domination, then sex. We fall asleep spooning; we fit perfectly!
DAY FIVE
7 a.m I wake up and J starts eating me out. Fuck that feels so good. He flips me over, takes me from behind and finishes quickly. We fall back asleep.
11:30 a.m. J wakes me up stroking my hair and smiling. His blue eyes are gorgeous. How did I get so lucky? No bad thoughts here. J has to leave to get lunch with his siblings.
4:30 p.m. I talk to my mom for about an hour. We catch up over the phone about every other day. She lives with her husband on the West Coast. It's tough to have them so far away and I constantly miss them and my siblings, who live all over the country. I know one day we will all live in the same-ish area, but for now I need this time to grow up and experience life on my own.
8:45 p.m. J comes over and we catch up on our days. We fall asleep spooning naked as we do most nights. I love this intimacy.
DAY SIX
8:15 a.m. Gross … it's Monday and I think I'm still hungover? How is that possible?
5:30 p.m. Run after work because this morning I could barely get up. Hills today. Let's do this!
8:30 p.m. I shower and am exhausted. J stays at his place watching Monday night football with his roommates.
DAY SEVEN
8:30 a.m. I get coffee with one of my good friends and catch up on our weekends/life. She gives me energy for my day, and I feel lighter heading to work.
12:30 p.m. I think about J all day today. He texts me "wine and Succession tonight?" early on, so I know I'm going to be dominated tonight. I'm stoked.
2 p.m. J and I exchange a few dirty sexts at work, but it doesn't last long (usually never does) because I know he gets hard too quickly and starts sweating.
5:30 p.m. I get home, shower, shave, and try to look good. I love how insatiable he is. I put on some sexy lingerie under my clothes. It's so important to feel desired.
8:45 p.m. Once dinner's done we start making out. I ride him for a little on the couch, but the bedroom is next. He pushes me on the bed and slowly undresses me. He loves my sexy outfit and is pleasantly surprised by it. Instead of taking out the props, we have sex without anything. I love these times when we're so insanely attracted to each other, we don't want any ropes or gags or plugs getting in the way of our intimacy. I love this about us. We know ourselves well, but not well enough that there isn't more to explore. There is always more to explore. He lets me take control this time and I come so hard. Twice actually. He loves it and comes on my face. We stay naked for a while, looking at each other and not talking. We're so in sync.
Want to submit a sex diary? Email sexdiaries@nymag.com and tell us a little about yourself.