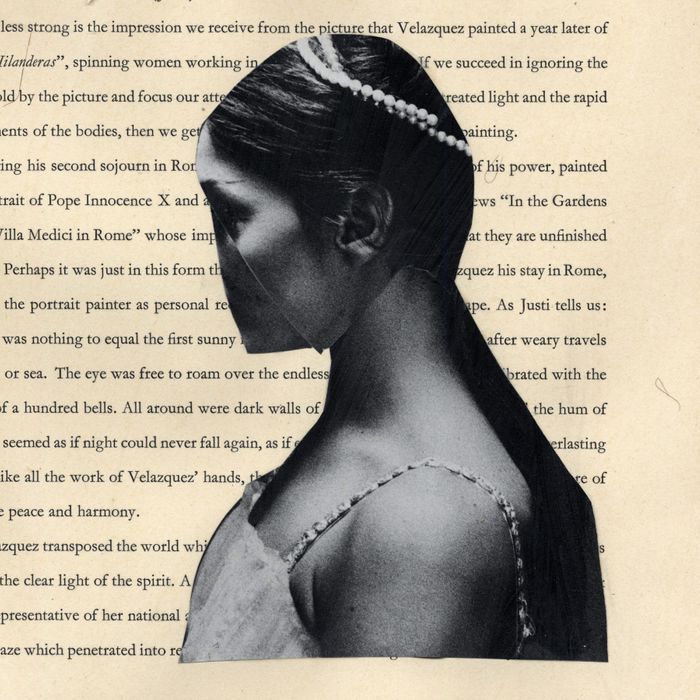 Photo-Illustration: James Gallagher
This week, a single woman explores her sexuality while her live-in ex is out of town: 25, single, Brooklyn.
DAY ONE
10:00 a.m. By some miracle, my former friend-with-benefits, T, texts me back to make plans for this evening. The last time I saw him was on the night of my first date with N, my ex. I reached out to T after the long silence to come over and catch up, though we both knew the real intention. I lied and told him that I had alcohol leftover from Thanksgiving so it wouldn't be so weird that I invited him directly to my house. He says that I have terrible timing because he's moving upstate for a while to do an artist's residency (so hot), but agrees to come over for a bit before packing.
5:00 p.m. I just started a new job a few weeks ago. I work in design at a well-known fashion company and things are still slow, so I've been sitting around fantasizing about T all day. Everyone in this office usually leaves work at 5 on Fridays, which is pretty dreamy. I'm excited to get an extra hour to shower, shave my whole body, and clean the apartment before he comes over.
7:00 p.m. T arrives and I'm still so attracted to him. We met at a bar in Williamsburg on one of the first nights I went out after I moved back to New York from Italy, where I spent my junior year of college. He had so much curly hair, a gorgeous smile, and very soft-looking lips. He still has all of those things! My friends were dragging me out of the bar so I got his number and ran. I texted him and we saw each other the next night. I must have been pretty drunk because he said that he didn't think I would remember him the next day. I could never forget a smile that nice, and years later I still cannot get it out of my head. We were hooking up for a few years on and off up until the night I met N. We make small talk for about 20 minutes before we start kissing. He is such a good kisser. We eventually have sex after a ton of foreplay and he makes me squirt three times. This has never happened before and we're both totally shocked … and pleased.
DAY TWO
11:30 a.m. I wake up on the couch because my sheets were too wet from squirting. I have no obligations today and an entire apartment to myself. (I still live with N until we can figure out the apartment situation, but he's out of town for the week). I make coffee, order breakfast, and resolve to stay in pajamas for the rest of the day.  
6:30 p.m. Still in pajamas, still thinking about last night's fun. I make plans with my friend E to do yoga and get breakfast tomorrow. I also text L, a recent Tinder match I enjoyed chatting with, and ask her on a date. We make plans to grab a drink later in the week. 
I have always been openly attracted to women, but never really figured out how to pursue them. I find it impossible to tell how a woman identifies when I go out to bars. The thought of hooking up with a woman for the first time who I met on an app was terrifying. The idea made me feel like a fraud and I thought I could never go through with it. I was also just scared of going down on someone. Then I met O through a mutual friend a few days after N and I broke up. She's the first and only woman I have slept with, and we've now been seeing each other consistently for a few months. Turns out, she tastes fantastic and bringing her to orgasm is an insanely wonderful feeling. I have always been relatively submissive with men, but I feel dominant and beautiful when I'm with her.
DAY THREE
12:20 p.m. This yoga class was supposed to start at 12 but the teacher shows up late because of the weather. He finally shows up and I realize how hot he is. I should have known: My friend is a regular because of this guy. We have a great, sweaty session and then get some bagels after.
9:00 p.m. Sitting around an empty apartment all weekend has me thinking a lot about what I want in the next phase of my life. A year ago, N and I talked about being engaged by now, which is what I really wanted at the time. Now, I cannot imagine committing the rest of my entire life to someone. I used to think dating in New York was the absolute worst. Now I feel like there's no better place to date than New York. I feel like there are parts of my sexuality that are completely untapped and I would love to learn more about that with other people.
DAY FOUR
10:30 a.m. Work is slow again, which is fine with me. I spend the better part of the morning chugging coffee and looking at apartments. I'm planning to move into a new apartment by myself in January. The prospect of finally having no roommates is exciting, and I love the hunt despite the stress.
3:00 p.m. I recently downloaded an app specifically for meeting singles and couples interested in exploring their kinks. I've always wanted to have a threesome and now feels like the right time. I start chatting with a cute couple that I have a lot in common with. We make a plan to get drinks to get to know each other a little better the week before Christmas.
5:45 p.m. I slip out of work a few minutes early. I have to run home to clean my apartment because a broker is showing it to a couple who will potentially take over our lease.
7:30 p.m. I think they really liked the apartment! I head out to view another apartment for myself and fall in love. It has an open layout for the living room and bedroom, but a separate kitchen so I don't have to put a tv on top of like, my stove. It also had a backyard for my dog, was below my budget, and close to the subway. First floor, and super sunny. It checked all of the boxes.
8:45 p.m. I left my debit card at a bar last week so I run to my friend E's house to borrow her card and take out $500 for the apartment deposit. She's a saint for putting up with me. I put a deposit down five minutes after another person does so I spend the rest of the evening perfecting my application so they'll pick me.
DAY FIVE
8:30 a.m. I woke up this morning feeling great about the apartment, but nervous for my date with O. I always get anxiety when I am about to see her because I'm afraid of messing things up. She's a total package and I really like spending time with her. We haven't had any conversations about being an exclusive couple, and I'm trying to keep them at bay until I move out.
7:30 p.m. O rings the bell to my apartment and I try to play it cool. She gives me a perfect kiss on the lips and I immediately relax. The dinner I made turned out well, and I could tell she was impressed. Then the sex we have is so fun. I use a vibrator on her for the first time in her life. It's so hot I have to get her one for Christmas.
11:30 p.m. We firm up our plans for Saturday night and then she leaves. I get stoned and eat the rest of the pasta. No regrets. I plan my outfit for my date tomorrow with L and pass out.
DAY SIX
2:30 p.m. I get an unexpected text from T. He's in town from the residency just for the night and asks if I'll be around. I have my date with L, plus I have to stop by a bar on my way home to give my friend her debit card back (thanks again E). I have to decline the offer, but it definitely feels pretty good to know he's still thinking about the night we had.
4:30 p.m. N is sending me pictures of potential souvenirs to bring home for me from his vacation. I don't get back to him right away and he buys me an ugly piece of jewelry, and I'm instantly reminded that he doesn't know me at all. I send him a snarky text so that he knows I'm mad at his poor gift choice. Petty, I know. I can't wait to move out.
6:30 p.m. I meet L at a bar near my office. She's gorgeous, interesting and passionate. I love her smile and her loud laugh. She has long-standing dinner plans with her roommate so we get the check after two glasses. She asks if we can split it, but I decline and pay for the whole thing. I tell her that I would like to see her again and that she can pick up the bill next time. She accepts.
8:30 p.m. We walk to the subway together arm in arm. We share a kiss and part ways. I text her something flirty while waiting for the train and she replies immediately. I am blushing the whole ride home.
DAY SEVEN
12:00 p.m. I'm trying to use my sick days before the end of the year, so I have the day off. I wake up late and get started on laundry. N is coming home tonight and I still have not washed the sheets from my night with T. I text O and we confirm our plans to meet up at a museum later.
6:30 p.m. I'm so happy to see O and she looks so hot. It's nice to do something with her in public other than sitting at a restaurant. We're pretty touchy throughout the night and I'm really feeling it.
12:45 a.m. O is staying at her parents' house tonight because she has a family obligation tomorrow. We part ways and I go home alone.
1:30 a.m. N is in bed when I get home. We still share the bed some nights when he doesn't want to sleep on the couch. I didn't miss him but it is nice to feel his warmth. I feel like I'll always treasure these last moments of our relationship even if he is terrible at buying gifts. I snuggle up behind him and fall into a peaceful sleep.
Want to submit a sex diary? Email sexdiaries@nymag.com and tell us a little about yourself.