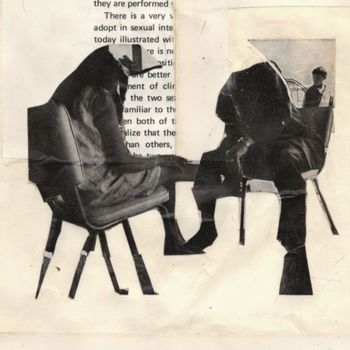 This week, a single woman flirting and networking at a weekend-long tech conference: 29, single, Oakland.
DAY ONE
11:00 a.m. I'm at work when the group chat lights up. AfroTech weekend is here! It's like a homecoming for black people in tech. It's the first time they're holding it in Oakland and it's about time. The tech companies in the area throw happy hours, parties, and mixers for "recruiting," but everyone really goes for the free booze. Tonight, there are two happy hours and a party. Overwhelmed is an understatement.
4:00 p.m. I wrap up at work and get on the bus home. I mentally prepare for the night while remnants of my past relationship dance in my head. I've been single for about seven months now, and I've decided that I'm not ready to date anyone seriously. No-strings-attached fuck buddies are what I'm after.
8:00 p.m. My friends and I walk into a happy hour, and I spot a potential as soon as we walk in. Tall, extremely dark, broad shoulders, and built sturdy like a truck. Probably mid to late 30s. He's wearing a fedora inside, which is weird, but it's strangely working for me. He's in a band and the way he's playing the bongo is giving me raw sexual energy. I pass by him and make sure to eye fuck him when I do. He catches my drift.
8:45 p.m. My friend and I are dancing when Drummer Boy makes his way over, towering over me in all his six-foot-something glory. We talk, dance, and exchange numbers. Project Climb That Tree is officially activated.
DAY TWO
8:30 a.m. I'm exhausted and have a few meetings I need to take in the morning. I started my job about a year ago but only recently started to feel more confident in my role. I'm leading a highly visible project for our team that I need to kick ass at.
9:00 a.m. I get a text from Drummer Boy asking how my morning is going. I respond and realize he's a boring texter. Ugh. I entertain it for a bit and we realize we're both going to the same party that night. I dream about him having the perfect-size dick and now I need to see it.
12:00 p.m. I take a meeting from home while getting ready for the conference. I'm in marketing, and this conference is primarily geared towards people who are starting their careers in tech, but everyone goes for the networking anyway.
9:00 p.m. DB says he wants to see me.
11:00 p.m. My girls and I head to the party. I spot DB as soon as we get there, but I ignore him. I'm not into games, but the chase is seductive. This venue has two dance floors, one indoor and one outdoor, DB is outside but it's freezing so we head inside.
11:30 p.m. DB approaches. He's really happy to see me, and he looks really good. He seems like an alpha-male type. I don't know how to read his intentions just yet. Like I don't know if he's looking for a hookup or a wife … who knows! It doesn't take long until we're taking turns grinding on each other, and we both know how to dance so I'm getting turned on. We also randomly hold hands at different intervals, which was unexpectedly intimate. At this point I'm positive that I'm going home with him.
1:00 a.m. I'm standing side by side with DB when another man approaches: about five-foot-ten, skinny-ish jeans, and that fuckboy haircut where the top is longer than the sides. He's 100 percent my type. Like if I had to point to someone as an example of what makes me melt, it's him. He completely ignores DB, and asks me to dance. He takes my hand and starts dancing slightly, but I don't move. It's too awkward. DB is right next to me, although I don't look at him, and is probably wondering who the fuck this dude is. But this man's eyes are piercing. I whisper to Fuckboy that I do want to dance but we have to go somewhere else. He doesn't know what I'm talking about but he obliges.
1:30 a.m. Honestly, this guy is beautiful. And he's looking at me like I'm the most gorgeous thing he's ever seen. We're dancing, flirting, and the chemistry is insane. We start making out by the bar and I look back over to where DB is but he's gone. I understand why he left, but I can't believe I won't get to see his assumed perfect dick.
2:25 a.m. I find out Fuckboy is only 23. Fuck. He assumes I'm 22. I laugh in his face when he tells me age doesn't matter. He wants to come home with me but I decline. We exchange Instagrams (his suggestion, *eye roll*). I hop in a car and head home. I text my friends and ask if I should text DB. Most of them say no, one of them says yes. I follow the advice of the one.
3:30 a.m. I text DB: "Hey I missed seeing you before you left :-/." No response.
DAY THREE
11:00 a.m. Head over to the convention center for day two of the conference. Since my company paid for my ticket, I have to work a shift at our career booth. I barely got enough sleep the night before and was super late, but it ended up being fun.
5:00 p.m. The group chat starts lighting up. My partners in crime and I all head to a happy hour that Google is hosting. The vibes were right and it's the perfect preparty for tonight's shenanigans.
11:00 p.m. Arrive solo to my friend's pregame. Tonight is the biggest party of the conference, and arguably the most fun party that happens all year.
12:00 a.m. We leave for the party. I've never seen a crowd like this and I somehow get separated from everyone. Some of my colleagues from work have their own table, so I join them since I can't find any of my friends and I'm pretty drunk. They have bottles at their table and I take a few shots with them.
2:00 a.m. Party is over. I'm drunk and I can't find my jacket. I'm inside the venue looking for it when this guy comes up to me and asks what I'm looking for. I frantically tell him about my jacket and he helps me look. I'm notorious for losing my clothes at the club. We sit down on the sidewalk and talk while we wait for a car. I remember it being an innocent conversation. He was nice. I end up heading back with him to his hotel.
2:30 a.m. Don't let anybody tell you that you can't find love in the club. This definitely wasn't love, but he had a sexy hotel room on the water and we fucked with the windows open.
DAY FOUR
8:30 a.m. What is life. Why is it so bright? I look around for a minute and I'm not sure where I am. Then the night comes rushing back to me. I look over at the man lying next to me. What was his name? He wakes up and we start flirting and making out. We have unfortunately lackluster morning sex. He keeps slipping out, so I give him a lecture on why he needs to make sure to please the woman first if that's what he's working with. He earnestly agrees, and I'm impressed that he takes my constructive criticism like a champ. We exchange numbers, kiss good-bye, and I head to my best friend's house since she lives nearby.
10:00 a.m. I'm recapping the night when Fuckboy DMs me on Instagram. He has an Airbnb all to himself and wants to meet up tonight. A mischievous smile creeps on my face.
3:00 p.m. My apartment looks like a war zone so I dive into cleaning up. I'm actually really excited to see Fuckboy tonight. Even though he's young, I can just tell he's going to know exactly what to do. Or I could just stare at him all day; I'd be cool with that too.
9:00 p.m. I get to his Airbnb, but as soon as he opens the door the energy just feels off. I spot weed on the coffee table. He offers me some and tells me he's been smoking all day because he needs to get rid of it. He can't take it back to Canada where he lives. I'm annoyed. Why would someone get this high when they have someone coming over?
9:45 p.m. Now I'm starting to feel off. We're on the couch and I move over to sit on his lap. I was saying something then lost my train of thought when he pulls me in for a kiss. It quickly escalates to us tearing off each other's clothes. I'm so excited. The foreplay is excellent and his dick is huge.
10:00 p.m.  He finally puts it in. And approximately five minutes later? He pulls out, goes into another room, and closes the door. Meanwhile, I'm left naked on the couch stunned and confused. He comes back out of the room minutes later and starts putting on his briefs. "Um, did you come?" I ask him. "Yeah," he said plainly.
10:05 p.m. He sits on the couch and I sit on top of him. I look in his eyes and ask if he's going to leave me unsatisfied. A nonchalant smile spread across his face. "No," he said. Then he gave me an excuse about how tired he was but to give him a few minutes to warm back up. I'm reasonable, so I oblige. We head to the bedroom.
10:30 p.m. We're cuddling in bed and I'm trying to warm him back up, but he's a goner. I look up and the man is snoring. I'm pissed. I lay there for a bit contemplating how I just got played. He mutters something about there being a next time. Boy, bye. I'm about to call a car home, but I decide that this is unacceptable and I need my reparations. I go to the other room where his stuff is and look through some of the pockets. I find his wallet but there wasn't anything exciting. I see $3 on the table and take it. I also take the rest of his weed.
DAY FIVE 
8:00 a.m. The group chat is desperate to know about how it went with Fuckboy. I'm usually the one in the group with all the "single in the city" stories so I don't mind indulging. I sent them the disappointing news that he is actually a fuckboy. He basically used my body to jerk off and all I got was three dollars.
10:00 a.m. The conference is over and it's back to life as usual. I stumble into work. I can't help but ruminate over last night and how I blew my chances at sex with DB for a 23-year-old asshole.
6:00 p.m. Jacket Guy calls me, which is a pleasant surprise. I'm starting to like him more. He gets my humor and can handle my snarkiness. Only problem is he lives in Seattle. He jokes about coming down to see me and I laugh, but I secretly don't think I'd mind.
DAY SIX
11:00 a.m. I'm laser-focused at work. I feel so much better than yesterday.
6:00 p.m. My friend and I have a DJ-ing business together so I go to her house for our weekly sync. We're supposed to be planning for our upcoming events, but we end up talking extensively about how we're going to celebrate our 30th birthdays.
DAY SEVEN 
8:00 a.m. I wake up to a text from DB. YES! He asks where I've been. I plead the Fifth.
10:45 a.m. I thought I got away with the antics I pulled at the club, but DB brings it up. He laughs and asks if Fuckboy is my boyfriend. I tell him that he was just a friend, and then I send him the most fuckgirl text of my life: "Lol so whassup, you don't wanna see me again?" He said of course he does. I let him know I'll be free around 6.
7:00 p.m. I get cold feet. I'm kind of over men after this past weekend. I let him know that I'm too tired tonight.
Want to submit a sex diary? Email sexdiaries@nymag.com and tell us a little about yourself.