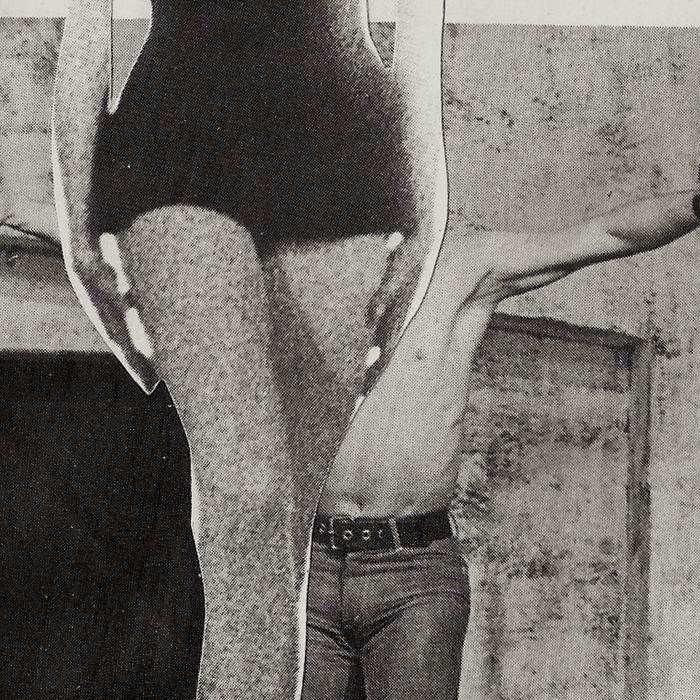 Photo-Illustration: James Gallagher
This week, a comedian having lots of kinky sex with several partners: 28, single, queer, Atlanta.
DAY ONE
9 a.m. Good news: I can have sex again! I had BV for about two weeks; for a second, I thought I might have had gonorrhea. I'm usually really safe, but on Thanksgiving I had a threesome with twins (yes, you read that correctly), and we didn't use condoms because … well … we just didn't.
How the threesome came about: I started talking to Chris on Feeld (my ride-or-die app), and he seemed cool. Then he sent me a picture of him and his brother with the caption, "What do you think about twins?" They told me they've done this like five or six times. I've had lots of FFM threesomes, but never a MMF threesome, and I had been looking for one for a while.
We had a lot of fun, to say the least. They took lots of pics and videos (with my permission!). I tried my first DP, and loved it. Afterward, they took turns showering with me and washing my body, and we lamented how hard it is to find a partner who is understanding of "the lifestyle." "The lifestyle" means lots of things — kink, swinging, threesomes, nonmonogamy, unicorning, BDSM … essentially a nontraditional view of sex.
11 a.m. I'm horny. I decide to rally the troops and see what my options are. I take nudes in my room and send them to three guys, including Chris.
5 p.m. I'm a comedian, and I have a show.
6:30 p.m. Show's over! Chris comes to my apartment. We immediately start going at it. He's very bad at fingering. I grab my vibrator, and make myself come while he does whatever he's doing.
9 p.m. I start chatting with a 25-year-old, six-foot-five, jacked high-school teacher. He can deadlift 500 pounds, and I want him to shot-put my body across Metro Atlanta.
DAY TWO
9 a.m. Start talking to a guy named James on Feeld in between sets at the gym. He's cute, and he's currently reading a Cormac McCarthy book, which is hot.
11 a.m. James and I have gotten more explicit. I send him a picture of my ass. He asks if I want to see his cock. Yes, please. He sends me a photo, and it's huge. And, like, thick. I think I'm gonna go over to see him tonight, before a date with another guy.
5:45 p.m. I show up at James's apartment. He was about to shower, and he answers the door fully naked. He rinses off and immediately leads me into his bedroom. The sex is good, not great. He keeps trying to fuck me in the ass even though I told him I don't do anal the first time. I decide I'm probably not going to see him again. I don't like that he keeps testing my boundaries. Bad sign.
8 p.m. Fernando shows up at my place. We see each other once a week. He's from Colombia, and he dirty talks in Spanish while we have sex. He tells me he just got a grant to go to Bogotá for a month during winter break, and I'm sad he'll be gone for so long! He fucks me with a plug in my ass, then we have anal sex, and I come like four times.
9 p.m. I sext with another guy I've been talking to, Trevor. He keeps asking me to tell him dirty stories, and I'm getting annoyed because I just feel like I'm porn for him. We're hanging out tomorrow, and I'll see how that goes.
DAY THREE
6 a.m. I get a "good morning, beautiful" Snap from Trevor. Yikes. I think he might be in love with me.
9 a.m. James Snaps me and tells me that he can't wait to fuck my face again. I roll my eyes. I'm annoyed that he thinks he can just use me like his toy. He didn't even go down on me, and I ate his ass, for Chrissake. I delete him from Snap.
11:30 a.m. A guy named Jordan and I start talking. He's six-foot-seven, which is hot. I'm five-foot-ten, and I'm not a height queen, but a tall guy is (Borat voice) very nice. He leaves town tomorrow, so we're going to meet up later. I reschedule Trevor so I can see Jordan tonight.
1 p.m. I'm writing a book that's a series of essays about my history with sex — I haven't always been this sexually adventurous. I've got three essays left, and my harem is making my phone ring off the hook. All y'all need to calm down. I do have other things to do besides send out pictures of my tits.
11:30 p.m. Jordan is here. We start making out on my bed. He's so tall! I don't get to feel small very often. He's very good with his hands and his mouth. He fingers me and makes me squirt. We're both thrilled. We're both exhibitionists, so we take some videos of me blowing him. He tells me I can send them to whomever, and I tell him the same.
DAY FOUR
7:30 a.m.  Drag myself out of bed to go to therapy. My therapist is worried I'm not focusing on myself enough, and I'm so busy with comedy and my book and boys that my self-care is slipping through the cracks. Ding ding ding!
2 p.m. I wake up from a nap and realize I'm supposed to go hang out with this other guy, Craig. Fuck. And I've got a million Kik and Feeld and texts and Snaps, and everyone wants a part of me, and I'm just like, "Everyone leave me alone!!" I go back to sleep.
3:30 p.m. I wake up again and think about rescheduling, but Craig and I have been trying to hang out for a month. I feel bad canceling on him. I make it to his place at 3:45 p.m. He's cute-ish. He's a mediocre kisser. He's bad at fingering. Sex is bad. I'm dry as a bone the whole time. Eventually, he gets pretty soft, and he's like, "Welp," and I'm like, "Okay, well, it's been fun!" Walking back to my car, I see that he's disconnected from me on Feeld. I laugh a little bit. Then I go home and go back to sleep.
7:45 p.m. I show up at Trevor's, and he's very hot. He's six-foot-five and played offensive line in college. I have two margaritas and I want him to pound me and cuddle me to sleep in equal measure. His arms are the size of my head. He doesn't sleep with people on the first date, though, which is annoying. He loves that I'm a slut, though, and begs me to tell him stories. All the men in my harem love hearing about me being with other guys. Sometimes I love it; sometimes it makes me feel like a walking sex toy. I don't mind enticing the fantasy, but I'm still a whole person with hopes and dreams.
9 p.m. Trevor and I sit in my car. We make out for a while. He chokes me a little bit. I unbutton my shirt, and he takes out my tits and he bites my nipples. I take out his cock and it's pretty big. I drive home, exhausted. He wants me to record him a video when I get home, but I send him a pic of me sucking the six-foot-seven dude's giant cock instead and then pass out.
DAY FIVE
9 a.m. Wake up and feel like shit.
12 p.m. I know I'm sleeping so much because I've run out of Vyvanse and haven't gotten my Rx filled.
2 p.m. I message my doctor asking for him to renew my Vyvanse Rx.
5:30 p.m. I get a text that my Vyvanse has been filled, and I drag myself out of bed and drive to my pharmacy.
6:45 p.m. I head to the studio to do some work on my comedy album.
2 a.m. That Vyvanse is working overtime, and I can't sleep.
DAY SIX
12:40 p.m. Start talking to someone named Brandon. He's a college professor in town for a wedding. I ask him literally three questions, then give him my address.
2:30 p.m. Damn. That was … pretty great. He was huge, and he spanked me hard. I'm definitely going to be feeling it later. We get dressed and bid our good-byes.
7:30 p.m. I thought my show was at 8, but it's at 11. Fuck. Trevor wants a video. I decide to indulge him. I video me sucking on my giant dildo, and he's through the roof. I can't wait for him to come over on Sunday.
11 p.m. My show goes well! I'm working on new material about nonmonogamy right now, and it's been a struggle to make it relatable. Yet another guy I've been seeing, Brian, texts me and asks me what's up. Shit. I forgot I told him we'd hang. I head to his place after my set.
12:30 a.m. We sit and drink white wine in his bedroom. He's really cute and he makes me laugh. I move to his bed, trying to lure him into following me. He's a little shy, but eventually we start making out. Things get rough. Like, too rough. He's grabbing and pinching and pulling at me, and it hurts, but not in a good way. "Wait, stop … this … doesn't feel good," I say. He immediately stops. "I want you to feel good," he says. "Well, that was too rough. I know I seem like a rough-and-tough gal, but I needed it to be a little slower and softer," I say. He's receptive. I was going to leave, but he's being so sweet now.
2:30 a.m.  Shocking myself, I spend the night with him. I sleep well next to a man for the first time in a long time.
DAY SEVEN
10:20 a.m.  I've been awake for a while, but Brian finally stirs. We have morning sex. "Better?" he asks. It is. He makes us both cereal and coffee, and it's really nice. I head home to get ready for my date with Kara.
12:30 p.m. I meet Kara for coffee. We have a great time! This is actually my first solo date with a woman. We're both bi, and we find out we've talked to some of the same men/couples. We kiss good-bye at the end of our date, and I remember how nice kissing women is. So soft. We're gonna do dinner on Thursday, and I'm over the moon!
6 p.m.  I debate going out or inviting someone over, but decide that tonight is just about me. I need it, too. Badly. After my therapist and I talked about it, I realized I had been giving so much of myself to other people that I hadn't been listening to myself. I say: Fuck, suck, and cuck your way to carnal bliss; but remember the only person you can fuck that can make you truly happy is yourself.
Want to submit a sex diary? Email sexdiaries@nymag.com and tell us a little about yourself.