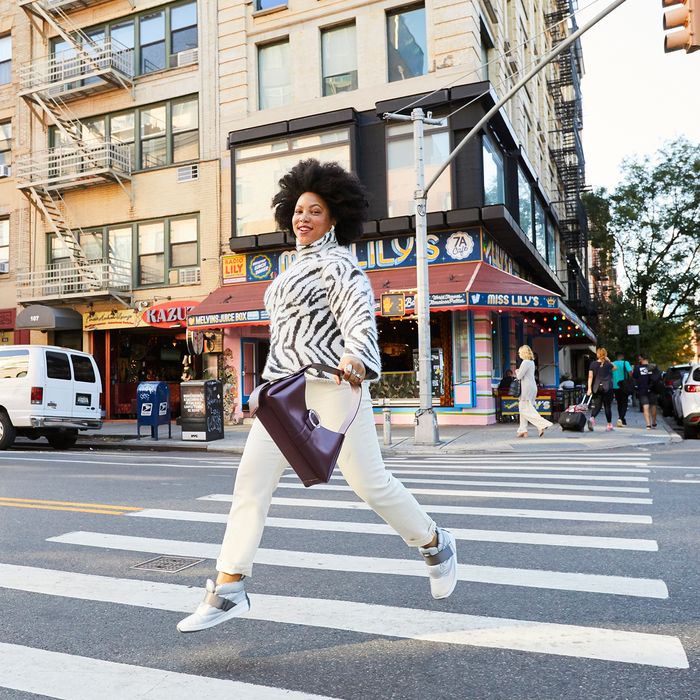 For someone whose job is basically personal style, Yaminah Mayo's outfits are like walking billboards for her brand. "My style is now more experimental, colorful, and plays with texture and finish," she says, which is where bold, comfortable shoes like the SOREL Out 'N About Puffy Boot (a boot that captures the comfortable essence of a sneaker) come into play. In between fashion projects, Mayo spent time around New York with us, showing off her signature cool-girl style, telling us her wardrobe essentials for hectic days (hint: SOREL boots are a must), and sharing what's next in her career.
On becoming Spicy Mayo:
Spicy Mayo was born at a burger restaurant in the summer of 2015. My friends and I used to go there after work to unwind after a long day of luxury retail. My last name is also Mayo, and, when provoked, I can have a fiery disposition, so it all just worked out.
Before I started [my blog], I was working at a fashion retail store, and I desperately wanted to work in fashion media but lacked the traditional credentials and connections to break into that world. So I started Spicy Mayo to circumvent the politics: I definitely see myself as someone who says what others wish they could say. I talk about everything, and I believe that has brought people into my fold.
On how she cultivated brand relationships:
I did a lot of work for free in the beginning (a lot!), but it helped me get my name and face out there. When I was starting out, I also did a lot of interviews for similar reasons because I had no institution to stand behind to validate why people should care about me or what I was saying. Soon enough, people started reaching out, wanting to collaborate, and I had to learn very quickly how to negotiate and demand my worth. It's not just about getting the gig; it's also important for brands and companies to value you.
When I partner with a brand, it's important for me to identify with them and their message. I consider myself to have a tremendous amount of integrity, so it really doesn't matter how much money you throw my way — if I don't align with the company, campaign, or brand, I won't be open to collaboration.
On navigating her schedule:
My day, after much discipline, now starts at 6:30 a.m. I wake up, make a smoothie, and head to the gym. When I get home, I shower, make breakfast, and begin answering emails until noon, when I eat lunch. I write between 1 and 3 p.m. After 3, I try to do something to invest in myself, whether it's going to galleries or hanging out with friends. I'm freelance, so I try to maximize that freedom. On a busier day, I still want to hit all of my self-care markers like going to the gym, so on Sundays, I try to be proactive and plan [ahead for] fittings, shoots, and deadlines.
On her style inspirations:
I was a little hesitant, but I'm really loving the '80s-glam moment we're having. I'm also still enthralled with the '70s moment we had a couple of seasons ago, and I refuse to let it go. Also, my friends' styles are so idiosyncratic and distinct, and I get inspiration from them all the time.
On fashion that works with her routine:
I have my own style that prioritizes comfort over everything. I didn't see many bloggers who dressed like me before I started Spicy Mayo, and that was a motivating factor for my blog. On days that are jam-packed, I can usually get away with a cozy aesthetic, so I wear a loose trouser and chunky sweater or a maxi dress with a sneaker and big hair: These types of looks combine all the elements that make me most comfortable. However, I think footwear truly solidifies my entire look. For example, my SOREL Out 'N About Puffy Boot is extremely comfortable, but it definitely turns heads as I make my way from point A to point B.
On her future projects:
Right now, I'm sort of getting my hands dirty in a lot of different pots, so, working within various mediums and testing what fits. I contribute writing to a bunch of different websites, and I just renewed my website subscription, so look out for more opinions on Spicy Mayo! I'm also revamping my podcast called Blah, Blah, Blah and will begin releasing new episodes by February 2020; I've already recorded three episodes, but I'm a perfectionist and very protective of my work, so it has caused delays. Nevertheless, she's coming back!
This is paid content produced for an advertiser by New York Stories. The editorial staff of The Cut did not play a role in its creation.