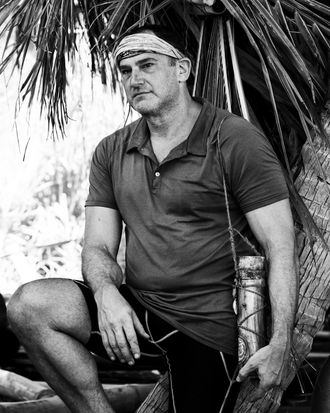 Dan Spilo.
Photo: Robert Voets/CBS
Last night, on episode 12 of this season of Survivor, contestant Dan Spilo was removed from the show. Though producers didn't specify exactly why Spilo had been removed, he has been accused of inappropriately touching other contestants all season, and was given a formal warning in episode eight.
"A decision has been made, and Dan will not be returning to the game," host Jeff Probst told the show's remaining contestants. "He won't be coming back to camp, he won't be on the jury. He's gone." According to a title card that followed Probst's statement, "Dan was removed from the game after a report of another incident, which happened off-camera and did not involve a player."
Spilo, a Hollywood talent agent, had been previously warned by Survivor producers after he was accused of inappropriately touching younger female contestants. Several contestants voiced concerns about his behavior in the first episode of the season: "Dan is a really touchy person. He makes me feel a little bit uncomfortable … " contestant Kellee Kim said. Another woman, Molly Byman, echoed her: "He's like really touchy, and Dan does not know personal space." Another contestant, Janet Carbin, had also noticed Dan's behavior: "The girls are very uncomfortable with Dan's physicality with them" she said. The episode concluded with Kim confronting Spilo about his touching and asking him to stop, which he agreed to do.
The accusations against Spilo came to a head in the November 13 episode, when Kim said that Spilo had continued to touch her inappropriately after she had asked him to stop. Two other contestants, Missy Byrd and Elizabeth Beisel, also said they had been touched inappropriately by Spilo. The show aired footage that corroborated their accusations, including a video of Spilo putting an arm around Byrd while she sleeps, and brushing hair out of Kim's face even as she swats him away. Kim gave a tearful interview about the issue, during which an off-camera producer offered to intervene.
But after Byrd and Beisel backtracked their accusations, saying they had exaggerated their discomfort, Kim was voted off the show by the majority of contestants. On air, Spilo apologized for his behavior: "My personal feeling is if anyone ever felt for a second uncomfortable about anything I've ever done, I'm horrified about that and I'm terribly sorry," he said.
Survivor, now in its 19th year, has never previously removed a contestant for behavioral reasons. Many Survivor fans and previous contestants have  expressed frustration with the show for waiting so long to remove Spilo and not specifying  the reason for his removal. On Twitter, Kim said she was "disappointed by how this pattern of behavior was allowed to occur for so long."
Former contestants Zeke Smith and Angelina Keeley spoke up, too:
Probst told Entertainment Weekly that Spilo was "not happy" about being pulled from the show, but Spilo himself has not yet commented on the situation.