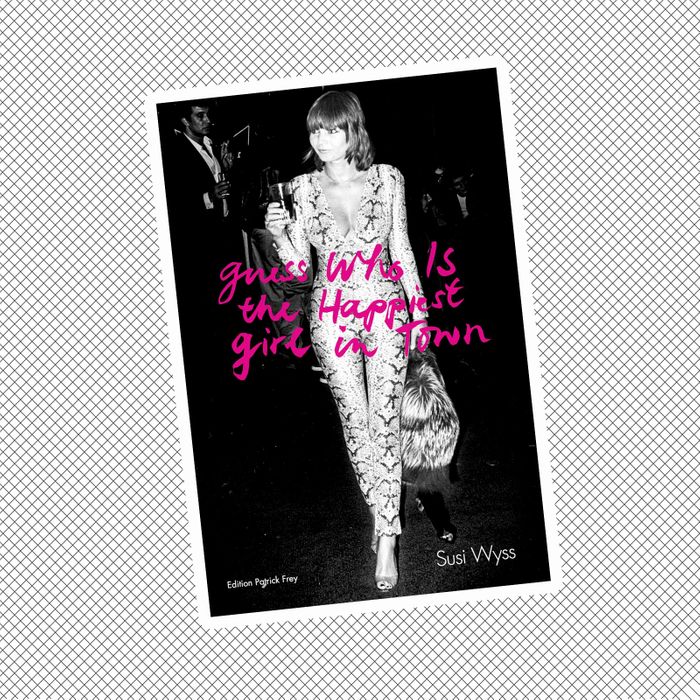 Photo: Edition Patrick Frey
I made the first great, unregrettable impulse purchase of my life at a book fair last September, when I was drawn to a very big book with a photograph of a very glamorous woman on the cover. The blurb on the back promised gossip about "the Paris jet set of the 1960s and '70s." I immediately handed over my credit card.
The glamorous woman turned out to be Susi Wyss, an artist and model who later became a renowned call girl and madam, and the book was Guess Who Is the Happiest Girl in Town?, her whopping 840-page memoir packed full of sexy exploits. The memoir follows Wyss from her childhood on the outskirts of Zurich to the heart of Paris, where she had affairs with some of the most famous men and women of the '60s and '70s. Wyss was truly an OG renaissance woman who palled around with Salvador Dalí, posed for nude photos with Helmut Newton, and was adored by designers for her street style.
Now 81, Wyss tells the Cut she'd never write another memoir again: "What would I write about? I don't have sex anymore." In case the "Paris jet set" and "1960s and '70s" didn't signal that, Wyss's memoir is filled with all kinds of sex: threesomes, foursomes, torrid love affairs, men and men, women and women. Wyss has seen it all, and done quite a bit of it herself. And she's unafraid to hold anything back. A truly dishy memoir is rare these days; Wyss claims hers may have not existed if not for the oil heir John Paul Getty Jr., who loved her letters and encouraged her to write. "He said I should write a book because it was so funny the way I wrote," she said.
Wyss's memoir captures a time period that seems unfathomable today — one in which designer Karl Lagerfeld and model Jerry Hall would just hang around the kind of lavish parties where drugs were plentiful and nudity was highly encouraged. She describes simply "meeting lovely people" wherever she went, many of whom ended up becoming her lovers. Wyss gives aliases to each person on her long list, though she doesn't seem to be trying too hard to disguise them: She refers to one as "Jimy Iguana." And while Wyss wouldn't say who Jimy Iguana is, she did tell me Iggy Pop wrote "Girls" about her. ("Last week in Paree / I was hanging down with Suzee / That crazy French magazine / She turned me backwards to a new scene.")
Wyss also says she had a fling with David Bowie when she was nearly 40. "He was 10 years younger than me, and he was not in love with me and I was not in love with him, but we had great sex." And while her memoir is full of great stories about steamy encounters, Guess Who Is the Happiest Girl in Town? isn't only about sex. Wyss's book is also a coming-of-age story, and shows us her transformation from an unhappy young woman trapped in a sexually unfulfilling first marriage into a woman who knew what she wanted from life and love (one of these, naturally, was never to marry again).
After establishing herself as a fixture of the Paris scene, Wyss began working as a call girl, taking on clients for sex, and even a few as a dominatrix. At first, she did it to make rent, but as she worked with more men who knew about her and what she'd do sexually, they would tell other friends. In a chapter titled "Madam Susi," she writes: "If they wanted a second girl — which was in fashion, and for which I was famous — I called in friends who were broke." Eventually, she had a group of friends she'd travel around Europe with, working and partying and meeting men.
Her friends have been as important as her lovers, and she documents plenty of memorable dinner parties and nights spent making clothes for her and her friends. One of her closest friends, Salvador Dalí, comes up frequently. "It was normal for me to have [Dalí] as a friend. We went every day to have tea or champagne at his house in the summer." And while Wyss's memoir runs on glitzy anecdotes about celebrities, it's also full of nostalgic details that remind you just how different life was then — from casually hanging out in Cannes to having a threesome on a plane and flitting around a pre-Silicon Valley San Francisco on the "best grass in town." (Unsurprisingly, Wyss hates smartphones, mostly because people never get off them to experience life.)
Wyss is famous around Europe, especially in her native Switzerland, so you might expect her to be nervous sharing so much of her life. But Wyss says she never felt uncomfortable. "I've never done anything wrong to anybody, and I always told the truth." she said. "It always happened to me like someone up there is arranging this for me." What's more incredible is that Wyss arranged this fabulous life for herself.