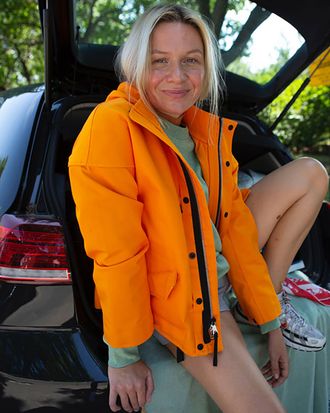 Meredith Erickson built her career as a writer and a foodie, and with her most recent project, she can add solo traveler and Alps expert to the list. Following her breakout cookbook collaboration with the men behind Joe Beef, the groundbreaking Montreal restaurant famous for its hedonistic take on French food, Erickson has spent the past six years obsessively researching and writing her first solo book of recipes, Alpine Cooking. What started as a two-year long delve into authentic mountain cooking quickly turned into six years of traveling through Italy, Austria, Switzerland, and France in search of the best food and the most memorable stories. The cinematic, 354-page compendium reads like a travelogue with recipes that punctuate the narrative. We spoke with Erickson about her dream vacation, gin cocktails, and wearing a T-shirt until it falls apart.
How do you thank someone for a gift? A kiss, a warm squeeze, and a day-after call.
What's your dream vacation? On a boat — in June or September — could be off the Amalfi coast, Italy, or Paros, Greece. Clothing optional, fresh fruit and grilled fish mandatory.
What's a good book on your coffee table right now? Andrea del Sarto: The Renaissance Workshop in Action.
Last show you binge-watched? Gomorrah, the series.
Secret to hosting a good party? Every guest has a cocktail in hand within minutes of arrival. Set the tone early.
What is a trend you like right now? Alpine cooking: going strong since the 1100s.
One you don't understand? Black nail polish.
Favorite restaurant in New York? Frenchette.
Favorite one not in New York? Joe Beef, bien sûr.
Go-to museum? I'll go to the Pinacoteca di Brera. It's a classical-painting museum in Milano. I'll go there one or two times a month. Sometimes it's nice to go back to the comfort of the things we know.
Shoes you wear most often? Outside shoes: Celine black boots. Inside shoes: handmade moccasins from one of the Kahnawake trading stores just across the Mercier Bridge in Montreal.
What's your favorite …
Drink? Negroni Dolomiti, something we came up with recently at an alpine dinner event. It's Spitz gentian liquor, good gin, and a splash of vermouth on the rocks.
Garnish?  No, thanks.
Kitchen utensil? I love a large silver serving spoon.
Scent? Santal 33 layered with neroli oil.
Pajamas? I sleep naked. But for breakfast and work in my home office, I've been known to wear Equipment monogrammed pajamas until noon or so. Everyone tells me it's important to "set the day" by dressing up first thing, putting on makeup, etc. I tried it a couple times, seems overrated.
Socks? In the Alps, good socks can make you or break you. I like Danner's. When I'm in the city, it's Maria La Rosa knit socks.
T-shirt? An old Chrysler T-shirt from when I worked on the assembly line as teenager for a summer job. It's completely threadbare, and my parents groan at the very sight of it still. So I made new tees of my own.
What are three photos that define your style, and why? 
I'm wearing a shirt I picked up along the journey and Levi's 501s. I was eating a pancake over a garbage can on the set of shooting the second Joe Beef book.
To find the best of the Alps often means skiing to the lesser-known rifugios and living, eating, and cooking in ski boots. This is me, snowed in, about 20 minutes north of Kitzbühel.
This photo was shot in 2010 and was in The Art of Living According to Joe Beef. We're on the back of a truck in the alley behind the restaurant drinking Burgundy. People still talk to me about this photo. It was a real moment in time, I suppose.
Shop the Story
If you buy something through our links, New York may earn an affiliate commission.