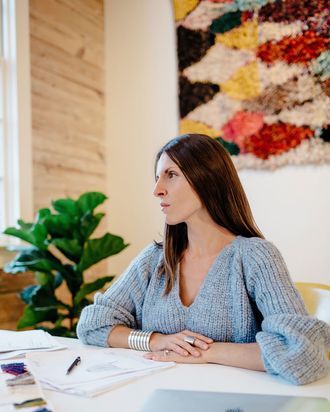 Few outfits send the message "I have impeccable taste and endless disposable income" like wearing cozy knits in a range of creamy colors. Designer Catherine Carnevale is a master of the medium. Her knitwear brand Eleven Six is known for sweater-and-skirt sets that look fit for an adult while being comfortable enough to take a nap in. It's a fine line. But Carnevale doesn't just deal in neutrals. There's some baby blues, yellow, and mottled peach tones in there — even some stripes.
Carnevale was inspired to leave her job as director of knitwear at Club Monaco and start Eleven Six on a trip to Peru, and all the knitwear is made in Peru and Bolivia by local artisans. We spoke with her about the best place to eat in Brooklyn, how she's renovating her home in upstate New York, and night swimming.
How do you thank someone for a gift?
An old-fashioned handwritten note card.
What would you never wear? 
Athleisure for every day — sorry, I know its huge!
What's your dream vacation?
A dream vacation would be a balance between a little culture, a little adventure, a little nature, a little city time, and a little chill time! Two past vacations that did just this were travels in Peru (where Eleven Six was conceptualized) and Japan.
What's a good book on your coffee table right now? 
Hilma af Klint: Paintings for the Future. I loved the recent Guggenheim show so much — it also inspired the palette for our fall '19 collection.
Last show you binge-watched?
Succession.
Secret to hosting a good party?
Good friends, good food, good drinks, good music! Keep it simple, and prep before the party starts so you can enjoy your guests and the experience fully. A good party ends in dancing, or, in summer, a late-night swim.
What is a trend that you like right now?
Head-to-toe tonal-sweater dressing — it's the Eleven Six DNA.
One you don't understand?
Ripped denim.
Favorite restaurant in New York?
Marlow & Sons in Brooklyn is farm-to-table heaven. We lived opposite it for 10 years.
Shoes you wear most often?
Loeffler Randall Gina snakeskin ankle boot with a midi block heel — they go with everything. I also like the Aeyde ankle boots in white — Western style.
What's your favorite…
Pajamas? Striped pajama set from Pour Les Femmes — I recently discovered this brand that produces with and gives back to women in the Congo.
Candle? Night Space in Taupe.
Scent? 11 11 by Lake & Skye.
Socks? Maria La Rosa cashmere ankle socks.
T-shirt? The Band Tee from KOTN, a Canadian brand I recently discovered that sources ethically from Egyptian farmers.
What are three photos that define your style? I would define my style as refined yet relaxed, cozy yet polished. I wear knitwear pretty much every day. I love head-to-toe tonal-sweater dressing, so our sets are my baby-alpaca uniform. When I wear our sweaters as separates (my lifestyle is a little more casual upstate), I pair one with my high-waisted Khaite Benny jeans with a block-heel boot and layer that over my favorite shearling coat.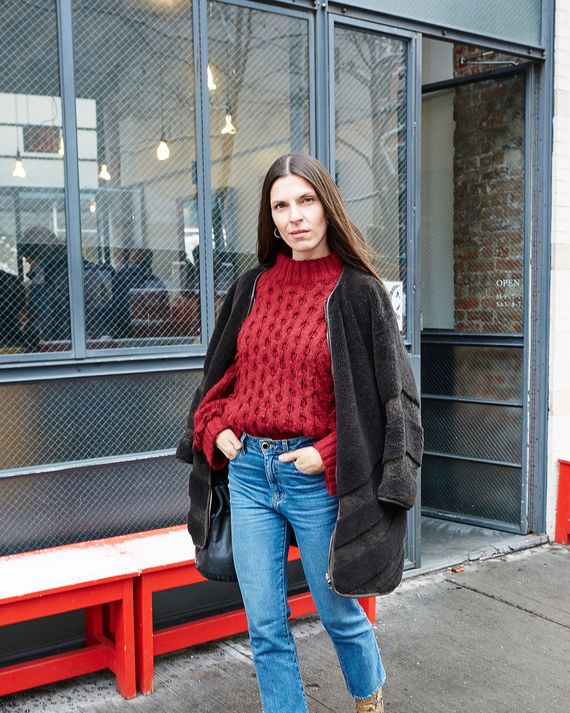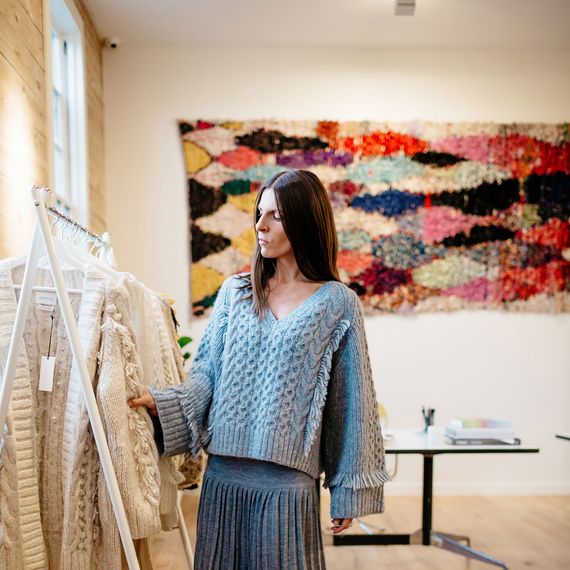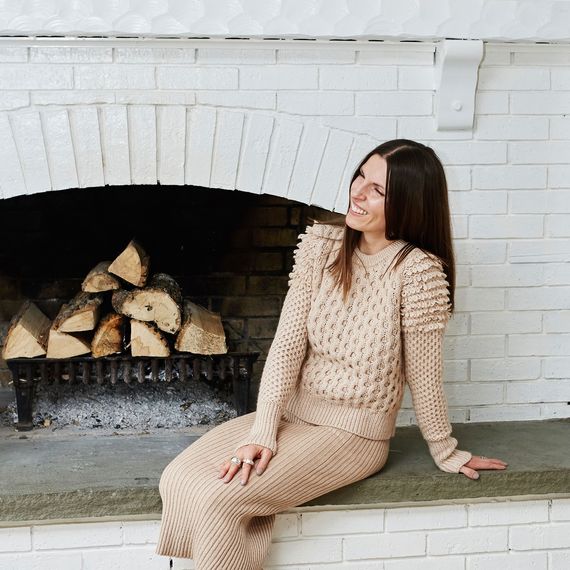 Can you take a photo of your favorite space in your studio/office/home? And a brief explanation of why it's your favorite?
The open-plan lounge area at our upstate 1960s Bavarian-style home is my favorite space. The lounge is on the second floor, so you feel elevated. It almost has a tree-house feeling, and gets beautiful light and changing vistas year-round from a full wall of picture windows. The raised, open brick fireplace gives it a particularly warm feel during the cold seasons. Surrounding the fireplace, the original built-in shelves house treasures collected from our travels. We ground the space with antique Moroccan rugs/textiles from our Marrakesh honeymoon. The space serves us in so many ways — family time, entertaining, evening wind-down, and also movie time with the Samsung Frame TV we have tucked in on the divider wall. The space opens out onto a balcony, so in the warmer seasons it feels like you get an outdoor extension to the lounge.
Shop the Story
Available in sizes XS–XXL.
Photo: 18-08-15 enlytammela PM1 B3 dylanremis W
Available in sizes 24–31.
If you buy something through our links, New York may earn an affiliate commission.