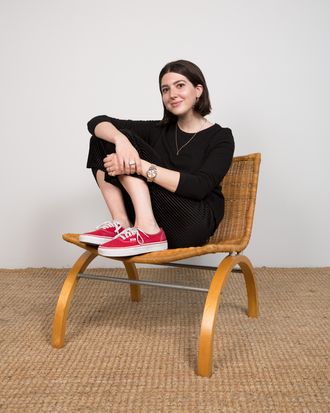 Lili Chemla.
Photo: Courtesy of Lili Chemla
Lili Chemla makes clothes you could wear to attend a meeting, take a nap, and then have dinner out, all without having to change. LeSet, her label that launched in October, consists almost exclusively of matching soft sets in a variety of colors. Somewhere between a sweatsuit and a suit-suit, they've developed a celebrity fan base. Gigi Hadid, Selena Gomez, Kacey Musgraves, and Kylie Jenner have all been spotted in LeSet (not always while wearing it as a set, but what can you do?). Especially now that it's freezing outside, wearing a nicer version of pajamas sounds extremely appealing. Chemla's personal style is equally comfy, as you'll see below. We spoke with her about dressing for a long flight, her idea of fancy clothes, and the perfect vacation.
How do you thank someone for a gift? I'm old school, I still love sending a handwritten thank-you note.
What would you never wear? Anything with cut-outs.
What's your dream vacation? A beach resort with really horrible cell reception and unlimited snacks. I find that it's so important to disconnect and rebalance from time to time but sometimes difficult to initiate on you own.
What's a good book on your coffee table right now? Normal People.
Last show you binge-watched? Mindhunter.
Secret to hosting a good party? Good music.
What is a trend that you like right now? Athleisure that you can wear out at night (hint, hint).
One you don't understand? To each their own! I say wear what makes you feel yourself and confident.
Favorite museum/gallery? M+B Gallery in Los Angeles.
Shoes you wear most often? White sneakers (Supergas, most of the time).
What's your favorite …
Pajamas? Morgan Lane.
Candle? Diptyque Amber scent.
Scent? Le Labo Gaic 10.
T-shirt? Leset — the classic Margo is my everyday go-to. The pointelle for day to night. And of course the stripe tees that match back to the socks!
What are three photos that define your style?
I recently wore this outfit on a flight from N.Y. to L.A. The Leset Lori pocket pant and turtleneck is one of my favorite sets of the season. I took off the jacket post-flight and went straight to a meeting. I felt totally appropriate for the meeting despite having just gotten off of a six-hour flight. I also used the purse as a pillow on the plane, which was extra-genius. Perfect travel outfit.
I recently wore this to a 30th-birthday dinner. It was my way of looking "fancy" while still being comfortable. An oversize button-down is definitely a go-to for me.
This is me secretly stealing Leset's spring samples. (Don't tell my office!)
What's your favorite place in your home/studio/office?
My bathroom — it has good lighting and a plethora of products.
Shop the Story
If you buy something through our links, New York may earn an affiliate commission.