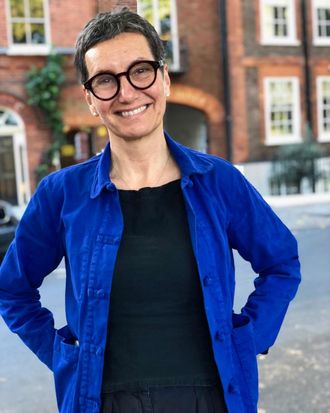 Suzie de Rohan Willner
Photo: Courtesy of Toast
If you've found yourself in London and are looking for a store that brings the Little Women aesthetic into the 21st century, TOAST is for you. The retailer started with a few pairs of pajamas made in Wales, and over a decade later, it's still the go-to for people who want clothes and home décor that is well-crafted, trend-averse, and not totally twee.
Suzie de Rohan Willner is the CEO of TOAST, championing slow fashion and artisan-made products, but has worked for many large companies like Levi Strauss, Timberland, and Dockers. One thing all of those companies have in common is longevity — they're built to last. Similarly, de Rohan Willner has an unfussy style, but surely is the person to turn to if you want to know what luxury item is worth the splurge, or how to darn socks in a way that makes them look even more beautiful. We spoke with her about cashmere socks, statement pieces, and glasses.
How do you thank someone for a gift?
Usually with a card — I make an effort to avoid traditional platitudes and take the time to focus on writing something meaningful.
What would you never wear?
Stilettos. Fur (real or faux). Overly branded luxury items. My style is simple and functional but with the occasional standout piece — like a velvet jumpsuit.
What's your dream vacation?
A short city break, to see a certain exhibition, or a longer escape to nature and somewhere truly wild, for a real break from the everyday.
What's a good book on your coffee table right now?
Leap Before You Look: Black Mountain College by Helen Molesworth. It was such an inspirational, creative community that nurtured talent.
Last show you binge-watched?
I'm perhaps a little late to the party but … The Crown.
Secret to hosting a good party?
Be careful to properly curate the guest list — if you want to encourage great conversation!
What is a trend that you like right now?
Chunky, practical boots. I hope they are here to stay.
One you don't understand?
Gym kit when you're not going to the gym.
Favorite restaurant in New York?
Buvette, Greenwich Village. The chef Jody Williams is inspired by European traditions that honor a history of craft and design. It's so delicious and every detail is considered.
Shoes you wear most often?
My Paraboots for quality, comfort, and style. I like to be able to walk for miles — that's when I do my best thinking.
What's your favorite …
Pajamas?
My TOAST pajamas. I love the soft cotton flannel and easy shape, which makes them so comfortable to wear.
Candle?
It might be an unpopular opinion but I'm not a huge fan of candles. I prefer low-level lighting to create a warm, inviting room.
Scent?
Shalimar by Guerlain (always has been, always will be). And I love how it has stood the test of time; it was originally created in 1925 as a tribute to the legendary love story between Emperor Shah Jahan and his wife Mumtaz Mahal.
Socks?
Cashmere socks. They are a small but worthwhile luxury.
T-shirt?
A simple navy tee is a classic. I'll often be found in the TOAST Cotton Boy Tee in Navy.
What are three photos that define your style and why?
(1) Keep it simple. (2) Your glasses are a part of your outfit. (3) Play with layers.
Shop the Story
If you buy something through our links, New York may earn an affiliate commission.