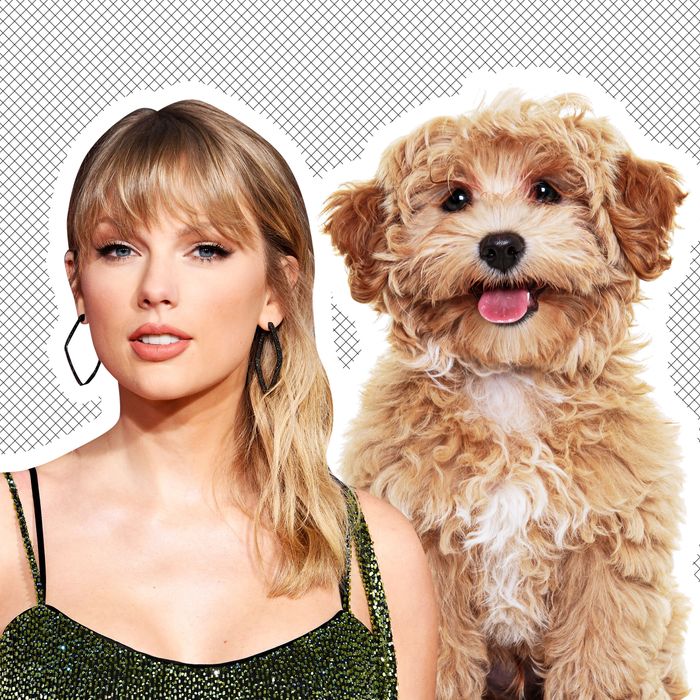 It seems congratulations are in order for Taylor Swift. Not for everything she has accomplished in her career thus far, no, nor for how many expensive candles she must own, nah-uh, but for this, perhaps her greatest accolade yet: She is the owner of the No. 1 musician-related dog name of 2019.
Oh, hooray!
The data comes from Rover, a pet-care business that compiles an annual list of the year's most popular dog names from its "database of over a million pets." (This year it also did cats, and, if you're curious, the top female and male cat names are Luna and Oliver, respectively.) The standard list, I hate to say, betrays a remarkable lack of dog-name-related creativity. In order, the popular names for girls are Bella, Luna, Lucy, Daisy, Lily, Zoe, Lola, Molly, Sadie, and Bailey. And for boys: Max, Charlie, Cooper, Buddy, Rocky, Milo, Jack, Bear, Duke, and Teddy. Yes, many of the same names from last year.
But luckily for you, Rover did not give us the musician-specific list last year, so we have no way of knowing whether the dog-naming music-loving public has stagnated or grown more creative. Here is the full seven-name list:
1. Taylor Swift

2. Khalid

3. Madonna

4. Ariana

5. David Bowie

6. Lady Gaga

7. Beyoncé
"Come here, Taylor Swift! Aw, that's a good girl! Good Taylor Swift!" You really can hear it. Congratulations, of course, to all of the lucky music-makers, dreamers of dreams.