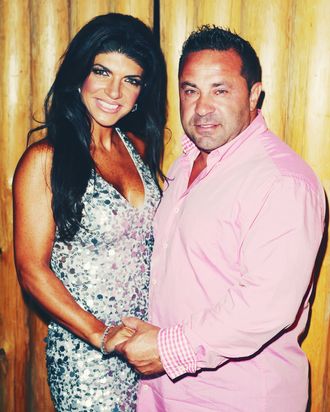 Photo: 2013 Larry Marano/Getty Images
Flags are flying at half staff all over Bergen County, New Jersey, today (they're not) with the news that Real Housewife Terese Giudice and her husband Joe "Juicy Joe" Giudice have separated after 20 years of marriage, per a report in People.
Both Giudices have starred on the Real Houswives of New Jersey since its inception in 2009. In the season one finale, Teresa Giudice famously flipped over a dinner table (at which many of her friends, their children, and her children were seated) while screaming the phrase "Prostitution whore," cementing her status in the all-time greatest Housewives pantheon.
Both Giudices have also since served jail time for mail, wire and bankruptcy fraud; Teresa was released after an 11-month sentence in 2015, during which she released her memoir "Turning the Tables," which also chronicled her personal yoga and bodybuilding journey.
Joe Giudice was released after serving 36 months last year but subsequently spent eight months in an ICE detention facility after it was revealed that he was not actually an American citizen. Though he came to the United States with his parents when he was one year old, Giudice was born in Italy, and is currently waiting there for a final decision in his deportation case.
The couple has been apart for nearly four years, and there has been speculation for some time that they would be ending their relationship. As Us Weekly noted, only a few hours before news of their separation made the rounds, Teresa Giudice referred to Joe as "daddy" on Instagram.