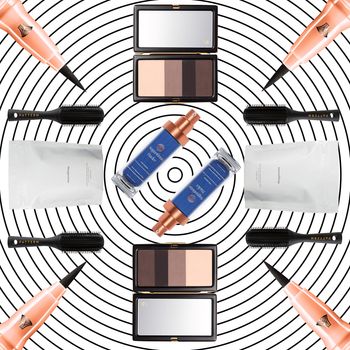 Photo: Courtesy of the vendors
Almost 365 days have passed on that word-of-the-day calendar you keep forgetting to flip, and in that time, we've tested nearly as many beauty products (it's probably actually been more). We've tried many that we've loved, and some that we've hated (and not written about).
In the spirit of internet year-end roundups, here are a special few that have stood out in our cluttered brains. Read on for the CBD products we think actually worked, the liquid eyeliner that we haven't been able to stop using, and the hair tool that one editor's mom can't get over.
An Incredibly Chic Bath Soak
As a multiple daily bather, I'm always on the hunt for the new favorite bath product. If it comes in packaging I'd be proud to display on my bathtub wall, even better. This simple white packet of pale-celadon-green crystals contains magnesium chloride sourced from salt mines in the Himalayas, which help ease muscle pain, but it's also got papaya enzyme to ease inflammation and French green clay to detoxify. Its scent of citrus and lavender oils makes it a great nighttime ritual, but I prefer to use it on a weekend afternoon — ideally, in that post-hike, pre-nap window. —Jane Larkworthy, beauty-editor-at-large
The Best Detangling Brush
It's hard to pick just one thing I love from Tracee Ellis Ross's new curl line, but I think her shower brush has been the most life-changing. It's the perfect amount of everything. It's not so heavy that your wrists get tired while detangling, but not so light that you can't get enough leverage to brush through. It's the right amount of grippy to stay in your hand in the slippery shower, and the bristles are perfectly sized, spaced, and bendy enough to work through curls and the stupidest knots. Plus, it stands up so I can leave it in my shower next to my products. It's like she listened to me complain about detangling for 20 minutes and fashioned the solution so I'd shut up and finally get it over with. Thanks, Tracee! —Erica Smith, beauty writer
The Moisturizer That Might Give You "Rich-Person Skin"
This moisturizer is a hot topic among beauty editors. "I live by it," one editor will begin to say, as another angrily interrupts, "I don't get the hype and it's so expensive!" It's definitely the most-talked-about product of the year, and that includes all the times I've seen it mentioned on Instagram (sometimes, yes, by people who truly have "rich-person skin"). Like La Mer in the '90s, it's reached cult status after only a short amount of time — I often get asked, "Is that fancy moisturizer in that blue thing worth it?" In my opinion, it seems to work best on people with reparative skin-barrier conditions like eczema, rosacea, or even psoriasis. —K.H.
A Posh Eye-Shadow Palette
The tiny size got me. Four eyeshadows brought together in a palette that's not much thicker than three credit cards stacked, and nearly as compact. The understated tortoiseshell casing — it's made from ocean-sourced recycled plastic — is certainly more stylish than all the other palettes in my current makeup lineup, but more importantly, the shades feel custom-made for me (though I only use two of the five — the beige on my lids and the dark brown applied wet as a liner). Of the four versions to choose from, there is the sunsetty Tweed and the blue-toned Royal (named for the makeup Victoria Beckham wore to Meghan and Harry's wedding), but the cool, neutral tones of Tuxedo speak to me. —J.L.
A User-friendly Eyeliner
What I lack in foundation, concealer, primer, highlighter, and blush skills, I make up for in liquid eyeliner. I've tried a bunch, and I still think this one that launched early this year is the best. Whenever I get a compliment on my cat eye, it's because it was drawn with one of these pens. The octagon shape has an excellent grip and the tip is magical — extremely flexible, thin, and so precise. I never have to go back for a do-over because this liner makes it so easy to get close to the lash line. There's never any skipping, flaking, or math equations required to create nice sharp angles on your wings. —E.S.
The Hair Tool That My Mom Is Obsessed With
The hot topic at my mom's Bible-study group is this $500 hair dryer/curling iron. Four ladies in my mom's group have it and they are the envy of everyone else despite Commandment No. 10. My mom sent me no less than four texts begging me to get her one. Universally, the ladies love how easy it is to use the curling iron, how light it is in their hand, and that they can also use it, while dry or wet, to blow out their hair with volume. Reviews on the internet are divisive; some complain that the curls don't hold. But there's nothing else like it. —K.H.
The Fragrance I Can't Stop Thinking About
Launching a fragrance is a rite of passage for a fashion designer; it signifies that they are so successful that their fans not only want to wear their clothes, but also smell like them. Working with Givaudan perfumer Rodrigo Flores-Roux, Browne nailed the olfactive version of his designs when he released six scents this year. I like the understated bottles with his signature red, white, and blue ribbons, and the way he named each fragrance after his birthday with numbers one through six to differentiate them, but I love the fact that he based each fragrance around vetiver (or, as he spells it, vetyver), a note that knows no gender. With Vetyver and Smoke, I have found my home. —J.L.
A Miraculous Dry Shampoo for Curly Hair
Another one of my curl prayers were answered this year in the form of DevaCurl's wet, curly-person version of dry shampoo. It's one of the few (and sometimes only) products at the center of the Venn diagram of Stuff I Use When My Hair Is Curly and Stuff I Use When My Hair Is in Braids/Twists/Locs. For the former circle, it works as a lightweight curl restyler that gets you your spirals back to their ideal shape without having to completely start over. For the latter, it gives sweaty or oily scalps a nice clean, refreshed, moisturized feeling. —E.S.
A Moisturizer That Makes You Almost Too Dewy
I wrote about this cream in March, and it is now the product my friends hit me up for the most. Each time I give this to someone, I get text messages of praise in return, from the muted and surprised, "Hey, this cream is really good" to the emoji-bedecked "I love this." I'm not surprised — this cream does a great job of making your skin feel really moisturized and look like it's brimming with good health, rest, and alkaline water. A makeup-artist friend of mine said it almost makes your skin look "too glowy," but I don't consider that to be a problem. —K.H.
A Lush, Calming CBD Cleanser
I get that the properties of CBD can help calm inflammation, but when it comes to its other benefits in skin care, I'm skeptical. That said, I do love using this cleansing gel, though I'm not sure it's the calming properties of the cannabinoids in the formula that have lured me as much as the divine blend of shea butter, sweet almond oil, rosa centifolia, and chamomile flower oil.
Massaging it into my face makes me feel like I'm going rogue with my Vicks VapoRub (despite the fact that it contains neither menthol nor eucalyptus, so I guess it's the chamomile). And the act of draping a warm wet washcloth over my face, waiting a few seconds, then removing it is often the closest I'll manage to get to a daily meditation. —J.L.
A Gentle But Effective Makeup Remover
My favorite way to wash my face is without running water, without a sink, and without a traditional cleanser. I collect micellar waters, and this one ranks high on the refreshing scale. Its herbal scent (thyme mixed with lemon balm) is very calming, it feels more hydrating than most of its kind, and it effectively removes all my black mascara and black liner without making my eyes feel like they're bleeding. —E.S.
The Most Relaxing Bath Salts
Lord Jones's CBD formulas are all on-point, so I guess I shouldn't be surprised that this CBD bath works very well. I sunk into this bath and got out of it with fewer body aches and pains. I then took a dream-free, knocked-out nap for two hours that I didn't even know I needed. I woke up feeling not groggy, completely rested, and with soft skin. —K.H.
The Best New Lip Balm
This lip balm has a lot of buzzy acronyms in it (CBD, MCT), but all I know is that it is superior. It has a heavenly, borderline-buttery texture that glides on like a treat but it means business — it leaves lips feeling hydrated and protected from the elements. What I love the most is that it makes my lips look as dewy and moist as we all want our faces to be — like you just applied a gloss but without all the sticky, smacking qualities. Because it moisturizes so well, I rarely ever need to reapply, but it's really hard not to thanks to the addictive apple scent. —E.S.
The Lipstick That Isn't a Cream
This is one of those counterintuitive beauty things like no-makeup makeup, but my preferred lipstick look is not "I just applied this fresh coat" but "I put this on several hours ago." Usually, to get the look, I apply lipstick and then spend several minutes painstakingly taking it off by blotting it with a tissue and wasting precious product.
I don't have to go through that farce with Chanel's Rouge Allure Liquid Powder. The product name is kind of a "Huh?" but the description is true. It's a liquid that becomes a powder, and it works. It gives me a soft lip color that's somewhere between a popsicle flush, strawberry mouth, and an even red-wine stain. One application of this looks great in any color (strangely, I've found them all to be flattering). —K.H.
If you buy something through our links, New York may earn an affiliate commission.