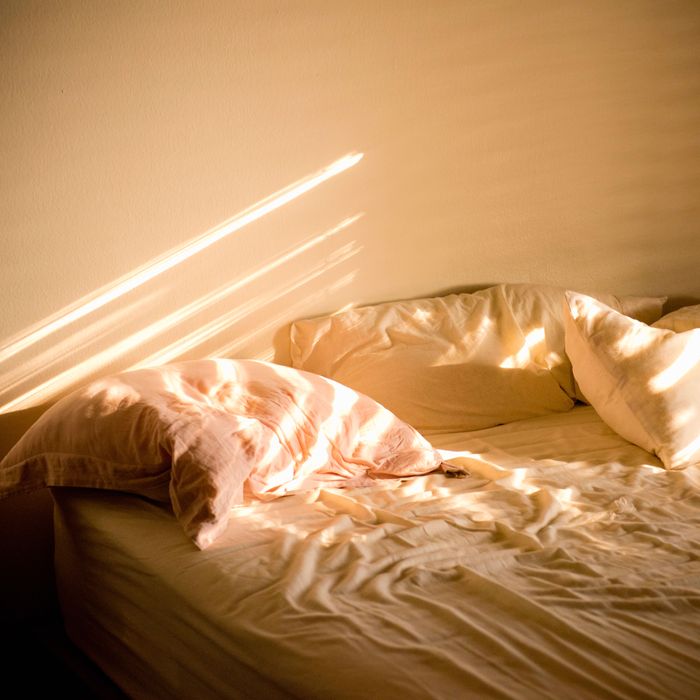 Photo: StephenSimpsonInc. /Getty Images
Every Sunday night, the Cut posts a new sex diary — anonymous accounts from city dwellers about a week in their sex lives. Below, nine of this year's best, from a pet groomer who suspects she might be a sex addict, to a 50-year-old having the best sex of her life, to a Seattle woman having sex with her four-person polycule.
6:30 p.m. Nudity and kief-honey-spiked cocktails all around. Ace and I have sex while they do the same. He doesn't come — it's way too early in the night for that. Then we all hang out together in the pillow-fort tent.
We order pizza and Ace grabs the "strapless" strap-on for Sophie and I to play with together. Then, time for my "birthday present." Joe leads Sophie from the bathroom. They just staged a mid-play costume change and I couldn't be more excited. She's wearing incredible harness lingerie, complete with a choker and leash.
1:43 p.m. J texts me. (Our code for I love you is 143.) We've been dating for five years — we met on a dating site while we were both in the middle of divorces, each of us sleeping in separate bedrooms from our spouses for over a year. He's 64 but in great shape and meeting him was like yeah, he's the guy I've been waiting for my whole life. Whenever I see him across the room when we're out, I just feel so fortunate. We both hate TV. We don't have cable and read constantly. Play Scrabble and put on WQXR and guess the composers. He has a son who's 14. He bikes, I run. It's a pretty damn good match.
12 a.m. Mikey arrives, of course. I can't escape him. He's drunk or high and being very flirtatious with me. We go back to the bedroom that I was just fucked in and start to fool around. Then he fucks me. I love being with him sexually; our sexual chemistry is off the charts. But as always, once it's over, I feel sad about myself. I'm not sure why — probably need therapy for that one. I decide to call it a night.
10:40 p.m. Back at my place, I make us drinks. Then Yacht Guy notices my kids' trampoline in the backyard, and suddenly we're bouncing around half naked. This leads to incredibly hot and fun sex, like a water bed on steroids, except with the mosquitos nipping at our naked bodies. Yacht Guy definitely checks the boxes for me in terms of adventurous sex in public (well, outdoor) places. That was my first trampoline sexcapade, but I have enjoyed other semi-public sexual encounters, from getting fingered under a restaurant table to having sex in the men's room at a boutique hotel in NYC. He ends up staying over, which I'm not a big fan of, but I didn't think I should make him drive the 50-plus minutes home.
2:30 p.m. Another cigarette break. I check my Facebook messages. I don't online date but I flirt with a lot of guys on Facebook. I guess you could say I'm a sex addict. That's probably the clinical term but I'm also okay with saying that I just love sex. It's been about ten years of constant sex with inappropriate men. Usually they are much, much older. A few have been married. Today, a guy from the town over is texting about hanging out tonight. We usually get high, fuck, and then I go home. It's both a completely empty and completely intoxicating experience. I tell him I'll go home, shower, and be there by 8 p.m.
10 p.m. BDSM guy DMs me on Instagram. He's a guy I met recently at a wine bar who immediately picked up on my kinky side — I mentioned something about ball gags in my drunken stupor. He's been in my DMs every day since. I've dabbled as an amateur dominatrix for as long as I can remember. I've never once had to advertise: These men always pick up on the energy I put out. I do it mostly for fun, but it has its financial perks, too. Sometimes men will give me cash just for meeting me, to set the tone of the relationship. If it's $500 for a 20-minute coffee, then I'll know they're serious. Sometimes it's gifts — a pair of Louboutins, or I'll bring them out as my slave for the night and they'll have to pay for everything. My boyfriend knows about this side of me — he likes the money it brings in. At least it's one thing I can be honest with him about.  
12:30 a.m. We're back at my place, negotiating a scene. Glad I remembered to change the sheets earlier! After going through all the details and getting mutual consent, we've all stripped down and P is standing beside N with his hands cupping her breasts with the biggest, dopiest grin on his face while D and I crop her butt and thighs. Later D fingers her, then we tie her to the bed (with the restraints I conveniently left out before) and I can't resist — I jump in and go down on her, much to D's and P's surprise. The three of us are reading each other and feeding off each other's energy and sharing excited and dumbfounded looks — one of the biggest thrills of the scene for me was seeing my play partners so excited and co-topping on the fly so smoothly with them. The energy was absolutely out of control!
3 p.m. Addressing his marriage fantasy encourages him, and he playfully suggests that we go around acting like a married couple. Ha-ha, okay, I say, going with the joke. We walk to the grocery store to get food. I think we are getting ingredients to cook, but he picks up several frozen pizzas, some beer, and a pre-made salad. "Let's go home and cook, honey," he tells me as we walk out of the store. "Is my wife hungry?"
2 p.m. We're at the party, starting to drink and play beer pong. David and I have a lot of aggressive banter during the game that I think is making everyone uncomfortable. After kicking his butt he comes over and puts his arm around me and pulls me in for a kiss. Isn't it a little early in the day for this?