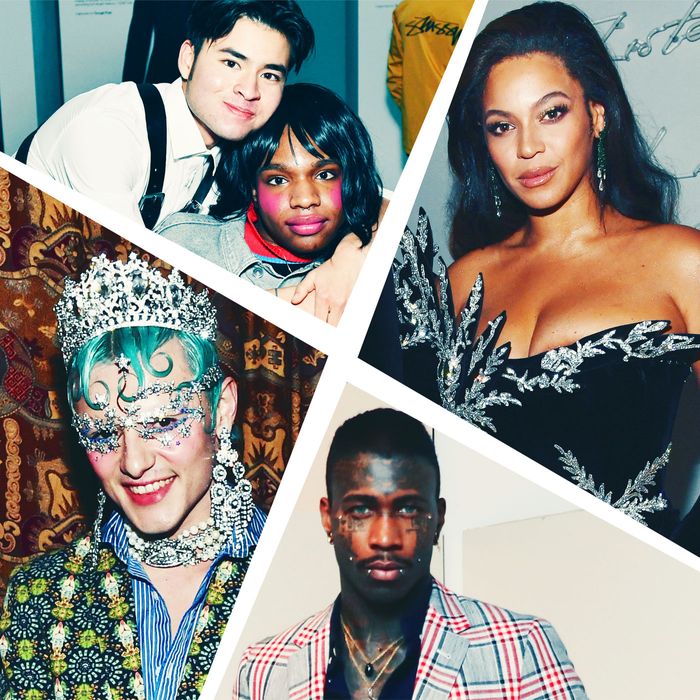 Photo: Getty Images, Shutterstock, BFA
The holidays must be here because at all the parties this past week, people were shining in their best outfits. So look no further for all your holiday outfit inspiration. Over in Los Angeles, Beyoncé and Jay-Z gave us a masterclass in black-tie dressing at Sean Combs's 50th Birthday Bash, while Sita Abellan kept it trendy and cool at the GCDS store opening across the pond in London. At Google's Creator Labs launch party, Aaron Philip served major makeup inspiration with cheerful blush. Who wore the best look? Scroll to see everyone, below.
Most Corny and Cutest Companion: Tina Leung
At the Chufy holiday party co-hosted by the Luxury Collection.
Hottest Harness: Chella Man; Brightest Blush: Aaron Philip
At the Creator Labs launch party presented by Google and LENS.
Classiest Couple: Beyoncé and Jay-Z
At Sean Combs's 50th Birthday Bash presented by Ciroc Vodka in Los Angeles.
Most Ready for the Outdoors: Destiny Owusu
At Krost's Eden collection release and holiday party in Soho.
Sparkliest Accessories: Prince Dru
At the Eat The Sun by Floria Sigismondi book party at Château Marmont in Los Angeles.
Coolest Downtown Kids: Sita Abellan and Daisy Maybe
At the GCDS store opening in London.
Least Boring Suit: Yves Mathieu
At the "Fabrizio Moretti x Fabrizio Moretti's In Passing" exhibit opening hosted by Sotheby's New York in New York City.
Most Likely to Make Tim Burton Proud: Prince Poppycock and Gottmik
At a festive celebration hosted by B. Åkerlund, Miranda Dickson and Absolut Elyx in the Hollywood Hills.
Chicest Cape: Ming Smith
At Christian Louboutin and Phillips Auction House present 'LouBhoutan' in New York City.