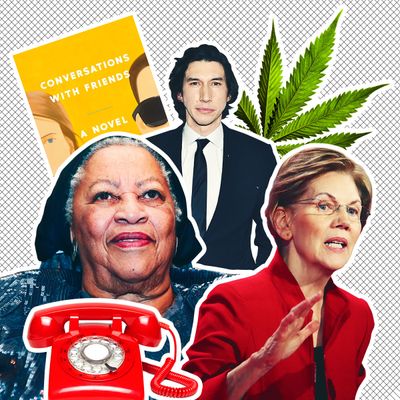 Earlier this month, we released the final episode of The Cut on Tuesdays … but if you've only just discovered the show, don't worry! We were at it every week for over a year, so there's plenty to catch up on.
Here are some highlights from the Cut's first adventure in audio. (And stay tuned, because we'll be back with new podcast projects in 2020 … )
We went on fact-finding missions.
For example:
What are we doing with our pubes?
What's making us horny?
Why are we getting high?
How does it feel to be pregnant?
and
Why does Karl Lagerfeld matter?
We asked women we admire our perennial question: How do you get it done?
How Alison Roman Gets It Done
How Rebecca Traister Gets It Done
How Rukmini Callimachi Gets It Done
How Robin Roberts Gets It Done
How Amy Sherald Gets It Done
We reported some big stories.
How a simple Lyft ride home became a nightmare — and a mystery that one woman has spent more than two years trying to solve.
Anna Silman investigated how a girl from her high school got radicalized and became the darling of white nationalists.
What parents didn't realize they were signing up for when they used anonymous-donor sperm to start a family.
What one local election with a razor-thin margin can tell us about the future of criminal justice in America.
Rebecca Traister paid a visit to presidential candidate Elizabeth Warren and heard about the job that shaped her.
We had some good conversations about good books and the people who write them.
Talking to Sally Rooney, author of Conversations With Friends and Normal People.
Talking to Ben Lerner and his mom, psychologist Harriet Lerner, about the anger that went into his book The Topeka School.
Curtis Sittenfeld talks about selling out, and reads her short story "Creative Differences."
Shirkers filmmaker Sandi Tan and author Elif Batuman tell us about adapting Elif's novel, The Idiot, for the big screen.
Seven women on what it was like to grow up reading Toni Morrison.
And, as ever, we were dealing with feelings.
Feelings like:
Anxiety
Ambition
Apologies
and
Calling your mom