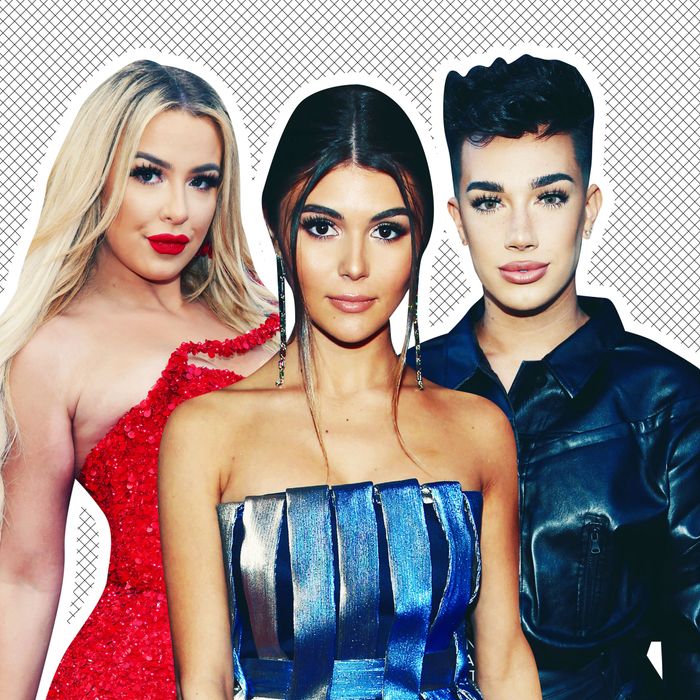 Tana Mongeau, Olivia Jade Giannulli, James Charles
Photo: Getty Images
Influencers are endless wells of drama because they live their lives publicly and ostentatiously. As an influencer, you're basically required to do things like find a sponsor for your marriage proposal — that's part of the job. This year, influencer drama reached a new fever pitch. There was the feud between Tati Westbrook and James Charles, the influencer who maybe staged her motorcycle accident, and many, many more. For a walk down memory lane, join us below.
The Olivia Jade Saga
Olivia Jade Giannulli just wanted to vlog. That much was made clear when it came out that her parents, Lori Loughlin and Mossimo Giannulli, had paid a nearly $500,000 bribe to get Olivia and her sister, Bella, into USC. Her parents are currently on trial, facing up to 45 years in prison (but realistically more like 2). The most Schadenfreude-inducing part of the whole scandal was that Olivia's vlogs made it clear she didn't want to be in school — she just wanted to be an influencer. Unlike many YouTubers caught in drama, Jade didn't have a public meltdown on YouTube. Instead, her Instagram and YouTube page were inundated with comments calling her both the queen of rowing and admonishing her for being ungrateful for her education. She's back on YouTube now, still refusing to talk about the scandal.
The Influencer Who Had to Say She Didn't Fake Her Art
Romanian influencer Cristina Szeifert was accused of not knowing how to paint, despite posting with an artist's palette and brush in front of finished paintings. The evidence, such as it was, was that Szeifert always had perfect hair, makeup, and clothing in her photos; that she didn't use a drop cloth; and, most damningly, that the palette she posed with always had the same shades of colors in the same place. Szeifert told BuzzFeed News that she poses with the same palette after each painting is done as a "symbol of art." She said on her page, "I love painting and it will always be my passion. I want everyone to cherish creativity and do something constructive and positive for the world instead of spreading hate and negativity."
The Editor Who Allegedly Turned Her Proposal Into Sponcon
Marissa Casey Fuchs, known as the @fashionambitionist on Instagram and former director of brand partnerships at Goop, shared her magical engagement story on Instagram in real time. Her fiancé, Gabriel Grossman, had sent her on a scavenger hunt around the world that would culminate in a proposal. Dreamy! But when Taylor Lorenz exposed a pitch deck for the stunt, the story changed. Fuchs's Instagram would have you believe the whole thing was a surprise to her, but it seems it was really a calculated business plan that Grossman and one of Fuchs's friends had shopped around. From a purely economic standpoint, this makes sense! Once the pitch deck was published, Fuchs had to admit she knew about the deck while still carrying on the rest of the hunt. But there's a happy ending — 5000 people watched the livestream of the formal engagement at a French château, where the couple had a wedding ceremony (a religious one, not a legal one).
The Makeup Artist Whose Lipsticks Contained Mold
Jaclyn Hill experienced every makeup artist's worst nightmare. Shortly after her brand-new cosmetics line was released, people started tweeting at her that they had found fibers, bumps, and mold in their lipsticks.
Hill started on defense, saying that the factory she had worked with used gloves for quality control which had left the fibers that looked like hair, and that the people who were complaining of bumps had used other products that left the texture. Eventually, she tweeted, "I am so sorry to see some of you dissatisfied with my product. I will make it right for you & learn from this mistake!"
Hill then took a monthlong break from social media. The video where she announced her return to influencing was titled "Where I've Been." She admits that she wasn't too involved with quality control of her makeup and quoted Kurt Cobain. "I was humiliated, I was embarrassed, and it was time for me to start picking things up and putting the pieces back together and rebuilding," she says. She's back and active on social media and her cosmetics site is up, despite many fans saying they didn't trust her apology video.
The Makeup Artist Who Responded to Claims She's a Nazi
Kat Von D released an 11-minute video to YouTube to respond to claims that she's a Nazi and an anti-vaxxer. In the video, she said she was neither. The Nazi rumor stems from 2008, when a disgruntled male co-star of D's tried to get her spinoff canceled with a "forged anti-Semitic message." Her husband has a swastika tattoo on his neck (he says it's "not political" and also has a Star of David tattoo) and her ex Jesse James has myriad anti-Semitic and Nazi connections. As for the anti-vax theory, D posted a long, now-deleted Instagram where she said she would raise a "vegan child, without vaccinations" while she was pregnant in 2018. In the 2019 video, she said she's "not an anti-vaxxer" but rather a "first-time mother." She didn't explicitly say whether or not she vaccinated her child, but said she consulted a pediatrician. The apology video was not taken well by either her fans or her haters.
The Influencer Couple Dodging Rent
Emily Ratajkowski, the model and Bernie bro who we all know and love, came under fire in March after allegations that her husband, Sebastian Bear-McClard, was not paying rent. Bear-McClard had been living in a loft since 2013, and wasn't paying rent because of the Loft Law, which allows struggling artists to pay for lofts. The Post claims he's worth $12 million, and the landlord says that protection ended in 2017 anyway and Bear-McClard owes $120,000. EmRata posted on twitter, "He's an independent movie producer so people thinking he's rich is real nice but not based in fact."
The YouTuber Cheating Drama
Jared Knabenbauer, a popular YouTube gamer (someone who plays games on YouTube in front of a million subscribers), was accused of cheating on his wife, Heidi O'Ferrall, with gamer Holly Conrad. The scandal engulfed the online gaming world. O'Ferrall tweeted that her husband had cheated on her hours after Knabenbauer posted a statement on Twitter that he was getting a divorce and blocked O'Ferrall. Knabenbauer lost thousands of fans from his YouTube channel. In the fallout, two people said that Knabenbauer had solicited them for nude photos while they were underage.
The Model Who Lied About Being Transgender
Carissa Pinkston, a model who worked for Marc Jacobs and Fenty, tried to cover for transphobic comments by coming out as trans (she is not). It started when some Facebook statuses Pinkston had written surfaced. One read, "Being Transgender does NOT make you a Woman. It makes you simply Transgender." When she got fired because of the remarks, she "came out" on Instagram, saying she "transitioned at a very young age and I've lived my Life as a Female ever since." Models who knew her said she was lying about being transgender. So Pinkston wrote another Notes-app apology, which she shared on Instagram. "I panicked and I thought if I came out as Trans that I could somehow make things better for myself but it appears I've only made things worse," she said. Then she deleted her Instagram, but only for a few days.
The Motorcycle Accident Photo Shoot
In July, fashion blogger Tiffany Mitchell got in a nonfatal motorcycle accident, which we know because she posted some photos of it that were filtered and more visually on par with an engagement photo shoot than photos of an accident. Mitchell explained that the accident was a "scary, magical series of events" and her friends who were driving alongside her just happened to take the photos. But the images are perfectly staged, and include strategic product placement for Smartwater. Her motorcycle is also propped up, fueling some theories that the accident never occurred. Mitchell told BuzzFeed News that she would never "turn a very important personal story like this into a brand campaign."
The Vegan Blogger Who Was Caught Eating Fish
The vegan blogger community is rife with drama (see Freelee the Banana Girl for more). And the major scandal this year was when popular vegan YouTuber Yovana Mendoza, known as Rawvana, was caught eating fish. She had 1.3 million followers when her friend uploaded a video of Mendoza with a plate of fish, which she was seemingly trying to hide. She stayed quiet for a while, then uploaded a 33-minute-long video explaining that her doctor had suggested she incorporate animal products into her diet.
Followers started commenting with fish emoji on her Instagram, and much more negative comments, many from vegans who don't approve of her eating animal products. Freelee posted a video titled "Rawvana Is a FAKE VEGAN (& No Longer a Friend)." Mendoza laid low for a while before resurfacing under the new name @yovana where she just promotes living a healthy life rather than a vegan life.
The James Charles and Tati Westbrook Feud
Two makeup artists, both alike in dignity, in fair Los Angeles where we lay our scene. James Charles is a 20-year-old makeup guru and super popular YouTuber. Because he's only 20, he understandably had a few mentors to help him with the business side of things. One was Tati Westbrook, a 37-year-old YouTuber (ancient for the platform) who took Charles under her wing so to speak. Then she posted a video called "Bye Sister" (a reference to Charles's name for his fans) and explained that she could no longer support Charles because he promoted another brand's gummies that were not hers. She also said she didn't like how fame had changed him, and that he had made some sexually explicit comments at inappropriate times and bragged about sleeping with straight men. As a result, Charles lost millions of followers — so many that there were live feeds of how many followers Charles was losing and Tati was gaining. Charles posted a response video that was mostly just him crying. People loved the drama between two wealthy influencers over gummy vitamins. Then, Tati said her video shouldn't be used to hate on Charles, other messy YouTubers got involved with "receipts," and honestly it's too convoluted to explain succinctly. Just know that the whole thing was predicted by a psychic, and all the videos have been deleted.
The YouTuber Who Cried Because of Billie Eilish
And now, a true meltdown. Tana Mongeau is perhaps best known to people who aren't 15 for being maybe married to fellow YouTuber Jake Paul. But her shining moment of the year was when she freaked out because Billie Eilish unfollowed her on Instagram. Mongeau is obsessed with the 17-year-old singer, and when she realized that at some point Eilish unfollowed her, she posted an unhinged vlog titled "Billie Eilish Unfollowed Me." Normally YouTube video titles don't have periods, and anyone knows that if a millennial or Gen-Zer sends you a text with a period at the end, something is wrong. The video is 15 minutes long. It shows Mongeau, in black-and-white, weeping, playing the piano, eating cake on the floor while crying and wearing a Gucci onesie. This is the energy we're taking into 2020. Happy holidays everyone.