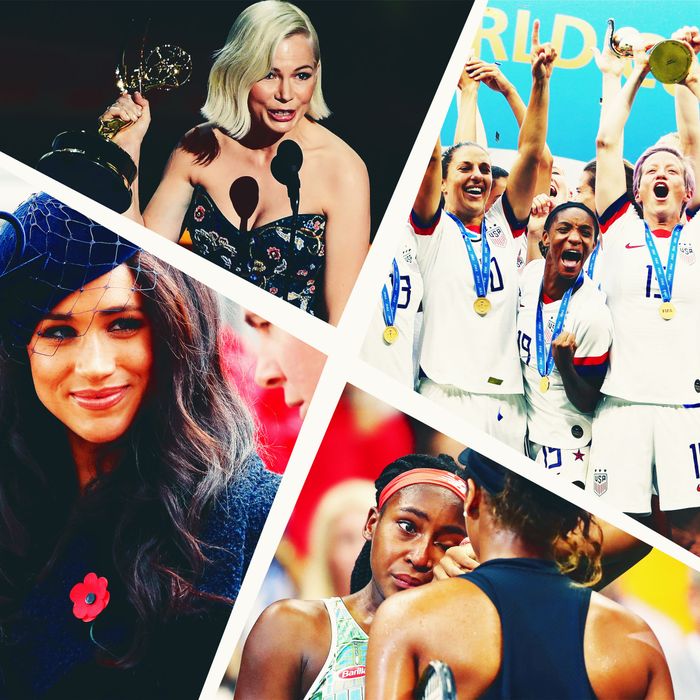 The tone of female solidarity has evolved a lot over the past several years. Hillary Clinton's presidential campaign harnessed it as a political platform, and after Donald Trump's election it coalesced into a full-blown movement, with droves of pink-pussy-hat-wearing women turning out for women's marches across America. At the peak of MeToo, women who were previously less involved — the Hollywood elite, the conservative news anchors — joined the charge. And while it happened last year, the power and consequence of Christine Blasey Ford's testimony against Brett Kavanaugh has carried into 2019.
In 2019, instances of women supporting women may have been less attached to a single agenda than they have been in recent years, but they've been no less powerful. Here are some of the best moments from the year:
The U.S. Women's Soccer Team's Fight for Equal Pay
The team filed a gender-discrimination lawsuit against U.S. Soccer, claiming that (in spite of netting more wins that the men's team) they were subjected to unequal working conditions and pay. The suit is ongoing, but they were given a victory in November — not long after winning the World Cup tournament — when a judge rejected U.S. Soccer's argument that no discrimination existed and granted the players class status.
Coco Gauff and Naomi Osaka at the U.S. Open
After beating Coco Gauff at the singles tournament, Naomi Osaka, without hesitation, consoled the 15-year-old player. Osaka later insisted Gauff be a part of her post-match on-court interview (reserved for the winning player) and most of the conversation involved them praising each other. It recalled the similarly emotional 2018 U.S. Open finals match, where Osaka beat beloved tennis legend Serena Williams. Osaka wept on the podium as fans loudly booed her, and in response Williams put her arm around her and implored the crowd to give Osaka her moment of achievement.
Hustlers
 Not only does it upend the historically regressive portrayal of strippers onscreen, Hustlers — which starred J.Lo and Constance Wu and follows a team of strippers that scam and rob wealthy Wall Street men — speaks to the power of female love and friendship in a way that no other film this year did.
Michelle Williams's Emmys Speech
The actress used her 2019 Emmys speech to speak out against the gender pay gap in Hollywood and at large: "The next time a woman — and especially a woman of color, because she stands to make 52 cents on the dollar compared to her white, male counterpart — tells you what she needs in order to do her job, listen to her," Williams said. "Believe her. Because one day, she might stand in front of you and say thank you for allowing her to succeed because of her workplace environment and not in spite of it." The actress won the Emmy for her portrayal of Gwen Verdon in FX's Fosse/Verdon.
The Squad
The four freshman congresswomen of color known as "the Squad" (Representatives Ilhan Omar of Minnesota, Alexandria Ocasio-Cortez of New York, Rashida Tlaib of Michigan, and Ayanna Pressley of Massachusetts) have spent a ton of time this year supporting each other in their overwhelmingly white and male Congress. They've spoken out against the Washington Establishment and defended each other from various racist and sexist attacks, many of them coming from Donald Trump himself.
Oprah and Hillary Clinton Defending Meghan Markle
Meghan Markle has spent the last few years being attacked by British tabloids, after marrying Prince Harry and giving birth to their first child. Clinton recently decried the British press for its treatment of Markle in an interview, and this past April Oprah also spoke up on her behalf: "I think she's being portrayed unfairly … She is not only everything that we perceive her as being — graceful and dynamic and holding that position — but she just has a wonderful, warm, giving, loving heart," she said to Gayle King on national television.
Beyoncé and Michelle Obama's Ongoing Love Story
Beyoncé and Michelle Obama have been open about their mutual admiration of each other, but recently Bey penned a beautiful essay on Michelle for Time: "Loving Michelle Obama wasn't much of a choice," she wrote. "It was something that came naturally, because of how she carried herself. Because she resembled us and was moving in spaces where, as black Americans, we weren't exactly meant to be, she seemed so powerful."