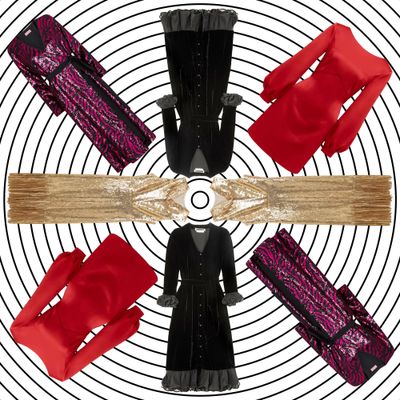 Photo: Courtesy of the Retailers
New Year's Eve is one of the few opportunities you get to really go big, sartorially speaking, so why not seize the day? That doesn't necessarily mean covering yourself in gold sequins head to toe (although that's cool, too). There's a spectrum to flashiness. Prefer to be a little more subdued? You'll want a dress that sticks with dimensional fabrics in velvet or satin. Prefer to stand out? A dress lined with faux-feathers might be better for you. Whether you're a wallflower or like to be the center of attention, scroll down to shop all of the best New Year's Eve dresses now.
The Designer Dupe
Squint your eyes and this can almost pass for Saint Laurent. It has all the hallmarks of an Anthony Vaccarello party piece: the exaggerated shoulders, the mini length, the animal print sequins, the sheath silhouette — but you'll be paying less than $100 for it.
Available in sizes XS–M.
If You Love Romantic Tops
Photo: Brown, Indya
Remember those romantic, milkmaid-looking tops from last summer? This is sort of like a dress version, with velvet cap sleeves and a sweetheart neckline to show off your favorite necklace.
Available in sizes S-L.
If You Hate Sequins
Try something in a more understated material, like this rich satin eggplant-colored dress from & Other Stories. It still gives off some shine, without making you look like a human disco ball.
Available in sizes US 0-12.
The Ecofriendly Option
Buying a new dress for every party that pops up can get expensive. Here's one you can continually repurpose after the ball drops with a few keen accessories swaps.
Available in sizes 1X-3X.
If You Love a Statement
Photo: Brown, Indya
A faux-fur-trimmed red dress will do the trick.
Available in sizes US 0-14.
The Disco Dress
Photo: Brown, Indya
Wrap dresses are amazing for obvious reasons, but drip it in copper-colored sequins and you have a winner.
Available in sizes S-L.
The Goth Princess Dress
Tiers of tulle can look overly precious, but the black lends more of a moody, romantic vibe.
Available in sizes UK4-22.
The Sleek Option
This tuxedo-meets-minidress is so slinky, it will make you feel like an extra in a James Bond movie.
Available in sizes US 2-12.
The Scandi-Style Dress
Danish label ROTATE Birger Christensen is known for its quirky Scandinavian spin on the party dress. With billowy sleeves, a ruffled collar, and belted waist, this has so many cool details — all you need is some simple metallic pumps to make it work.
Available in sizes DK34-42.
If You Love a Subtle Shimmer
It might look like your typical red at first glance, but look closer, and you'll see specks of red shimmer that take this dress up a notch.
Available in sizes US14-20.
If You Love Wrap Dresses, Part II
Photo: Brown, Indya
An oversize take on the wrap dress, this is more drapey, giving you plenty of room to bust a move on the dance floor.
Available in sizes US 0–14.
The Figure-Hugging Dress
Photo: Brown, Indya
If you want to show off your curves, nothing does the trick like a body-con dress. They can easily skew cheap-looking, so choose one with interesting elevated details like an asymmetrical shoulder or ruching.
Available in sizes US 14–20.
The Showstopper
There's so much to love here. From the fringe to the keyhole neckline, and most of all, the gold sequins. It's a dress everyone will remember.
Available in sizes US 4-8
The Minimalist Dress
Big, over-the-top details aren't necessary when you look like liquid silk. It's also a canvas to get imaginative with accessories.
Available in sizes US 0-14.
If You Hate Being Cold
A dress that solves the age-old dilemma of how to look cute without freezing your butt off. Instead of tights, wear it with red-leather, over-the-knee boots for added edge.
Available in sizes S–XL.
If You Love Big Details
Business in the front, party in the back.
Available in sizes US 2-10.
The Golden Girl Dress
Pair it with black shimmering tights and platform pumps.
Available in sizes US 14-26.
The Dinner-to-Party Dress
Have dinner at 8 and a NYE party 10? This is understated enough to take you from an elegant dinner to the dance floor.
Available in sizes DK34-40.
The Unconventional Sequin
Photo: Brown, Indya
Sure, everyone loves silver and gold sequins, but you'll stand out even more in this emerald green number.
Available in sizes US 14-24.
The Dress to Dance In
A dress that can keep up when you're dancing like there's no tomorrow.
Available in sizes XXS-XXL.
If You Love Studio 54
At first glance, people will think you're Bianca Jagger.
Available in sizes US 2-12.
If You Love Animal Print
At this rate, your entire wardrobe is probably already 25 percent animal print, so why stop now?
Available in sizes US 2-12.
If you buy something through our links, New York may earn an affiliate commission.