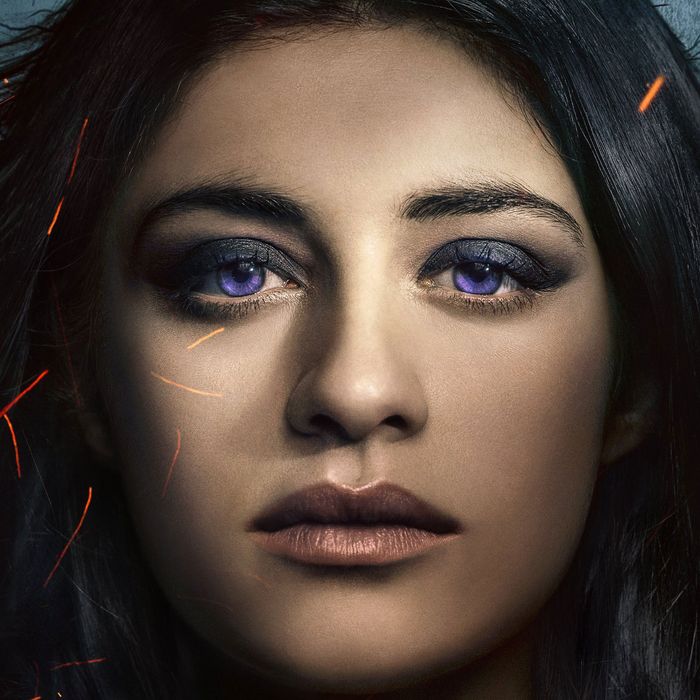 Marriage is about compromise, which is the main reason why I've been watching the new Netflix show The Witcher. The show is based on a video game my wife, Lydia, is obsessed with, which is based on a Polish-language book series by a guy named Andrzej Sapkowski; both take place in a fantasy world with warring kingdoms and species: elves, vampires, dryads, etc. Lydia played this game for something like 200 hours over the course of … not as many months as you might think appropriate, and simply by living in the same apartment she does, I, too, have absorbed a good deal of The Witcher lore. Mainly: The witcher is a guy named Geralt, who is magical, unbeatable, and hot.
The show is pretty good, though I rarely have any idea what is happening. Henry Cavill sounds exactly like Geralt from the video game, and this impresses me to a degree even I don't understand. But what's really great about the show, what I'm here to tell you about today, is the eye makeup.
Here, for instance, are these forest ladies, who give magic water to the people who come to their secret land. If their intentions are pure, they live, and forget all their problems. If they have bad intentions, they die. Haha. But look how glam! Very Rihanna in "Disturbia" vibes, if you ask me.
Here's another example: Queen Calanthe of Cintra, who is very cool and tough, if a little hotheaded. It is not easy to be queen, and it is also not easy to pull off full, round-the-eye black liner. But she does!
My favorite look, though, belongs to Yennefer, the hot witch who [small spoiler] trades her fertility for her good looks. In the fourth episode, Yennefer wears a sparkly, smoky green eye shadow which seems to change color in the light, and perfectly complements her, uh, electric-violet eyes.
I got in touch with the show's makeup artist, Csilla Blake-Horváth, who told me she used Charlotte Tilbury's Eyes to Mesmerize in Cleopatra. The bad news is this shade appears to be sold out across the entire internet (!!!), which always seems to happen with beauty products I love. I hope it comes back, but in the meantime, there are some good dupes out there for those of us who want to look like Yennefer.
If you buy something through our links, New York may earn an affiliate commission.