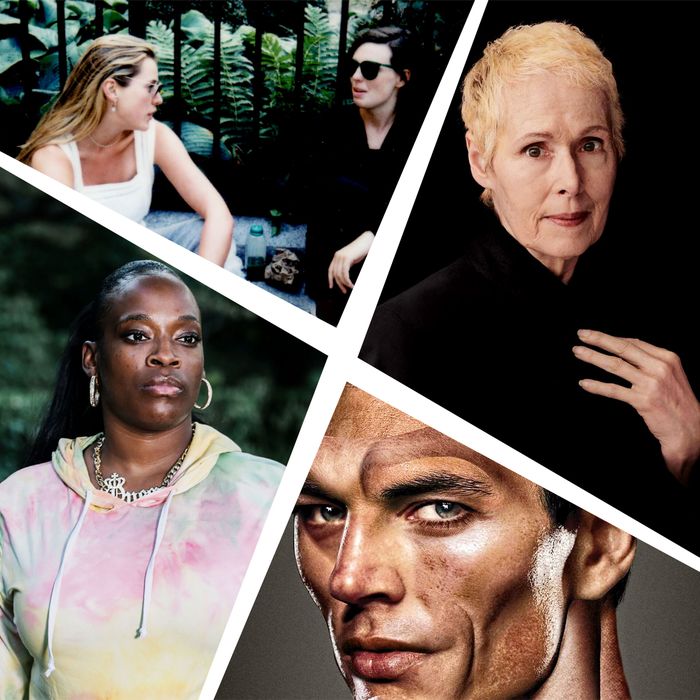 Photo: Courtesy of Natalie Beach, Amanda Demme for New York Magazine, Eddie Guy, Wayne Lawrence for New York Magazine
At the Cut, we strive to tell the stories that matter to our readers with generous wit, nuance, and honesty. And what matters to our readers covers a broad swath of subjects: politics, feminism, work, money, relationships, mental health, fashion, and issues relating to equality. The list below, our ten most-read stories of the year, reflects that diverse range.
It includes E. Jean Carroll's incendiary memoir excerpt, in which she accused the president of rape, as well as a deep dive into what drives Ivanka Trump — and what she intends to do next. There was a good dose of bizarre intrigue, from the turmoil at Grace Church School to a Harvard paternity scam. Original investigative reporting unraveled how patients in academic medical centers are vulnerable to abuse, and also shone a light on the harrowing tale of a cult formed at a bucolic liberal arts college.
Find the full list below, and enjoy.
In June, senior culture writer Allison Davis plumbed the murky depths of Babe.net's workplace culture and its ultimate demise. The now-defunct publisher's viral story on Aziz Ansari was just the beginning of the site's problems, which included a nonexistent human resources department and relationships between interns and higher-ups.
In this feature from August, Vanessa Grigoriadis interviewed more than 60 sources close to Ivanka Trump to gain insight into the world the First Daughter emerged from, and what her next moves will be after leaving the White House.
This letter to our advice columnist, Ask Polly, went viral this summer due to its wild premise: A woman with a life-threatening mushroom allergy is constantly being bombarded with the food by her husband's family. Heather Havrilesky hits the nail on the head in her response: "Your in-laws are next-level, off-the-charts batshit."
Aja Newman went to the hospital for shoulder pain one night in January 2016, only to be drugged and sexually assaulted by the hospital's star doctor, David Newman. He was later sentenced to two years in prison and stripped of his medical license after admitting to assaulting four patients, including Aja. In this report from October, Lisa Miller unravels how academic medical centers can be breeding grounds for abuse, leaving patients like Aja even more vulnerable in chaotic emergency rooms.
Jessica Pressler's recounting of niche Brooklyn preschool drama captivated readers this summer. The saga of Grace Church School's infighting between parents, teachers, the board, and its director, Amy Morgano, offers a glimpse into the lives of affluent families in turmoil amid a changing of the guard.
In this May cover story for New York Magazine, reporter Alice Hines wrote about how a community of self-described "incels" (involuntarily celibate men) are getting plastic surgery to transform themselves into "Chads": strong-jawed, wide-shouldered men who they think can get laid, based on their views of women as inherently shallow. It was a chilling, devastating look at what happens when a misogynistic subculture turns its hatred inward, and ignited a conversation on how this ideology can be harmful to men, too.
The haunting story of Larry Ray, who moved into his daughter's college dorm after being released from prison and soon drew her peers into an alleged sex cult, captured the attention of readers, Twitter users, and moviemakers. Shortly after the disturbing piece was published, Mark Wahlberg and Jason Blum of Blumhouse Productions bought the film rights to the story.
Readers were entranced when, back in July, Kera Bolonik shared the story of Bruce Hay's ill-fated romance with Maria-Pia Shuman. Shuman and a friend allegedly tried to con the Harvard Law professor into thinking he'd fathered a child with Shuman, and at one point even tried to hustle Hay out of his own home. After the story was published, several other men came forward with eerily similar stories about Shuman.
Longtime advice columnist E. Jean Carroll divulged details of her "Hideous Men List" in an excerpt from her memoir, What Do We Need Men For? A Modest Proposal. The excerpt includes a vivid scene of her alleged sexual assault by President Donald Trump. Trump dismissed Carroll's allegations, saying, "She's not my type"; Caroll later sued him for defamation.
Natalie Beach's September essay about her friendship with influencer Caroline Calloway enraptured millions of people, many of whom had been watching it unfurl in real-time over Calloway's popular Instagram account. Beach wrote about her college years with Calloway, who rose to internet prominence for her florid, incredibly personal autobiographical Instagram captions, which eventually netted her a six-figure book deal. (She never finished writing it.) Beach claimed that she ghostwrote Calloway's Instagram captions, as well as her book proposal, but the heart of her essay focused on the obsessive, giddy, exploitative dynamic between herself and Calloway — something anyone who's ever had a wildly charismatic and self-absorbed friend is familiar with.