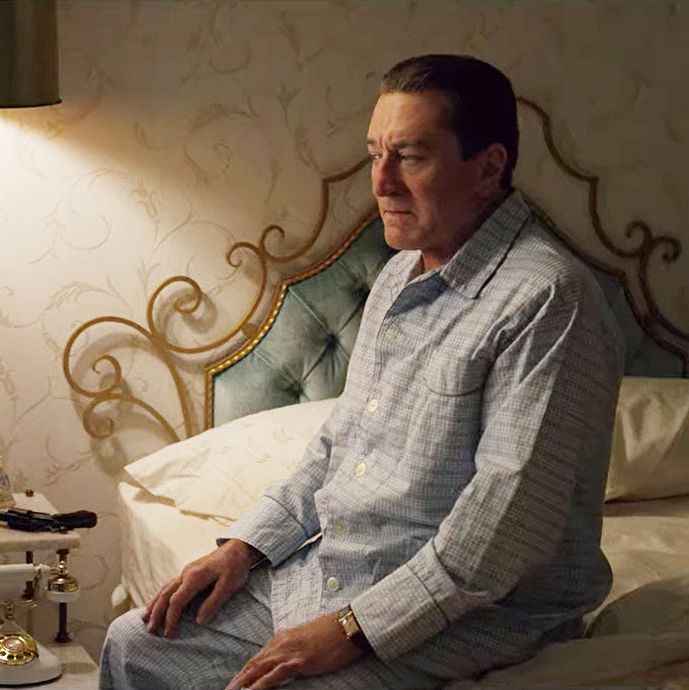 The most memorable image of Tony Soprano is not one of him whacking a guy, or holding court at the Bada Bing! strip club, but of the Italian mob boss standing in his New Jersey driveway wearing nothing but a tank top, boxers, and a white terrycloth bathrobe. It's an image we've seen before, from Henry Hill in the final scene in Goodfellas, to real-life mobster Vincent "the Chin" Gigante, who notoriously walked around Greenwich Village in his bathrobe and slippers in an attempt to feign insanity.
These images stand in direct opposition to the kind of powerful, stylish, smooth men the media has depicted mobsters as. They are not Hugh Hefner types, or Scarfaces or Godfathers. Even Sam Rothstein in Casino, with his silky matching sets, is not immune to the drudgeries of adult life. No, these are your average, large adult men, who look like absolute garbage when they get up in the morning before doing bad things.
Martin Scorsese's The Irishman, which was released on Netflix over Thanksgiving weekend, stars the usual cast of characters wearing bathrobes and pajamas. Inspired by Charles Brandt's book I Heard You Paint Houses, the film tells the alleged real-life story of union man Frank Sheeran, played by Robert De Niro, and his close relationships with mobster Russell Bufalino (Joe Pesci) and Teamster Union president Jimmy Hoffa (Al Pacino). Hoffa in particular loves a silk robe and a matching pajama set. In an early scene in the film, Bobby Cannavale (God bless) also appears in a robe and slippers, giving Sheeran a gun in a paper bag.
One of my favorite pajama scenes comes about an hour and 15 minutes into the film — so, only in the first third of Scorsese's epic 3.5-hour odyssey — when Hoffa and Sheeran are on another business trip together at a hotel. Sheeran takes his neatly ironed matching pajama set off a hanger while Hoffa washes up wearing an almost identical getup. (Sheeran is moving up in the world; his first suitcase only included undershirts.) They sit face-to-face on the edges of their twin beds, almost mirror images of each other, but Sheeran is in blue and white plaid, while Hoffa is a little classier in solid blue with piping. They look like two teenagers at a slumber party, about to tell each other their deepest, darkest secrets.
Hoffa proposes that Sheeran run for president of a local union. Sheeran is at a loss for words, but humbly accepts. "I love ya," Hoffa says, getting up to give him a hug. "I just love ya." He lets out a pleased groan as they embrace. For some reason, Hoffa was afraid Sheeran would decline. "I mean, Frank, you never reveal how you feel, you know? It's hard to tell," he says, tucking himself in. They sound like an old married couple, making pillow talk before bed. Hoffa is so relieved by Sheeran's mumbling declaration, that he immediately falls asleep; Sheeran turns off the light.
There are many reasons why this scene made me say a Hail Mary. In the context of the film, it's a turning point in Sheeran and Hoffa's relationship; a real heart-to-heart between two tough guys wearing matching pajamas. It doesn't get more stripped down than that. The scene is also made more tender by the fact that De Niro and Pacino have shared 50 beautiful years of friendship offscreen as well. When Hoffa embraces Sheeran and says "I love ya," you half expect him to say, "Bob."
The film itself is a picture of what happens to wise guys when they get old and gray, and in some ways, it's also about the men who've made these movies, too. Apparently, De Niro got Pacino to join the cast by saying: "This could be the last one." Whether or not it will be, the morbidity of it all made the pajama scene feel bittersweet as well; a bear hug before the final, eternal snooze.
In the final scene of The Irishman, we see Sheeran in his room at a nursing home around Christmastime. He sits in a wheelchair wearing a shabby plaid bathrobe, dark pajamas, and slippers, an IV drip hanging next to him. His wife, friends, and peers are all long gone, and his daughters, who are well aware of his crimes, stopped speaking to him. The only person who comes to visit him is a priest, who is on his way out the door. Sheeran asks that he "leave it open a little bit" when he leaves, and the audience is reminded of how Hoffa left the door to his hotel room open just a crack when Sheeran first slept over.
Suddenly, the camera switches to the hallway, peering in through a crack in the door back at Sheeran, who sits alone in silence. From this angle, is bathrobe and pajamas don't look so glamorous anymore. But then again, maybe they never really did.