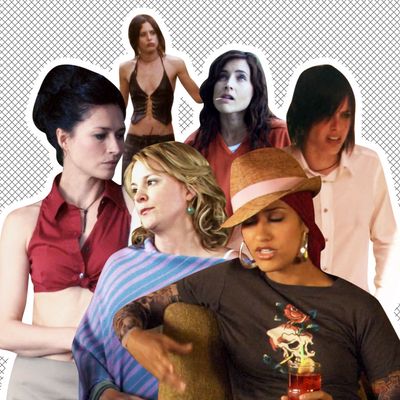 In honor of the upcoming premiere of The L Word: Generation Q, the reboot of Showtime's early-2000s groundbreaking lesbian drama, three Cut staffers and fans decided to compile their favorite deranged outfits from the original series. This task, as anyone who watched the show can imagine, was daunting: How does one pick a favorite ridiculous outfit? Or a handful? Or even ten? The L Word gave us so much, sartorially: Tina's unfortunate shawls and ponchos. Bette's wide lapels. Shane's low-rise pants. The bizarre graphic T-shirt phase. Also, why did so many of the love interests have a penchant for hats — notably fedoras?
At the end of the day, these are the outfits that are burned the most deeply in our minds.
Shane's Leather Vest
Yeah, it might be a cliché to start this list with Shane's infamous leather vest (or is that a halter?) from the pilot. But has any more memorable outfit come out of the show? Our lesbian lothario walks back from a night decidedly not at home, sporting an all-leather 'fit that seems questionable even for the club. It remains an anomaly in Shane McCutcheon's wardrobe throughout the rest of the series. Any story about the show's fashion that omits it is simply kidding itself. It's iconic for a reason.
Marina's Tiny Crop Top
Hello to Marina's extremely tiny crop top, and her extremely tiny crop top only. Also, don't let her abs distract you from noticing Alice's green bandana in the background. These four are likely plotting something to help Dana be gayer, but how can anyone get anything done with Marina in that tiny shirt?
Papi's … Entire Look
The clothing items and accessories speak for themselves: the fedora. What appears to be an Ed Hardy shirt. The tattoo-sleeve undershirt. When Papi is introduced in season four, which aired in 2007, she's supposed to rival Shane's body count. Unfortunately, this lewk she's sporting was peak fashion that year.
Shane's Bender Button-Up
When Shane leaves Carmen at the altar and shacks up with Cherie Jaffe, she goes on a full bender, which was very concerning, but at the same time it gave the show a reason for her to appear sans undergarments in this white button-down.
Jenny's Trash-Bag Dress
Much like Jenny's prose, her style can veer towards garbage — but make it fashion. Her tormented Holly Golightly act really went haywire when she wore this bubble dress (another trend of the time) while trying to become a film director.
Helena's Prison Uniform
When Helena briefly goes to prison for stealing money from her hot card-playing lover, she makes the uniform look entirely better than it should.
Tina's Striped Poncho
See the look on Shane's face? That's us upon seeing Tina in a lavender and blue poncho, which in season two was her "hiding a secret pregnancy from my ex" staple.