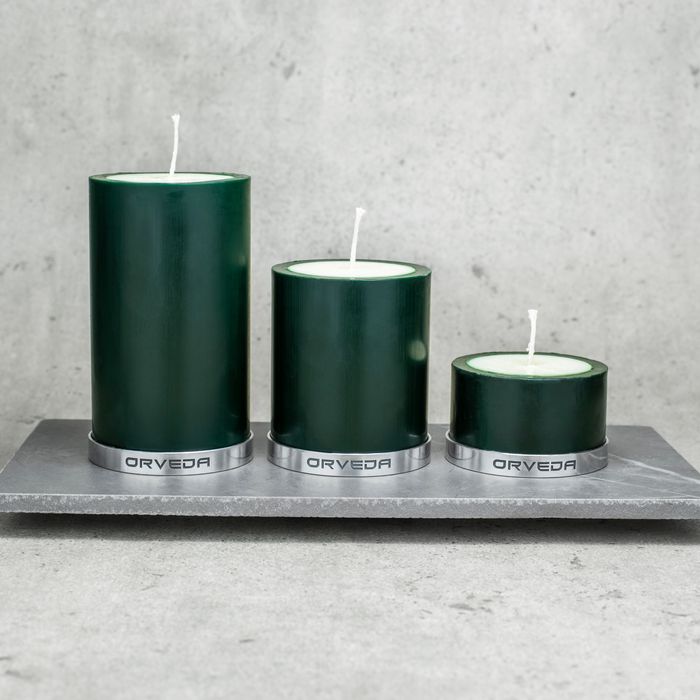 Photo: Courtesy of the Retailer
It's cool when a skin-care product's scent is so beloved that its fans beg for it to be turned into a fragrance. It happened when Hampton Sun turned the scent of its sunscreens into a lovely, white-floral fragrance called Privet Bloom. And it happened again with clean-skin-care brand Orveda. All of its products carry a green, woodsy aroma that inspired this trio of candles, simply called the Scent of Orveda.
The three main notes are bigarade (a sort of sour orange), cardamom, and petitgrain (an essential oil from the bitter-orange tree), which is mostly what I smell. The scent was inspired by the Japanese ritual of "forest bathing," which is essentially taking a walk in the woods. A few other brands have latched onto the concept of forest bathing: Aromatherapy Associates named its new Forest Therapy bath after it, and Naturopathica's Deep Forest Bath & Body Oil was inspired by a walk in the woods, although not woods in Japan. But these candles are the first ones I've seen that offer to make an entire room — or home, for that matter (I mean, there are three candles here) — into a forest bath.
These candles are zero waste to the point that their containers are also made of wax, just a harder type that won't melt from the wick's flame. It took the brand two years to nail this ambitious wax-within-a-wax formula, which is made from biodegradable botanical waxes and an unbleached cotton wick. Heck, even the cellophane they're wrapped in is botanical, biodegradable, and compostable. The candles come in three sizes, and between the three of them, they'll burn a combined total of 170 hours, which stretches out to more than a week of constant burning. Even I can't last that long in the forest, but it is nice to know it's just one match-lighting away.