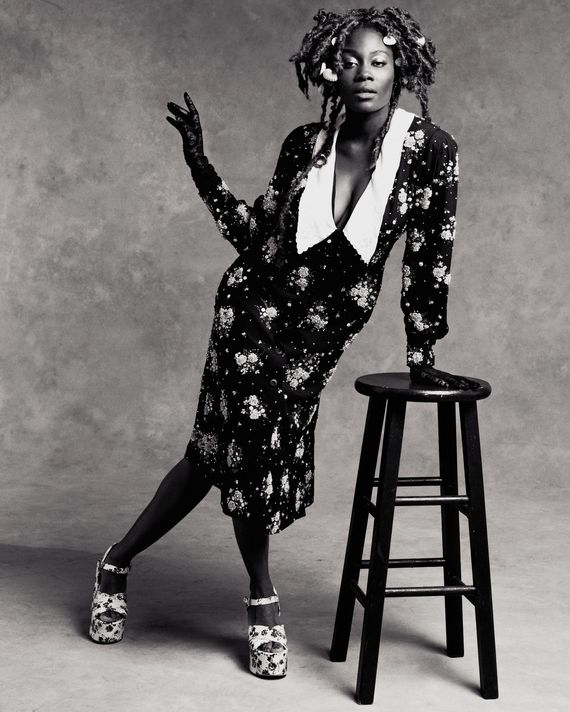 When asked when she knew she wanted to be an artist, Aba Mfrase-Ewur said, "I didn't want to be; I am. Art was the space where I felt the most free, the most like my true self." Her primary mediums are hair and film — her talent for braiding has landed her in Vogue and V Magazine, and she's made several high-concept short films. She's also modeled for brands like Christopher John Rogers and SSENSE.
"I honestly can't remember my first time making art in general, but I do remember my first time doing my own hair," she said. "I was so frustrated, because it was before the natural-hair movement had the traction it has now, and no one knew anything about 4C African hair in its natural state. I was up in my dorm room for about 14 hours trying to re-create a simple seven-braids style I had seen in a magazine. There were many tears and my arms were so sore, but I felt so proud of myself." We spoke with her about Toni Morrison, where she gets inspiration, and her cat.
Which three creative people have had the most impact on you and why?
Toni Morrison: I don't have enough space in this interview to explain what she means to me. Everything about her spirit, her life story, and her work is glorious. My favorite book by her is Jazz. Diahann Carroll, a strong black woman with unearthly levels of beauty, grace, and talent. And Eartha Kitt, an amazingly talented and strong woman. Despite so much heartache and rejection very early on, she created such an extraordinary life for herself.
Where do you get inspiration for your work? 
Nature is my biggest inspiration, followed closely by vintage Ebony magazines, Nollywood films, and people-watching.
What was the last thing you saw that inspired you?
My roommate and I have been on a Dynasty binge. I am turning into an '80s femme icon, blush included.
What kind of animal would you be and why?
I would be a black cat. More specifically, my cat Butcher. He's the most magical and spoiled kitty on the planet.
What are you excited about right now?
I am so excited about this very moment. 2019 has brought me so much intensity and clarity, and I am super grateful for it all. I love the suspense of these last two weeks of the year. It's a time for review, but also a time to look forward with happiness and hope.
What are the last three songs you've listened to? 
"Sundays" by Daphne Loves Derby, "So Gone" by Monica, and "Samba de Bencao" by Sabrinha Ceu.
What superpower would you have and why?
Teleportation because the MTA tries me weekly.
What's your idea of a perfect day?
Waking up around 7 a.m. to watch the sunrise, hot yoga, a long shower, head to the beach for a few hours with a great book, a giant early-evening picnic in a garden with live music and people I love, watch the sunset, eat ice cream, then I fall asleep watching something funny, all while in a beautiful tropical place.
If you could master any skill (that isn't related to your current job), what would it be and why?
I would love to become a classically trained chef, because eating is a top-five favorite activity of mine.
What goal are you working toward at the moment?
I have recently begun studying herbal medicine! I'm super excited about it. My grandmother was a healer in Ghana, and I am her namesake.
Which three fictional characters do you relate to most?
SpongeBob, Princess Tiana, and the Green Giant.
What piece of advice has had the biggest impact on you and why? 
"Breathe." It is such a privilege to be able to return to myself at any moment no matter what is going on. I take a moment to breathe, then I decide.